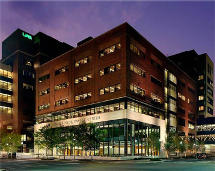 O'Neal Comprehensive Cancer Center
University of Alabama at Birmingham
Comprehensive Cancer Center
Barry Sleckman, M.D., Ph.D., Director
Birmingham, Alabama
Main: (205) 975-8222

The O'Neal Comprehensive Cancer Center at the University of Alabama at Birmingham (UAB) was established in 1971. As one of the original eight NCI-Designated Comprehensive Cancer Centers, it is the only one in Alabama.
The O'Neal Cancer Center has a long history of translating knowledge into tangible results to improve the prevention, detection, treatment, and survivorship of cancer. With the goal of providing the highest quality of life for people diagnosed with cancer, the O'Neal Cancer Center has grown to include more than 400 physicians and researchers who work to develop new, more efficient ways to treat patients. Researchers at the O'Neal Cancer Center have pioneered discoveries in chemotherapy, surgery, radiotherapy, immunotherapy, and nutrition.
While delivering ongoing care for more than 20,000 patients with cancer, including about 5,000 new cases a year, the O'Neal Cancer Center is committed to providing the same access to care and quality of care to every patient with cancer in Alabama.
Vigilance in eliminating cancer health disparities remains one of the hallmarks of the O'Neal Cancer Center. The Office of Community Outreach & Engagement at O'Neal is dedicated to reaching minority, medically underserved, and vulnerable populations throughout the entire state. Using the office's successful Community Health Advisors model, the O'Neal Cancer Center has trained more than 2,000 "natural helpers" from within their own communities to actively provide cancer education through evidence-based interventions and to conduct participatory research.
Likewise, through the UAB Health System Cancer Community Network, a partnership with local and regional community hospitals, the O'Neal Cancer Center is able to bring high-level UAB cancer care closer to home within those communities and provide patients the opportunity to enroll in clinical trials, which comprise the most innovative therapies available.
The O'Neal Cancer Center is dedicated to not only expanding the number of potentially life-saving clinical trials offered to patients, but also in increasing participation in the center's trials, especially from diverse and underrepresented populations.
Research at the O'Neal Comprehensive Cancer Center at UAB
O'Neal Comprehensive Cancer Center is especially recognized for its work in translational research, facilitating breakthrough discoveries via drug development and bringing new therapies to patients quickly and as safely as possible. Through three primary areas¾basic science, translational science, and cancer prevention and control¾scientists work collaboratively on a broad range of programs including cancer cell biology, cancer chemoprevention, experimental therapeutics, immunotherapeutics, and neuro-oncology.
Some recent discoveries include:
developing a CD38 inhibitor to treat multiple myeloma by targeting both tumor cells and immune cells to block certain enzymes that cancer cells need to grow
creating first-in-human trials with novel cancer imaging agents that allow for the assessment of tumor responses to immunotherapy
expanding preclinical and clinical testing applications for UAB30, a home-grown agent which has shown promise in treating breast and pediatric brain tumors, in addition to preventing some types of skin cancers
Select Scientific Initiatives at the O'Neal Comprehensive Cancer Center at UAB
Through a carefully crafted cancer service line that integrates research expertise into clinical operations, patients at the O'Neal Comprehensive Cancer Center receive the novel therapies with the most promising outcomes. Multidisciplinary clinics with specialized experts and advanced technology offer advanced imaging, infusion therapy and proton therapy services.
Clinical trials are a distinctive component of the research and clinical enterprise of the O'Neal Cancer Center. More than 200 cancer-related clinical trials provide a wide array of therapies, diagnostics, supportive care, screening, and preventive options, along with community-based trials in cancer survivorship research. Physician–scientists actively participate in cancer clinical trials through their own research protocols, as well as in high-priority trials and multicenter research collaborations.
The Phase I Clinical Trials Program at the O'Neal Cancer Center is the only one of its kind in Alabama that provides opportunities for patients with cancer for whom conventional therapy is no longer an option. A specialized team is dedicated to helping patients and families in their search for novel cancer treatments and compassionate care.
The O'Neal Cancer Center's Advanced Imaging Facility also houses a powerful, specially designed cyclotron and cutting-edge PET imaging equipment. Together, these components facilitate top-notch research and clinical capabilities that position the O'Neal Cancer Center as a leader in molecular imaging for cancer care.
* This profile was provided by the O'Neal Comprehensive Cancer Center at UAB.