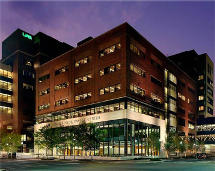 O'Neal Comprehensive Cancer Center
University of Alabama at Birmingham
Comprehensive Cancer Center
Barry Sleckman, M.D., Ph.D., Director
1824 Sixth Avenue South
Birmingham, Alabama 35294
Main: (205) 975-8222
Toll Free: 1-800-822-0933 (1-800-UAB-0933)
Established in 1971, the University of Alabama at Birmingham Comprehensive Cancer Center (UAB), received its NCI designation in the same year. The Center has grown to include a membership of more than 330 physicians and researchers and remains the only NCI-designated comprehensive cancer center in Alabama.
The vision of the UAB Comprehensive Cancer Center is to eliminate cancer as a major public health problem. The mission of the Center is to provide the highest quality of life for people diagnosed with cancer, while advancing the understanding of cancer and translating this knowledge into improved prevention, detection, treatment, and survivorship.
Areas of research emphasis include gene therapy, immunotherapy, obesity/energetics, microbiome, genomics, and drug discovery and development. Advances by UAB CCC scientists and physicians have come in the areas of chemotherapy, surgery, radiotherapy, immunotherapy, and nutrition.
The Center has a major strength in translational research, with particularly active programs of research and patient care in breast, ovarian, brain, and pancreatic cancers. The Center is recognized around the world as a leader in developing innovative monoclonal antibody approaches to cancer therapy. The Center conducts clinical trials using genetically engineered monoclonal antibodies alone or armed with a payload of immunotoxins, chemotherapy drugs, or radioactive isotopes to specifically target a broad array of cancers, including breast, gastrointestinal tract, lung, ovary, head and neck, brain tumors, and lymphomas. 
The Center offers a full array of treatment options from multidisciplinary clinics filled with experts from across cancer fields to the latest state-of-the-art technology. The Center treats an estimated 5,000 new patients each year. In 2011, the Center developed the UAB Health System Cancer Community Network to bring leading-edge cancer care to local communities, allowing patients to stay close to home while fostering collaborative physician relationships, providing continuing medical education and offering the opportunity to enroll in clinical trials. The network of hospitals, located in Alabama, Florida, Georgia, Mississippi and Tennessee emphasizes evidence-based guidelines for cancer treatment to patients.
Outreach and collaboration are hallmarks of the Center's Deep South Network for Cancer Control, a UAB program that focuses on training, data gathering, and educational outreach in 22 counties in the Alabama Black Belt and the Mississippi Delta. In this unique collaboration, health professionals and specialists, local leaders, researchers and community volunteers from Alabama and Mississippi share one mission: to eliminate cancer health disparities by conducting community-based participatory education, training and research in underserved minority communities. To date, UAB has trained more than nearly 2,000 volunteers as Community Health Advisors Trained as Research Partners to educate and engage community members in the Deep South Network's various programs.
 
* This profile was provided by the University of Alabama at Birmingham Comprehensive Cancer Center.