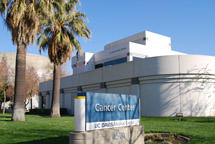 UC Davis Comprehensive Cancer Center
University of California at Davis
Comprehensive Cancer Center
Primo N. Lara, Jr., M.D., Director
Sacramento, California
General Information: 916-734-5959

The University of California (UC) Davis Comprehensive Cancer Center (UCDCCC) is a matrix organization under the aegis of University of California, Davis and UC Davis Health. It is the only NCI-Designated Cancer Center located in the Central Valley of Northern California and thus is best positioned to address the cancer burden of one of the nation's most productive agricultural regions. The center's members are organized into five programs (Molecular Oncology, Comparative Oncology, Cancer Therapeutics, Biomedical Technology, and Population Sciences and Health Disparities), supported by eight shared resources. The center uses its transdisciplinary, translational, and transformative research to address and reduce the cancer burden in its highly diverse 19-county catchment area and beyond.  
UC Davis is a public land grant university established by the UC Board of Regents in 1908 and is ranked among the nation's top public universities. UC Davis is home to over 35,000 students and 24,000 faculty and staff. It has 102 undergraduate majors and 101 graduate programs, with more than half considered as interdisciplinary. UC Davis' campuses are located in the city of Davis, where the main academic campus is located, and in the state capital of Sacramento, where UC Davis Health is headquartered. As the region's only academic health center, UC Davis Health encompasses the cancer center, the UC Davis Medical Center, the UC Davis School of Medicine, and the Betty Irene Moore School of Nursing. The cancer center's clinical operations and principal administrative offices are located in Sacramento while additional UCDCCC administrative space is located on the Davis campus. The cancer center's clinical services encompass all aspects of cancer care, serving people with cancer across Northern California at its Sacramento headquarters and in its clinics and network sites designed to bring world-class care close to where patients live.
Research at UCDCCC

 
The cancer center's researchers also pursue highly innovative clinical trials, with more than 200 trials open and accruing at any one time. It is actively engaged with the NCI's clinical trial networks through its team science grants. New or emerging therapeutic strategies, including the latest in precision oncology and immunotherapy, are also available at the center. UC Davis' strengths in cancer imaging have produced the world's most powerful positron emission tomography (PET) scanner (EXPLORER), a breast computerized tomography (CT) scanner, and novel molecular radiotracers.  
Select Scientific Initiatives at UCDCCC
The UCDCCC ultimately aims to leverage the unique resources and strengths of UC Davis to reduce the cancer burden through establishment and promotion of high-impact interdisciplinary cancer-focused research as represented by its three Trans-Center Themes:
1) Cancer Risk Mitigation and Early Detection
2) Innovative Cancer Models and Technologies
3) Precision Therapeutics and Transformative Imaging
*This profile was provided by the University of California Davis Comprehensive Cancer Center.