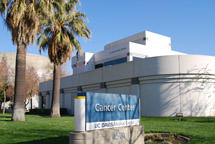 UC Davis Comprehensive Cancer Center
University of California at Davis
Comprehensive Cancer Center
Primo N. Lara, Jr., M.D., Director
4501 X Street, Suite 3003
Sacramento, California 95817
New Patient Referral Office: (916) 703-5210
General Information: (916) 734-5959
The UC Davis Comprehensive Cancer Center was founded in 1991 and received its NCI designation in 2002. In 2012, it attained comprehensive status. The center is a matrix organization and part of UC Davis Health. Center members include scientists and physicians drawn from the UC Davis School of Medicine, School of Veterinary Medicine, College of Agricultural and Environmental Sciences, College of Biological Sciences, College of Engineering and the Lawrence Livermore National Laboratory.
As the only NCI-designated comprehensive cancer center in California's Central Valley, it provides tangible benefits to its communities with state-of-the-art cancer care, while leveraging resources to advance basic, translational, transdisciplinary and clinical cancer investigations.
The center consists of five scientific programs engaging more than 300 investigators. They include biomedical technology, molecular oncology, comparative oncology, cancer therapeutics and cancer health disparities. The UC Davis School of Veterinary Medicine, with its affiliated hospital, is an additional unique resource with a major focus on translational oncology research. The center has eight shared resources that support high-impact research.
Center patients are treated by multidisciplinary teams of surgical, medical, radiation, neurological, psychiatric, gynecologic and other oncology specialists. Supportive care providers include genetic counselors, social workers and nutritionists. Treatment programs span the spectrum of hematologic and solid tumor oncology, bringing world-class care to the center's catchment area.
The center is actively engaged in the National Clinical Trials Network (NCTN) with participation in SWOG, NRG, ECOG/ACRIN, Alliance and the Children's Oncology Group trials. The center is also active in the NCI's Experimental Therapeutics Clinical Trials Network (ETCTN) through the NCI-funded California Cancer Consortium. As one of five NCI-designated University of California cancer centers, UC Davis also is a member of the University of California Cancer Center Consortium. The center has a mature community outreach and engagement program that aims to reduce cancer health disparities, conduct community-based participatory research, and implement innovative cancer prevention and detection strategies.
* This profile was provided by the University of California Davis Comprehensive Cancer Center.