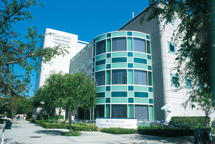 Chao Family Comprehensive Cancer Center
University of California, Irvine
Comprehensive Cancer Center
Richard Van Etten, M.D., Ph.D., Director
Orange, California
Appointments: (714) 456-8000

The University of California, Irvine (UCI) Cancer Center was established in 1989 as a university-based cancer center. In 1994, it became an NCI-designated cancer center, and it achieved comprehensive cancer center status in 1997. Soon after, it was renamed in honor of the Chao family as the Chao Family Comprehensive Cancer Center (CFCCC), operating fully integrated research, prevention, diagnostic, treatment, and rehabilitation programs.
The Center fosters bench-to-bedside research, with programs ranging from basic science research to clinical trials. The mandate for the entire range of programs is to translate the findings of basic research into treatments that can benefit patients. Clinical research at CFCCC focuses on breast, skin, colon, liver, oral, pancreatic, and prostate cancer, and includes prevention. The Center is deeply involved in a national test program investigating the effectiveness of promising new cancer prevention drugs at several sites across the country. This work involves the design of early-phase clinical trials to assess the cancer prevention potential of a variety of agents, many of which target specific molecules known to be active in precancerous conditions.
An active program of research and a quest for productive affiliations led to an institutional affiliation with Children's Hospital of Orange County. This relationship enabled the integration of pediatric oncology with the research activities of the Center's Development Biology Research program. The overwhelming majority (85 percent) of children at the hospital are enrolled in clinical trials.
There are other important collaborations at CFCCC. The dual approach of structure-based chemical targeting from the Center's chemical synthesis facility, combined with advanced imaging techniques, provides a powerful platform for the development of new cancer prevention and therapeutic interventions now and in the future. The expanding integration of chemoprevention and genetic epidemiology brings together at-risk individuals and chemoprevention in a next generation of trials. Initial therapeutic successes in this field have led to further trials in the fields of gynecologic malignancies, brain, lung, prostate, melanoma, breast, colorectal, pancreatic, and hepatic cancers. In this effort, the Center's disease-oriented Translational Working Groups combine their research work with the Population Sciences program.
Community outreach is a major element of the Center's work. The transfer and dissemination of new technologies to the community is a major goal of the CFCCC. The members of the Onco-Imaging and Spectroscopy program, housed in two centers at the university, are applying technologies they have developed to several hypothesis-driven, investigator-initiated clinical trials. The activity in the breast cancer area led to the formation of a translational Breast Health and Research Clinic.
CFCCC's international outreach extends to several countries in the Middle East, Russia, Korea, Japan, and China. Several formal agreements have been signed to enable joint education and research activities with those countries.
* This profile was provided by the Chao Family Comprehensive Cancer Center.