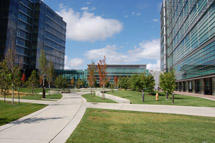 University of Colorado Cancer Center
Comprehensive Cancer Center
Richard D. Schulick, MD, MBA, FACS, Director
Aurora, Colorado
Adult Cancer Care: (720) 848-0300

Since its establishment in 1985, the University of Colorado (CU) Cancer Center has become the hub of cancer research in the state of Colorado and the Rocky Mountain region. The CU Cancer Center became an NCI-Designated Cancer Center in 1987 and was recognized as an NCI comprehensive cancer center in 1997. In 2005, NCI awarded the center a formal consortium designation.
The CU Cancer Center's mission is to unite the community to overcome cancer through innovation, discovery, prevention, early detection, multidisciplinary care, and education.
The CU Cancer Center represents the collaboration of approximately 300 members at multiple institutions, including CU Anschutz Medical Campus (School of Medicine, Pharmacy, Public Health, and Dental), CU Boulder, and Colorado State University (Flint Animal Cancer Center). Also included in the consortium are CU Cancer Center's clinical partners UCHealth, the University of Colorado Hospital, Children's Hospital Colorado, and the Denver VA Medical Center.
Research at the CU Cancer Center
Basic scientists at the CU Cancer Center strive to better understand the fundamental biological activity that leads to cancer. They work closely with clinical researchers to translate laboratory findings into drugs, therapies, and techniques that can be applied to patients. Clinical researchers then enroll patients in one of the more than 250 available clinical trials to test these new treatments in cancer research studies. This collaboration has yielded promising new techniques to diagnose, treat, and prevent cancer.
The CU Cancer Center has more than 80 NCI grants worth over $17 million. Investigators at the CU Cancer Center focus on interdisciplinary research in four programs:
Molecular and Cellular Oncology researchers work on providing insights into gene expression regulation and its deregulation in cancer, the cellular response to genomic insults, the molecular structure of cancer-relevant proteins, and new signaling transduction processes driving tumor growth. 
The Tumor Host Interactions program seeks to understand how the environment of tissues and cancers influences the development of cancers, the aggressiveness of these cancers, their responses to therapies, and outcomes for patients. Precancers and cancers exhibit many interactions with a person's immune system, blood vessels, and other cell types, and the program seeks to understand these dependencies with the ultimate goal of developing therapies that target or leverage these host cells to mediate cancer elimination.
Developmental Therapeutics focuses on the discovery, development, and delivery of new anticancer therapies. The goal of the Developmental Therapeutics program is to reduce the cancer burden through the integration of the processes of discovery, development, and delivery of new anticancer agents.
Cancer Prevention and Control research has led to advancements in primary and clinical preventive services, statewide policies, and improved cancer survivorship. Past accomplishments from Cancer Prevention and Control investigators include studying promising agents in preclinical studies, identifying breast cancer risk factors in Hispanic women, developing and operating the Colorado Colorectal Screening Program, making advancements in the understanding of obesity and breast cancer, and affecting statewide cancer prevention and control policies.
Select Scientific Initiatives at the CU Cancer Center
CU Cancer Center is working towards advancements in cancer research, prevention, and patient care, as well as community outreach and education. Some of the center's most recent initiatives include:
Researching the causes of, and prevention and treatment of, breast cancer among young women. One recent study led by CU Cancer Center researchers found the drug tucatinib (Tukysa) was a potential "game changer" against stage IV HER2-positive breast cancer, particularly for patients whose cancer had metastasized to their brains.
Developing a mechanistic understanding of metabolism-targeted therapies for acute myeloid leukemia (AML). Clinical trial results from the CU Cancer Center show a 91% response rate to the combination of venetoclax (Venclexta) with azacitidine (Vidaza) in older adults newly diagnosed with AML.
Exploring how aging impacts cancer initiation, progression, therapeutic outcomes, and patient survivorship. One example of this is through a recently funded NCI Implementation Science Center in Cancer Control ,housed within the Adult and Child Consortium for Health Outcomes Research and Delivery Science, which works closely with the Cancer Prevention and Control program to address catchment-related cancer burden and develop innovative approaches to translate scientific discovery into sustainable, community-based health care across Colorado.
* This profile was provided by University of Colorado Cancer Center.