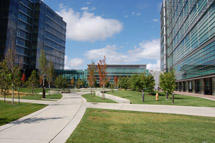 University of Colorado Cancer Center
Comprehensive Cancer Center
Richard D. Schulick, MD, MBA, FACS, Director
13001 East 17th Place
Aurora, Colorado 80045
Adult Cancer Care: (720) 848-0300
Pediatric Cancer Care: (720) 777-6688
The University of Colorado Cancer Center at the Anschutz Medical Campus received NCI designation in1988 and became a comprehensive cancer center in 1997.
The CU Cancer Center is the hub of cancer research in Colorado. It is a consortium of three universities and three institutions: University of Colorado Anschutz Medical Campus, Colorado State University, University of Colorado Boulder, University of Colorado Hospital, Children's Hospital Colorado, and Denver Veteran's Administration Medical Center. The more than 400 members are working toward one goal: translating science into life.
CU Cancer Center's clinical partner University of Colorado Hospital is ranked 15th by US News and World Report for Cancer and the CU Cancer Center is a member of the prestigious National Comprehensive Cancer Network®, an alliance of the nation's leading cancer centers working to establish and deliver the gold standard in cancer clinical guidelines.
Working collaboratively, CU Cancer Center members discover, develop, and deliver breakthroughs that improve cancer care for people and companion animals. The Center focuses on interdisciplinary research conducted in six programs: Cancer Prevention and Control, Cancer Cell Biology, Developmental Therapeutics, Hormone Related Malignancies, Molecular Oncology, and Lung/Head and Neck Cancer.
Basic scientists at CU Cancer Center strive to understand better the fundamental biological activity that leads to cancer. They work closely with clinical researchers to translate laboratory findings into drugs, therapies, and techniques that can be applied to patients. Clinical researchers then enroll patients in clinical trials to test these new treatments in cancer research studies. The results of this collaboration are promising new techniques to diagnose, treat, and prevent cancer.
The CU Cancer Center is a leader in identifying new targets for cancer therapies and then creating or matching the proper therapeutic agents. It also is the coordinating center for the Lung Cancer Mutation Consortium, a national initiative to examine non-small cell lung cancer tumors and match patients to the best possible therapies.
Another focus of the Center is cancer survivorship. CU is home to three unique cancer survivorship clinics for the region: the HOPE clinic for young adult survivors of cancer at Children's Hospital Colorado; the TACTIC clinic for adult survivors of childhood cancer at the University of Colorado Hospital; and the THRIVE clinic for transitioning adult cancer patients back to primary care.
Outreach also is an important component of the work at the Center, with the Colorado Colorectal Screening Program for uninsured state citizens as just one example. The Center also conducts a wide range of clinical trials in both people and companion animals, especially dogs, through the Flint Animal Cancer Center at CSU. Clinical trials in dogs have led to new treatments for people.
CU Cancer Center physicians also travel across the state of Colorado to see patients and bring clinical trials to outlying areas of the state. Hospital affiliates of the Center around the state facilitate and collaborate in this work. The Center also offers educational opportunities for professionals, students, and the public.
* This profile was provided by the University of Colorado Cancer Center.