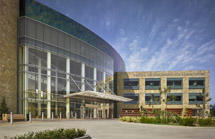 Moores Comprehensive Cancer Center
University of California, San Diego
Comprehensive Cancer Center
Joseph A. Califano III, M.D., Director
La Jolla, California
General Information: 1-866-773-2703

The University of California, San Diego (UCSD) Cancer Center was founded in 1978, the same year it received its NCI designation. In 2001, the Center achieved the status of comprehensive cancer center. The Center was later renamed the Moores Cancer Center (MCC). A new facility was opened in 2005 to consolidate cancer research and patient care under one roof.
MCC provides a multidisciplinary approach to cancer research and treatment. The 360 member scientists and physicians come from 22 University departments. The Center's major research focus is on the discovery and testing of new agents for cancer prevention, diagnosis, and treatment. There is also a strong emphasis on translational oncology and drug development through relationships with local and regional biotechnology and pharmaceutical companies.
There are six research programs at the Center: Cancer Biology; Cancer Genes and Genome; Cancer Prevention and Control; Hematologic Malignancies; Reducing Cancer Disparities; and Tumor Growth, Invasion, and Metastasis.
An international collaboration is under way with Canadian partners to study the behavior of leukemia stem cells and to develop new drugs to work against them. Leukemia researchers at MCC are also examining the use of gene therapy for patients with chronic lymphocytic leukemia. Still other work is being done on using a novel kind of cancer vaccine to keep advanced lung cancer at bay.
MCC reaches out to communities in Southern California to provide community education about cancer prevention and risk reduction. Working with San Diego State University, the Center has a research program to help explain and eliminate cancer disparities. The Cancer Prevention and Control program has pioneered efforts to develop effective smoking cessation programs across the nation. MCC has also developed a Patient and Family Support Services program that can be a model for other psychosocial programs helping patients cope with the impact of cancer on their lives through individual and family counseling, support groups, and education.
* This profile was provided by the University of San Diego Moores Cancer Center.