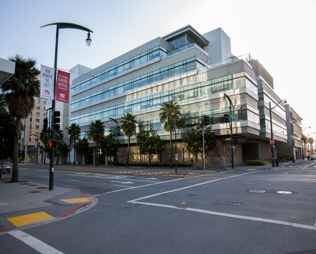 UCSF Helen Diller Family Comprehensive Cancer Center
University of California at San Francisco
Comprehensive Cancer Center
Alan Ashworth, Ph.D., FRS, Director
San Francisco, California
Appointments & Physician Referral Service: 1-888-689-8273

In 1948, the University of California, San Francisco (UCSF) established the Cancer Research Institute. It received the NCI Comprehensive Cancer Center designation in 1999 and renamed the UCSF Helen Diller Family Comprehensive Cancer Center (HDFCCC) in 2007. The HDFCCC has a growing network of clinical partners that include the Zuckerberg San Francisco General Hospital, San Francisco VA Health Care System, and other regional providers.
Research at HDFCCC
HDFCCC integrates the work of researchers and clinicians dedicated to four fundamental pursuits: laboratory research into the causes of cancer progression; clinical research to translate new knowledge into viable treatments; compassionate, state-of-the-art patient care; and population research that can lead to improvements in prevention, early detection, and quality-of-life for those living with cancer. The twin pillars of precision medicine and precision population health guide research and treatment at HDFCCC.
Select Scientific Initiatives at HDFCCC
Among the 18 formal translational research programs, 12 are currently disease-focused (breast, prostate, hematopoietic, neurologic, pancreatic, pediatric, gastrointestinal, gynecologic, melanoma, multiple myeloma, pediatric brain tumors, and thoracic) and 6 have cross-cutting emphases (genetics, cancer control, immunology, experimental therapeutics, tobacco control, and cancer prevention).
Programs and initiatives unique to the center include the:
Cancer Immunology Program (CIP) and its accompanying Cancer Immunotherapy Clinic, which combine the strength of UCSF's world-class immunology program, advanced research facilities, and an expert team of clinicians and investigators. They focus on developing novel drugs, cellular therapies, and vaccines that harness the immune system, as well as providing access to state-of-the art immunotherapies for certain cancers.
San Francisco Cancer Initiative (SF CAN), launched in 2016 by UCSF, the City of San Francisco, and other community partners. It is the first cancer plan for a major city. SF CAN aims to reduce incidence and mortality from five common cancers using proven interventions.
Center for BRCA Research, one of only two hereditary cancer clinics in the United States and the only one on the West Coast for people with inherited BRCA1 and BRCA2 gene mutations. The mission of the center is to provide a central resource for families with BRCA and other mutations to receive personalized care and planning for their long-term health and well-being.
Global Cancer Program, which leverages UCSF resources and builds upon its legacy in global health to foster effective collaborations between UCSF and institutions in low- and middle-income countries to improve cancer control in diverse populations. These partnerships allow HDFCCC to perform innovative research and provide education, research training, and mentorship to trainees and faculty at UCSF and partners around the world.
Molecular Oncology Initiative, which integrates molecular information found in most tumors with the growing number of drugs being developed for specific types of cancer. The team uses the pioneering UCSF 500 gene panel to find mutations in tumors that particular medicines can attack.
Precision Imaging of Cancer and Therapy Program, which helps researchers understand the biology and behavior of different cancers to develop and refine effective treatment approaches.
This profile was provided by UCSF Helen Diller Family Comprehensive Cancer Center.