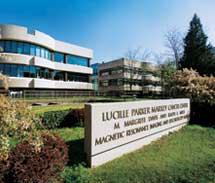 Markey Cancer Center
University of Kentucky
Cancer Center
B. Mark Evers, M.D., Director
Lexington, Kentucky
Main: (859) 257-4500

The Markey Cancer Center (MCC) became an NCI-Designated Cancer Center in 2013, and is currently the only NCI-Designated Cancer Center in Kentucky. MCC's longstanding mission is to reduce cancer incidence and mortality through a comprehensive program of cancer research, treatment, education, prevention, and community engagement.
MCC is affiliated with the University of Kentucky (UK) and UK HealthCare. As a university matrix cancer center, MCC serves a variety of members from across the UK campus. In addition, a network of affiliate and research-based partnerships across the state contribute to MCC's service into the far corners of the state.
Research at MCC
MCC's research portfolio is centered around the types of cancer and related health problems that have posed significant challenges for the citizens of Kentucky. Researchers at MCC focus on reducing Kentucky's cancer burden through prevention and treatment, basic research, clinical trials, training the next generation of Kentucky's scientists, and expanding outreach and engagement efforts across the state. 
MCC studies range across signaling pathways leading to tumor survival, progression and metastasis; tumor microenvironment; cancer metabolic reprogramming; biomarker discovery; precision medicine; environmental health; data science; drug discovery from natural products; genomic instability; tumor epigenetics; community-level behavior and education; and cancer-relevant health policy research.
Select Scientific Initiatives at MCC
MCC's four research programs, which are supported by five shared resource facilities, are:
Cancer Cell Biology and Signaling
Cancer Prevention and Control
Drug Discovery, Delivery and Translational Therapeutics
Genomic Instability, Epigenetics and Metabolism
Recently, MCC members have:
developed expanded clinical trials infrastructure and dramatically expanded research and affiliate hospital networks across the state,
collaborated with UK's prominent obesity and diabetes research centers to generate insights into links between cancer and obesity,
made enormous strides in novel health communication and social media approaches for cancer prevention, and
developed and implemented exciting methods to better understand population data.
* This profile was provided by Markey Cancer Center.