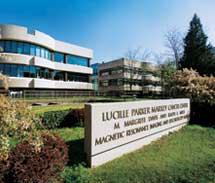 Markey Cancer Center
University of Kentucky
Comprehensive Cancer Center
B. Mark Evers, M.D., Director
Lexington, Kentucky
Main: (859) 257-4500

The Markey Cancer Center (MCC) became Kentucky's first and only NCI-Designated Comprehensive Cancer Center in 2023, ten years after its initial NCI-Designation in 2013. MCC's long-standing mission is to reduce the cancer burden with a focus on Kentucky and its most vulnerable populations through research, prevention, treatment, education, and community engagement.
MCC is affiliated with the University of Kentucky (UK) and UK HealthCare. As a university matrix cancer center, MCC serves a variety of members from across the UK campus. In addition, a network of affiliate and research-based partnerships across the state contribute to MCC's service throughout the Commonwealth.
Research at MCC
MCC's research portfolio is centered around the types of cancer and related health problems that pose the most significant challenges for the citizens of Kentucky. Researchers at MCC focus on reducing Kentucky's cancer burden through prevention and treatment, basic research, clinical trials, training the next generation of Kentucky's scientists, and expanding outreach and engagement efforts across the state. 
MCC studies range across signaling pathways leading to tumor survival, progression, and metastasis; tumor microenvironment; cancer metabolic reprogramming; biomarker discovery; precision medicine; environmental health; data science; drug discovery from natural products; genomic instability; tumor epigenetics; community-level behavior and education; and cancer-relevant health policy research.
Select Scientific Initiatives at MCC
MCC's three research programs, which are supported by seven shared resource facilities, are:
Cancer Prevention and Control

Translational Oncology

Molecular and Cellular Oncology
Recently, MCC members have:
expanded clinical trials infrastructure and access, catalyzing new levels of collaborative, transdisciplinary clinical research;

been awarded additional funding that will support a new phase of the NIH COBRE-funded Center for Cancer and Metabolism;

created new programs that focus on training and career enhancement, emphasizing diversity, equity, and inclusion; and

expanded access to high-quality cancer care to those most vulnerable in Kentucky's rural and urban communities.
This profile was provided by Markey Cancer Center