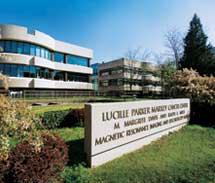 Markey Cancer Center
University of Kentucky
Cancer Center
B. Mark Evers, M.D., Director
CC140 Roach Building
800 Rose Street
Lexington, Kentucky 40536-0096
Main: (859) 257-4500
Toll Free: 1-866-340-4488
The precursor of the current Markey Cancer Center (MCC) began in 1975 with the formation of the McDowell Cancer Network, a community outreach and education program. Today the MCC is a critical component of the University of Kentucky and a vital resource for the Commonwealth of Kentucky and the central Appalachian region. Situated in the heart of the state and on a campus with all six health professions colleges in close proximity to one another, the MCC is at the center of a vibrant and expanding research community. The MCC became an NCI-designated Cancer Center in 2013.
The MCC's mission is to reduce cancer mortality through a comprehensive program of cancer research, treatment, education, and community engagement with a particular focus on the underserved Appalachian population of eastern Kentucky. In fact, the MCC is the only NCI-designated cancer center focused on the health of the central Appalachian population of which represents one of the most economically-disadvantaged, disease-burdened and medically-underserved regions in the U.S.
The MCC's 130 members hold appointments in 26 departments in eight colleges across the university and are organized into four thematic research programs: Cancer Cell Biology and Signaling; Cancer Prevention and Control; Drug Discovery, Delivery and Translational Therapeutics; and Redox Injury and Repair. To support and complement their research, MCC members have access to established shared resource facilities including Biospecimen and Tissue Procurement; Biostatistics and Bioinformatics; Cancer Research Informatics; Flow Cytometry and Cell Sorting; and Free Radical Biology and Metabolism.
Clinically, as the state with the highest all-site cancer incidence rate and the highest rate of cancer deaths in the United States, Kentucky suffers from particularly intractable cancer health challenges. As such, the MCC proudly serves all of central and eastern Kentucky, western West Virginia, northeastern Tennessee, southeastern Indiana and southern Ohio, for a total catchment population of nearly eight million people. The MCC catchment area continues to expand as a result of increased activity with ten central and eastern Kentucky-based affiliate hospitals, one in western Kentucky, one in southern Ohio and a strong collaboration with Norton Healthcare in Louisville.
The MCC is dedicated to training the next generation of cancer researchers, clinicians, and other health care providers. Current research training programs are focused generally on cancer biology for PhDs and clinician-scientists; the roles that the environment, oxidative stress, and nutrition have on the molecular mechanisms that contribute to cancer; developing novel nanotechnology-based approaches for detecting and treating cancer; and training physicians in the area of cancer prevention and control.
* This profile was provided by the Markey Cancer Center.