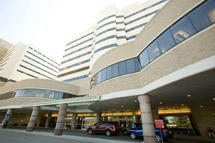 University of Michigan Rogel Cancer Center
Comprehensive Cancer Center
Eric R. Fearon, M.D., Ph.D., Director
Ann Arbor, Michigan
Cancer Answer Line: 1-800-865-1125

Founded in 1986, the University of Michigan Rogel Cancer Center received its NCI Cancer Center designation in 1988 and became a comprehensive cancer center in 1991. With more than 20 multidisciplinary and specialty clinics, the Rogel Cancer Center is part of Michigan Medicine, one of the largest hospitals in Michigan and a premier academic medical center.
The University of Michigan Rogel Cancer Center seeks to reduce the cancer burden and improve cancer outcomes through research, innovation, and transdisciplinary collaboration. With members from more than 50 departments across nine top-ranked University of Michigan schools, the Rogel Cancer Center harnesses the power of one of the largest, most robust, and highly esteemed research universities in the world to contribute to what we know about cancer.
Research at the Rogel Cancer Center
The Rogel Cancer Center has a distinguished history of scientific excellence, collaboration, and impact in basic science, clinical research, and cancer control research. With a focus on team science and research excellence, Rogel Cancer Center members harness innovation by engaging disciplines not typically associated with cancer advances. This includes faculty in fields such as engineering and mathematics, as well as more traditional collaborations among faculty in the schools of medicine, public health, pharmacy, nursing, and social work.
Research at the Rogel Cancer Center is divided into seven programs: cancer biology, cancer genetics, cancer hematopoiesis and immunology, developmental therapeutics, translational and clinical research, cancer epidemiology, and health behavior and outcomes. In addition, the Forbes Institute for Cancer Discovery fuels high-risk, high-reward initiatives that build on multidisciplinary teams and approaches with potential to drive new advances in cancer care.
Researchers at Rogel Cancer:
were some of the first to perform comprehensive, whole-exome clinical sequencing of advanced cancer tumors,
were the first to identify cancer stem cells in solid tumors, the small number of cells in a tumor believed to fuel its growth and spread,
have developed innovative mouse models to study cancer tumor development and the role of recurrent gene defects,
have developed new circulating and imaging biomarkers and approaches for assessment of response and resistance to treatment and prediction of cancer recurrence,
have advanced new chemo- and radiation-therapy approaches as well as new strategies to reduce treatment-related symptoms and toxicities, and
are using "big data" and advanced genomic, proteomic, metabolomics, and imaging technologies to understand cancer risk in the local population and beyond. Their work focuses on the interplay between lifestyle, environment, and molecular exposure.
In addition, the Rogel Cancer Center is committed to training the next generation of cancer pioneers. The center holds six NCI-funded training grants and a robust culture of mentoring trainees and junior faculty.
Select Scientific Initiatives at the Rogel Cancer Center
Big data: Researchers are using data drawn from the electronic health records of more than 65,000 Michigan Medicine patients to better understand which genetic mutations give rise to specific cancers and what other medical conditions and test results might serve as early warning signs.
Drug discovery: The Rogel Cancer Center has one of the preeminent academic cancer drug development programs in the country, with nearly 50 cancer drug development projects currently underway.
Collaborations with engineering: Collaborative teams at the the University of Michigan's medical and engineering schools have produced devices to detect cancer or cancer metastasis. Animal model studies of one device suggest it may even slow the progress of metastasis by attracting and trapping aggressive cells, preventing them from reaching distant organs.
* This profile was provided by the University of Michigan Rogel Cancer Center.