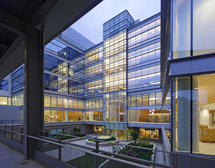 UNC Lineberger Comprehensive Cancer Center
Comprehensive Cancer Center
H. Shelton Earp, M.D., Interim Director
450 West Drive, CB 7295
Chapel Hill, North Carolina 27599
Main: (919) 966-3036
Information or Appointments: 1-866-869-1856
The Lineberger Comprehensive Cancer Center at the University of North Carolina (UNC) at Chapel Hill received NCI-designation in 1975, becoming a comprehensive cancer center in 1990. With research that spans from the laboratory to the bedside to the community, UNC Lineberger works to understand the causes of cancer at both the genetic and environmental level, to conduct groundbreaking research and to translate that research into innovative treatment and prevention measures.  UNC Lineberger's 301 members are drawn from more than 40 departments at UNC, including the School of Medicine, the Gillings School of Global Public Health, the Eshelman School of Pharmacy, the School of Dentistry, the School of Nursing, and the College of Arts and Sciences.
The Center conducts interdisciplinary research through nine programs: cancer cell biology, immunology, molecular therapeutics, virology, cancer genetics, clinical research, breast cancer, cancer prevention and control, and cancer epidemiology.
UNC Lineberger's emphasis on breast cancer research includes studies of molecular phenotypes and pathogenesis, particularly in those patients with the worst prognosis. These basic biological investigations are linked to the Center's work on population studies, particularly within the African-American community.
UNC's chemists, physicists, oncologists, and drug discovery scientists come together in the Carolina Center of Cancer Nanotechnology Excellence (CCNE), an NCI-funded multidisciplinary center. Scientists at CCNE are utilizing innovative and cutting edge nanotechnologies, such as PRINT (Particle Replication on Non-Wetting Templates) nanoparticles and carbon-nanotube-based x-ray sources, to enhance treatment and early detection of lung, brain and breast cancer.
UNC Lineberger also works collaboratively with the UNC Eshelman School of Pharmacy through the Center for Integrative Chemical Biology and Drug Discovery to develop novel small-molecule anti-neoplastics. Projects include potential treatments for renal cell carcinoma, basal-like breast cancer, pediatric leukemia and glioma.
UNC Lineberger has an extensive array of pre-clinical infrastructure. UNC is the repository for the Collaborative Cross, an international effort investigating the genetic and environmental factors that contribute to cancer susceptibility in mouse models. UNC Lineberger also houses the Mouse Phase I Unit, which performs pre-clinical efficacy testing of novel therapeutics from industry and academia in state-of-the-art mouse models of cancer.
UNC Lineberger is a driving force of The Cancer Genome Atlas (TCGA), a multi-institutional, NCI-funded effort to molecularly characterize several thousand human cancer samples. Work at UNC on TCGA has transformed the understanding of several common cancers including those of the breast, kidney, oropharynx, skin, lung and brain.
The Center is also building population-based data resources to improve cancer prevention and early detection. One powerful resource is the Integrated Cancer Information and Surveillance System (ICISS), a system linking metrics of cancer incidence, mortality, and burden in North Carolina to describe health care, economic, medical claims, social, behavioral, and environmental patterns.
UNC Lineberger offers patient-centered care provided by UNC's nationally-known clinical faculty, and offers clinical trials across the state, giving North Carolina patients access to leading-edge treatments. The N.C. Cancer Hospital is the flagship site for UNC Cancer Care and the clinical home of UNC Lineberger. The state's only public cancer hospital, the 315,000-square-foot facility includes multidisciplinary clinic space with a healing atmosphere created with patient input along with a nationally recognized Comprehensive Cancer Support Program.
 
* This profile was provided by the University of North Carolina Lineberger Comprehensive Cancer Center.