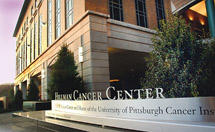 UPMC Hillman Cancer Center
Comprehensive Cancer Center
Robert L. Ferris, M.D., Ph.D., Director
Pittsburgh, Pennsylvania
Main: 412-647-2811

UPMC Hillman Cancer Center was founded as the University of Pittsburgh Cancer Institute in 1984 and first designated as an NCI Comprehensive Cancer Center in 1990. Dedicated to excellence in clinical care, the performance of basic, translational, and clinical research, and the education of the next generation of cancer physicians and scientists, Hillman is well positioned to help reduce the global burden of cancer.
With more than 70 sites in western and central Pennsylvania, eastern Ohio, western Maryland, and western New York, and more than 2,000 physicians, researchers, and staff, Hillman is one of the largest integrated cancer networks in the country. The center treats more than 138,000 individuals each year, of which nearly 43,000 are new patients. The web-based ClinicalPath system—developed at Hillman and used by cancer centers around the country—has been implemented to ensure consistent patient care throughout the Hillman network and to inform clinicians of specific ongoing trials that could benefit individual patients.
Research at UPMC Hillman Cancer Center 
Our members include more than 300 researchers across seven programs, including biobehavioral cancer control, cancer biology, cancer epidemiology and prevention, cancer immunology and immunotherapy, cancer therapeutics, cancer virology, and genome stability. We hold Specialized Programs of Research Excellence (SPOREs) awards in head and neck cancer and skin cancer, as well as a joint SPOREs award with Roswell Park Comprehensive Cancer Center for ovarian cancer.
Hillman investigators have access to cutting-edge equipment, technology, and expertise through 10 Cancer Center Support Grant-supported shared resources ranging from biostatistics and bioinformatics to genomic sequencing, cell and tissue imaging, and pharmacology. Many Hillman researchers are based at the center's flagship location, UPMC Hillman Cancer Center in Shadyside, a state-of-the-art facility that supports collaborative performance of laboratory research, clinical research, routine clinical care, and population science program administration for maximum efficiency and patient benefit.
Hillman currently offers more than 450 clinical trials, including large late-phase trials sponsored by NCI's National Clinical Trials Network, industry-sponsored studies, and trials designed and sponsored by Hillman investigators.
Select Scientific Initiatives at UPMC Hillman Cancer Center
The Tumor Microenvironment Center, established in 2012, now has eight faculty and has spun out several commercial entities with UPMC venture capital.
The Mario Lemieux Immunotherapy Center (established in 2019) facilitates early-phase immunotherapy trials.
Developing novel immunotherapies and identifying targetable genomic alterations for precision oncology is a major research and clinical effort leveraged by a dramatic expansion of cell therapies and the UPMC Genomics Center.
*This profile was provided by the University of Pittsburgh Cancer Institute.