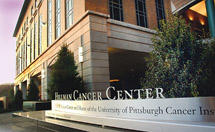 UPMC Hillman Cancer Center
Comprehensive Cancer Center
Robert L. Ferris, M.D., Ph.D., Director
5150 Centre Avenue
Pittsburgh, Pennsylvania 15232
Main: (412) 647-2811

Founded in 1984, the University of Pittsburgh Cancer Institute (UPCI) was first designated as an NCI Comprehensive Cancer Center in 1990. UPCI seeks to accomplish its mission of reducing the burden of cancer in western Pennsylvania and the nation, through exceptional research, clinical care, education, and community outreach, through integrated programs in basic, clinical, translational, and population science research. The breadth of UPCI's cancer research focus spans from preventive strategies in healthy individuals, high-risk individuals, and individuals with precancerous lesions, to issues affecting long-term cancer survivors and end-of-life care.
UPCI has 320 faculty members from 42 University departments. Many are based at the Hillman Cancer Center – a state-of-the-art facility opened in 2002, which supports side-by-side performance of laboratory research, clinical research, routine clinical care, and population sciences program administration, for maximum efficiency and patient benefit.  Each UPCI member is assigned to a research program that focuses on one of the following topic areas: molecular and cellular cancer biology, cancer immunology, cancer virology, cancer therapeutics, head and neck cancer, lung cancer, melanoma, biobehavioral oncology, cancer epidemiology and prevention, and breast and ovarian cancer. The research programs are strengthened through UPCI's three Specialized Program of Research Excellence (SPORE) awards (lung, head and neck, and melanoma and skin cancer) and a recent fourth joint SPORE award with Roswell Park Cancer Institute (ovarian cancer).  
UPCI provides its members with 13 shared resources for accessing cutting-edge equipment, technologies, and expertise. Included are capabilities for: sequencing genomic DNA and identifying proteins through mass spectrometry; imaging the location and function of specific molecules in tissues and single living cells; manufacturing cellular and virus-based therapies for use in clinical trials; and imaging tumors and therapy response, in small animals and patients enrolled on clinical trials. UPCI also sponsors a variety of activities, throughout the year, that promote collaboration across research programs and disciplines. The education and training opportunities made available through UPCI, and its partnerships with UPMC and the University of Pittsburgh, span the career-level continuum from providing high school and undergraduate students (including those from minority and other groups under-represented in the biomedical work force) with a summer research experience, to providing senior investigators and practicing oncology professionals with opportunities to update their knowledge and learn new clinical skills, while earning continuing education credits.
Through UPCI, more than 300 ongoing clinical trials are available to patients at UPMC CancerCenter's four flagship hospitals (including Children's Hospital of Pittsburgh of UPMC) and 33 community network sites, which are located throughout 29 western Pennsylvania counties. These include: large, late-phase trials sponsored by the NCI's National Clinical Trials Network (NCTN) for which UPCI is a Lead Academic Participating Site; early-phase trials sponsored by the NCI's Experimental Therapeutics-Clinical Trials Network (ET-CTN) for which UPCI is a Lead Academic Organization; and early-phase institutional trials, designed and sponsored by UPCI investigators, to test new therapies (including those discovered at UPCI) and therapy combinations.
The web-based Clinical Pathways system has been implemented to ensure consistent patient care throughout the large UPMC CancerCenter network, and inform clinicians of specific ongoing trials that could benefit individual patients. Through UPMC's Molecular Genomic Pathology Laboratory, UPMC CancerCenter patients are able to receive personalized cancer treatment and participate in genome-driven trials of new targeted therapies.
* This profile was provided by the University of Pittsburgh Cancer Institute.