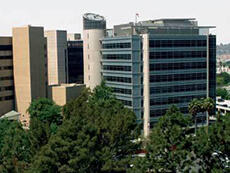 USC Norris Comprehensive Cancer Center
University of Southern California
Comprehensive Cancer Center
Caryn Lerman, Ph.D., Director
1441 Eastlake Avenue
Los Angeles, California 90089
General Information: (323) 865-3000
Toll Free: 1-800-872-2273 (1-800-USC-CARE)
Founded in 1971, the University of Southern California Norris Comprehensive Cancer Center (USC Norris) received its NCI designation in 1973. The Center is committed to investigating the complex origins and progression of cancer, developing treatment and prevention strategies, and searching for cures.
USC Norris is located in Los Angeles County, an ethnically diverse and populous region. This population provides an opportunity for the study of cancer patterns, causes, prevention, and treatment. The region's diversity provides the backbone for the Center's efforts in cancer control research and molecular epidemiology.
USC Norris' members, including almost 200 scientists and physicians, are drawn from the Keck School of Medicine, College of Letters, Arts and Sciences, and other schools and departments at USC. Together, they are working toward an understanding of the fundamental aspects of cancer. The Center's research takes place in the Renette and Marshall Ezralow Tower, Norman Topping Tower, and the Harlyne J. Norris Cancer Research Tower, where many of the basic scientists work with clinical and population-based researchers.
The Center's research is organized into five thematic and five translational programs. The thematic programs focus on molecular genetics, epigenetics and regulation, tumor microenvironment, cancer epidemiology, and cancer control research. The translational programs concentrate on genitourinary cancers, gastrointestinal cancers, women's cancers, leukemia and lymphoma, and developmental therapeutics. The developmental therapeutics program functions as a bridge, linking together the thematic and translational programs.
The transdisciplinary structure of the research programs allow physicians, epidemiologists, and biologists to work together. For example, when searching for novel treatments for breast cancer, the epidemiologists and geneticists study the environmental and genetic causes of breast cancer while the biochemists investigate the sub-cellular effects of hormonal therapies on breast cancer cells.
In partnership with the Eli and Edythe Broad Center for Regenerative Medicine and Stem Cell Research at the University, USC Norris established the Center for Molecular Pathways and Drug Discoveries, as part of its strategy to integrate stem cell research and cancer therapy.
USC also established the USC Epigenome Center and collaborates with Johns Hopkins University to collect epigenomic data from all major types of cancer. Additionally USC Norris contributes to The Cancer Genome Atlas Project (TCGA) at NCI. Another notable initiative is the Physical Science Oncology Center, which brings together medical, mathematical, and engineering disciplines. Partnerships include the Global Health Institute, the Center for Health Diversities, the Institute for Prevention Research, and the Clinical Translational Science Institute.
Patient care is provided in affiliated hospitals and outpatient clinics, including Children's Hospital Los Angeles, USC Norris Cancer Hospital, USC University Hospital, and the Los Angeles County+USC Medical Center. Many of the patients participate in clinical trials. USC Norris also offers an array of educational opportunities for faculty, staff, students, patients and the community, including continuing education for physicians and other professionals in the community.
* This profile was provided by the University of Southern California Norris Comprehensive Cancer Center.