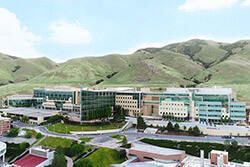 Huntsman Cancer Institute
University of Utah
Comprehensive Cancer Center
Cornelia Ulrich, MS, PhD, Director
2000 Circle of Hope
Salt Lake City, Utah 84112
Local: (801) 585-0303
HCI Main: 1-877-585-0303
Huntsman Cancer Institute (HCI) at the University of Utah is the official cancer center of Utah. HCI's mission is to understand cancer from its beginning, to use that knowledge in the creation and improvement of cancer treatments, to relieve the suffering of cancer patients, and to provide education about cancer risk, prevention, and care.
HCI's roots lie in the Utah Regional Cancer Center, which originally received National Cancer Institute (NCI) Cancer Center designation in 1986. Following a major gift from the Jon M. and Karen Huntsman family, the center was renamed Huntsman Cancer Institute in 1995. In 2015, HCI earned Comprehensive Cancer Center designation from the NCI.
The Cancer Center coalesces the work of more than 200 cancer researchers, and is organized into four research Programs that provide an environment of cancer focus and collaborative exchange: Nuclear Control of Cell Growth and Differentiation, Cell Response and Regulation, Experimental Therapeutics, and Cancer Control and Population Sciences. Ten Disease-Oriented research Teams (DOTs) provide a forum to promote translational research across the Programs. The cancer campus includes nearly one million square-feet of contiguous research and clinical care space. HCI operates a dedicated cancer specialty hospital, two cancer research buildings, a statewide network of Cancer Education Centers, and training programs for cancer researchers and health care professionals. HCI treats patients with all forms of cancer and operates several clinics focusing on patients with a family history of cancer. As the only Comprehensive Cancer Center in the Mountain West, HCI serves the largest geographic region in the country, drawing patients primarily from Utah, Nevada, Idaho, Wyoming, and Montana. HCI also has regional clinics and works with five affiliated hospitals in the region, providing more access to quality cancer care for patients living in rural areas.
The research focus of HCI is cancer genetics. HCI manages the Utah Population Database (UPDB), which is the largest database of its kind in the world with information on more than nine million people linked to genealogies, health records, and vital statistics. This information helps researchers look for genetic patterns of cancer in families, and is used to inform research in precision cancer prevention and personalized cancer treatments. Using the UPDB, HCI researchers have identified numerous cancer-related genes including BRCA1 and BRCA2 (breast), APC (colon), p16 (melanoma), NF-1 (neurofibromatosis), and SDH5 (paraganglioma).
At any given time, HCI has 200 clinical trials open, and some trials are available to patients at clinics located in Utah's suburban areas and in neighboring states. HCI is the only facility between Denver and San Francisco offering Phase 1 clinical trials.
Cancer education and outreach are core components of HCI's mission and activities. Our patient and public education services are recognized nationally, reaching more than one million people across the globe, including residents in all 29 Utah counties, all 50 states, and six continents. Utah covers 80,000 square miles, of which 96% is rural or frontier. It is home to seven American Indian tribes or nations. HCI's outreach programs are designed to increase access to cancer education, screening, and care for our underserved populations.
*This profile was provided by the Huntsman Cancer Institute