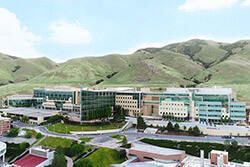 Huntsman Cancer Institute
University of Utah
Comprehensive Cancer Center
Cornelia Ulrich, MS, PhD, Director
Salt Lake City, Utah
HCI Main: 1-877-585-0303

Huntsman Cancer Institute (HCI) at the University of Utah is the state's only official NCI-Designated Cancer Center. HCI's mission is to understand cancer from its beginnings, to use that knowledge in the creation and improvement of cancer treatments, to relieve the suffering of patients with cancer, and to provide education about cancer risk, prevention, and care. HCI's roots lie in the Utah Regional Cancer Center, which was designated as an NCI cancer center in 1986. In 1995, the center was renamed Hunstman Cancer Institute in honor of Jon M. and Karen Huntsman.
In 2015, NCI granted HCI a comprehensive cancer center designation. HCI's cancer campus includes nearly one million square feet, including a dedicated cancer specialty hospital, two cancer research buildings, and extensive training programs for cancer researchers and health care professionals. In 2017, HCI doubled the space devoted to research to 400,000 square feet. HCI enjoys exceptional institutional support from both the university and the state of Utah, as well as strong statewide partnerships with other providers.
As the only comprehensive cancer center in the Mountain West (17% of US continental land mass), HCI serves the largest geographic region in the country. Patients are drawn primarily from Utah (more than 80,000 square miles), as well as from Nevada, Idaho, Wyoming, and Montana. Nearly 30% of the center's patients travel more than 150 miles to HCI to access care or participate in clinical research. HCI also has regional satellite clinics and works with five affiliated hospitals in the Mountain West, providing more access to quality cancer care for patients living in rural areas.
Most of Utah is sparsely populated, and many of its residents live in remote frontier areas that make accessing health care difficult and leads to health inequities. Utah is also home to eight American Indian nations/tribes. The state has the youngest population and highest incidence of melanoma in the United States. The institute's research focuses on addressing these inequities.
Research at Huntsman Cancer Institute
HCI's commitment to cancer research is deep and enduring. The center's work spans basic research; translational studies; clinical research, including early-phase clinical trials; and prevention, cancer control, and population-based research.
HCI unites the work of more than 200 cancer research laboratories and groups, and is organized into four research programs that provide an intellectual environment for collaborative exchange. These include Nuclear Control of Cell Growth and Differentiation, Cell Response and Regulation, Experimental Therapeutics, and Cancer Control and Population Sciences. Ten disease centers provide a counterpoint to the research programs, coordinating clinicians and scientists in teams focused on specific cancer types.
The center has a strong history of research on cancer's genetic basis and the identification of cancer-causing genes. HCI is home to the Utah Population Database (UPDB), an exceptionally powerful research resource that links data from medical records, genealogy records, and demographic data for eleven million individuals. UPDB is the largest database of its kind in the United States. This information helps researchers identify genetic patterns of cancer in families and inform research in precision cancer prevention and personalized cancer treatments. Through UPDB, HCI researchers have contributed to the development of targeted therapies and become leaders in genetic counseling to reduce cancer risk.
HCI's second central emphasis is to translate their scientific discoveries to both the clinic and the population. This goal, which requires superb transdisciplinary integration, is achieved through a strong collaborative culture at HCI. At any given time, HCI has 200 open clinical trials; annually, the center accrues more than 650 interventional treatment patients. Some trials are available to patients in HCI's satellite clinics and in neighboring states through HCI's affiliates. HCI is the only facility between Denver and Sacramento offering phase 1 clinical trials.
Cancer education and outreach are core components of HCI's mission and are designed to increase access to cancer education, screening, and care for underserved populations. The center's patient and public education services are recognized nationally, and have reached more than one million people across the globe. Formal cancer education programs span K–12 students through junior faculty members. Aligned with its commitment to equity, diversity, and inclusion, HCI is an active participant in the NCI Geographic Management of Health Disparities Program, which provides training and support for research focused on cancer health disparities.
HCI is also home to the PathMaker Programs for Cancer Research, which provides laboratory-based opportunities for underrepresented students and their teachers, often from rural areas, in biomedical research. HCI advances its research, care, and education goals through extensive Utah and Mountain West partnerships, including supporting Federally Qualified Health Centers and the Intermountain West HPV Vaccination Coalition, a research and advocacy group with over 400 members in 20 states.
Select Scientific Initiatives at Huntsman Cancer Institute
Some of HCI's key strategic initiatives to address the cancer burden include:
Melanoma/Sun Safety: Utah has the highest incidence rate of melanoma in the United States, at nearly twice the national average. HCI has invested in programs to promote sun safety in the region, including outreach to ski areas and national parks; successfully advocated for sun safety legislation; and fostered a community of melanoma researchers spanning basic, translational, clinical, and population sciences research through active investment.
Lung Cancer/Tobacco Control: Lung cancer is the leading cause of cancer-based mortality in Utah. Radon levels are high in Utah, and exposure increases risk, especially in conjunction with smoking. HCI was key to passage of a statewide Tobacco 21 bill in Utah in 2019, and advocated for radon awareness legislation at the state level. HCI researchers have developed innovative mouse model systems to study lung cancers and aid in targeting treatment strategies. The center's researchers have also tested innovative prevention strategies with the use of electronic health records and a mobile health technology, mHealth.
Rural/Frontier Cancer Needs: Typically, rural and frontier residence is associated with poor access to cancer care and screening. HCI's strategic commitment to improve outcomes for Utah's rural, frontier, and underserved populations has led to implementation research for evidence-based smoking cessation strategies, partnering with local organizations across the Mountain West; innovative studies of short-course treatments in clinical trials; and Huntsman at Home, a unique home care model for cancer, which is based on HCI research innovations in remote symptom monitoring and caregiver support. Huntsman at Home has recently been expanded to include rural Utah counties.
*This profile was provided by the Huntsman Cancer Institute.