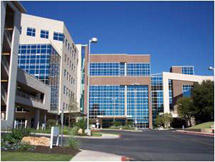 Mays Cancer Center at UT Health San Antonio
University of Texas Health Science Center
Cancer Center
Patrick Sung, D. Phil., Interim Director
San Antonio, Texas
Cancer Information Line: 1-800-340-2872

The Mays Cancer Center at UT Health San Antonio was originally established in 1974 as the Cancer Therapy & Research Center (CTRC), an outpatient radiation therapy clinic for the local community. In 1991, CTRC launched its Institute for Drug Development to find new treatments for patients with cancer through the integration of research programs of excellence in translational and clinical sciences. Soon after, the center expanded and joined forces with the University of Texas Health Science Center at San Antonio (now known as UT Health San Antonio), to form an NCI-Designated Cancer Center.
In 2007, the CTRC became a part of UT Health San Antonio, forming the Mays Cancer Center. The Mays Cancer Center includes a multidisciplinary faculty of more than 100 members of the UT Health San Antonio faculty representing more than 10 academic departments and 3 schools.
The mission of the Mays Cancer Center is to reduce the burden of cancer in San Antonio, South Texas, and beyond, through the highest-quality cancer research, prevention, and treatment, as well as through the education of the next generation of scientists and clinicians focused on the prevention and treatment of cancer in South Texas.
Mays Cancer Center physicians offer treatment at disease-specific, multidisciplinary clinics for cancer in all its forms, including breast, gastrointestinal, gynecological, genitourinary, geriatric, head and neck, hematologic/blood, neuro-oncology, sarcoma, and thoracic-pulmonary cancers.
Working in these disease-specific, multidisciplinary clinics, the center's physicians work with staff to build an individualized treatment regimen for each patient in a one-stop approach. The center also offers patients the full spectrum of clinical and support services to meet their medical, nutritional, and spiritual needs from diagnosis through treatment, rehabilitation, discharge, and follow-up care. The Mays Cancer Center partners with several community hospitals to provide care.
Research at Mays Cancer Center
The center's members are organized into three highly collaborative research programs, each with a unique focus:
The Cancer Development & Progression (CDP) program strives to define the basic mechanisms that control cancer development and progression, identify new therapeutic targets, and work with the other Mays Cancer Center Research programs to optimize therapies for cancer prevention and treatment. Investigators in this program are focused on two broad themes:

Genome Repair and Epigenetics is focused on defining DNA repair and epigenetic mechanisms that can be effectively translated into clinical practice.
Tumor Microenvironment investigators are working to understand mechanisms and identify new treatment targets for modulating tumor metastasis, cell signaling, immune signaling, and metabolism. CDP faculty have expertise in hormonal signaling, cancer immunology, and cancer metastasis that spans organs and systems.
The Experimental & Developmental Therapeutics (EDT) program strives to discover, develop and test novel therapeutics and biomarkers to improve diagnosis/prognosis and treatment of adult and pediatric cancers. The program's investigators have expertise in structural biology, medicinal chemistry, tumor immunology, target discovery, and drug development ranging from investigational new drug-enabling studies to clinical trials is key to accomplishing these objectives. The EDT program is the hub for clinical development of discoveries made by all members of the Mays Cancer Center. The program is centered around four themes:

Investigators in neuro-oncology and targeted therapeutics focus on discovering and testing specific targets that drive cancer growth, progression, and therapeutic resistance.
Investigators identify new uses for FDA-approved and new investigational drugs and test novel combinations of drugs.
Immuno-oncologists focus on identifying and characterizing biomarkers to predict immunotherapy response in patients and developing new approaches, including optimized and targeted immunotherapies.
Investigators conduct early-phase trials of novel discoveries made by all cancer center members.
The Population Science & Prevention program focuses on research that affects the center's 38-county catchment area across the cancer and age continuum. The program:

conducts hypothesis-derived and hypothesis-generating translational research that will yield novel methods and approaches to cancer screening and early detection,
design and carry out prevention interventions, and
promote sustained survivorship in the predominantly Hispanic population of Mexican descent throughout South Texas.
Select Scientific Initiatives at Mays Cancer Center
The Mays Cancer Center's approach to serving the community is linked with many outreach activities, including educational activities like the Living Beyond Cancer: A to Z event for patients, caregivers, and the community. There are also educational events, such as the Mays Cancer Center-sponsored San Antonio Breast Cancer Symposium, which attracts more than 9,000 physicians and scientists to San Antonio from around the world each December, and, more recently, the Understanding the Science of Cancer in Latinos Conference.
The Mays Cancer Center also plays an integral role in the education and training of basic, clinical, and prevention researchers of the future. The center offers educational opportunities that span from middle school through post graduate training.
This profile was provided by Mays Cancer Center at UT Health San Antonio.