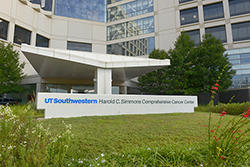 Harold C. Simmons Comprehensive Cancer Center
University of Texas Southwestern Medical Center
Comprehensive Cancer Center
Carlos L. Arteaga, M.D., Director
Dallas, Texas
Main: (214) 645-4673

The University of Texas (UT) Southwestern Harold C. Simmons Comprehensive Cancer Center became an NCI-Designated Cancer Center in 2015 and is the only comprehensive cancer center in North Texas. Simmons Comprehensive Cancer Center (SCCC) is an incubator for cancer discovery in the region and a leader in research and patient care nationwide. SCCC also has been recognized among the country's leading cancer treatment facilities by U.S. News & World Report. 
The center's mission is to ease the burden of cancer in North Texas through groundbreaking discovery, transdisciplinary research, impactful community engagement, education, and exceptional patient care.
SCCC is organized as a matrix center that integrates cancer research, clinical cancer care, cancer control, and community outreach across the University of Texas Southwestern Medical Center and its health system affiliates, Parkland Health and Hospital System, and Children's Medical Center of Dallas. SCCC satellite sites in Fort Worth (at the Moncrief Cancer Institute) and Richardson/Plano offer their patients cancer prevention and treatment services and outreach education.
Research at UT SCCC
SCCC's 2020–2025 strategic plan contains seven principal pillars that form the basis of its tactics and action steps over five years. These are: translational cancer research, cancer discovery, cancer-focused funding, multidisciplinary cancer care, cancer clinical trials, education and training, and community outreach and engagement. These pillars are organized around three themes:
bidirectional translational cancer science between the domains of the laboratory, the clinic, and the community
transdisciplinary research programs
the transformation of the cancer burden in North Texas and beyond
SCCC has a strong scientific basis and a critical mass of multidisciplinary investigators in the following research directions or initiatives: Cancer Immunology, Cancer Metabolism, Pancreas Cancer, and Health Care Delivery Research. The center plans to develop translational programs of excellence in these four areas over the five years.
Select Scientific Initiatives at UT Southwestern SCCC
Simmons Comprehensive Cancer Center physicians and scientists conduct laboratory research, clinical research, and population-based research, leading to new drugs and treatments that improve cancer care and ultimately save lives. These collaborative, multidisciplinary research programs form the backbone of SCCC research:
Cellular Networks in Cancer advances the fundamental knowledge of both intercellular and intracellular networks that contribute to cancer initiation, progression and metastasis, and then translates these findings into novel approaches to cancer prevention and therapy.
Chemistry and Cancer blends fundamental biology research with the development of novel cancer treatment therapies. 
Development and Cancer investigates the developmentally and evolutionarily conserved processes that are fundamental to cancer cell growth, division, and differentiation. The program's staff members also study the organ and organism growth and developmental processes that are derailed in human cancer.
Experimental Therapeutics provides an organized, integrated infrastructure that enables both clinical translation of basic and population science research from Simmons research programs and identification of clinically relevant hypotheses for testing by the center's basic science programs. This is the main hub of cancer clinical trials at SCCC.
Population Science and Cancer Control seeks to generate research discoveries addressing cancer burden and disparities in Simmons's catchment area and beyond. The program emphasizes research across the cancer continuum, from prevention and early detection to treatment and survivorship. Ultimately, this program works to translate discoveries to inform research across disease sites and across the center's three goals.
* This profile was provided by Simmons Comprehensive Cancer Center.