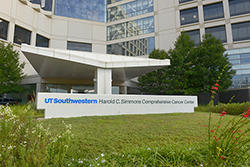 Harold C. Simmons Comprehensive Cancer Center
University of Texas Southwestern Medical Center
Comprehensive Cancer Center
Carlos L. Arteaga, M.D., Director
2201 Inwood Road
Dallas, Texas 75390
Main: (214) 645-4673
Toll Free: 1-866-460-4673 (1-866-460-HOPE)
The Harold C. Simmons Comprehensive Cancer Center, established in 1991, serves Dallas-Fort Worth and surrounding counties in North Texas, a metropolitan area encompassing a racially and ethnically diverse population of nearly 7 million people.
Simmons Cancer Center is built on a foundation of basic science excellence at the University of Texas (UT) Southwestern Medical Center. Simmons has four main objectives: conducting outstanding biomedical research; providing exceptional patient care; creating a rich training environment for future cancer physicians and scientists; and pursuing aggressive outreach to provide more Texans with life-saving cancer prevention and early detection.
More than 260 Cancer Center members work in trans-disciplinary teams organized around five scientific programs:
• Development and Cancer, which explores how aberrant developmental processes contribute to cancer initiation and progression;
• Cancer Cell Networks, which elucidates mechanisms in aberrant cell regulatory networks that support cancer initiation and growth;
• Chemistry and Cancer, which discovers and develops drug-like molecules that affect biological processes related to cancer growth or inhibition;
• Experimental Therapeutics, which advances personalized medicine by understanding how gene-related processes lead to cancer, and how genetic variations affect tumor activity;
• Population Science and Cancer Control, which generates research discoveries that address cancer burden and disparities, especially through prevention and screening.
Simmons' trans-disciplinary focus is reflected in its 23 multi-investigator research projects including a Specialized Program in Research Excellence in Lung Cancer (NIH-P50), colon and cervical cancer PROSPR Center (NCI-U54), Lung Cancer Target Discovery and Development (NCI-U01), PanCan/AACR Gateway Grant, National Clinical Trials Network Lead Academic Participating Site (NCI-U10), and Center for Patient-Centered Outcomes Research (AHRQ). The state-funded Cancer Prevention and Research Institute of Texas has accelerated research progress and produced transformative change through grants for recruitment of cancer-focused investigators, new shared resources, graduate training, and multi-investigator initiatives.
Research incubators and resources at UT Southwestern and Simmons include the Children's Medical Center Research Institute; Advanced Imaging Research Center; cell and nanoparticle GMP facility; Phase I Clinical Trials Unit; and High-Throughput Screening, Biostatistics, Bioinformatics, Tissue Management, and Live Cell Imaging and Small Animal Imaging shared resources.
Students at UT Southwestern's Graduate School of Biomedical Sciences can pursue a Ph.D. in Cancer Biology, with mentorship from faculty in disciplines across the Cancer Center.
Simmons physicians provide patient care at facilities including UT Southwestern's 460-bed Clements University Hospital, opened in 2014 with one floor devoted to cancer care; a brand-new, 862-bed Parkland hospital, the university's primary teaching facility; and inpatient/outpatient cancer facilities at Children's Medical Center.
In 2014, UT Southwestern's University Hospitals received Three-Year with Commendation at Gold Level accreditation from the American College of Surgeons' Commission on Cancer, and the commission's Outstanding Achievement Award. The Foundation for the Accreditation of Cellular Therapy has accredited Simmons' adult bone marrow transplant program and, jointly with Children's, the pediatric transplant program.
Outreach, targeting medically underserved populations, includes prevention, screening/early detection, clinical genetics, education, and survivorship services. UT Southwestern's Moncrief Cancer Institute is an essential cancer-care provider in Fort Worth and—through telemedicine, a mobile clinic, and collaborations across the region—a hub for rural care.
* This profile was provided by the Harold C. Simmons Cancer Center.