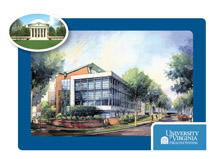 University of Virginia Cancer Center
Cancer Center
Thomas P. Loughran Jr., M.D., Director
6171 West Complex
Charlottesville, Virginia 22908
Main: (434) 924-3627
Toll Free: 1-800-223-9173
The University of Virginia (UVA) Cancer Center was founded in 1984 and received its NCI designation in 1987. The Center's vision is of a collaborative approach to basic and translational research coupled with the delivery of multi-specialty, patient-centered care.
The special mission of the Center is to identify new frontiers of knowledge that can be brought to bear in the fight against cancer. UVA has a long tradition of discovery research in cancer cell regulation, especially in the area of signal transduction. To that end, the Center has fostered partnerships between molecular pharmacologists and tumor virologists, which spearheaded the creation of the cancer cell signaling field. The Center has worked with the private sector to translate discoveries into useful tools for cancer care.
The Center draws more than 130 researchers from 22 different academic departments. UVA's research activities are organized around five programs that combine a foundation of basic science with translational or clinical components: Chemical and Structural Biology, Molecular Genetics and Epigenetics, Cancer Cell Signaling, Women's Oncology, and Cancer Immunology and Immunotherapy.
Over the past decade, the Center has expanded from its core expertise in cell and molecular biology into the physical and quantitative sciences, including collaborations with biomedical engineers and structural biologists. UVA has developed basic programs in endocrinology and immunology into translational programs in women's oncology and immunology/immunotherapy. Other partnerships have been established with behavioral investigators, particularly in the School of Nursing.
Consonant with these productive partnerships are UVA's early clinical trials of targeted agents and immunotherapies. The Center also plays a leadership role in cooperative group trials in gynecologic oncology, neuro-oncology, and hematologic malignancies.
Inter-institutional collaboration is woven into the fabric of the Center's work. UVA is the lead institution in an NIH-funded program of 23 institutions worldwide working to understand the fundamental mechanisms that control cell movement, a key to understanding and controlling the invasion and metastasis that is often the lethal event in cancer. UVA is also involved in the Cancer Genome Anatomy Project, providing high quality tissue samples from hundreds of subjects. The Center is one of eight international centers in the ENCODE consortium to functionally annotate 1 percent of the human genome.
Since the Center is located in a largely rural area, it has a broad geographic reach. This extends as far as the Appalachian regions of southwest Virginia, where the Center leads the Healthy Appalachia initiative – with network hospitals and clinics, telemedicine, mobile digital mammography, and dedicated nurse navigators. UVA engages in partnerships to overcome both health disparities and the economic disparities that underlie them.
* This profile was provided by the University of Virginia Cancer Center.