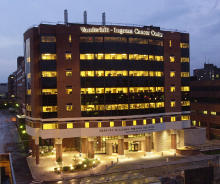 Vanderbilt-Ingram Cancer Center was established in 1993 and became an NCI-designated cancer center in 1995. The Center was awarded status as a comprehensive cancer center in 2001. Vanderbilt-Ingram has more than 280 members devoted to conducting research and providing care for both adult and pediatric cancers.
Vanderbilt-Ingram's mission is to alleviate cancer death and suffering through pioneering research, innovative patient-centered care, and evidence-based prevention, education and community initiatives. Central to achieving these goals are the Center's thematically-organized research programs, which span the spectrum of scientific endeavors – from basic science to clinical and population-based research:
• Breast Cancer
• Cancer Epidemiology
• Cancer Health Outcomes and Control
• Gastrointestinal Cancer
• Genome Maintenance
• Host-Tumor Interactions
• Signal Transduction and Chemical Biology
• Translational Research and Interventional Oncology
Major research priorities for Vanderbilt-Ingram include:
• Conducting cutting-edge basic science and translating the resulting discoveries into the clinic
• Identifying individuals and populations at high risk of cancer and developing interventions to lower this risk
• Advancing molecularly-based diagnosis and treatment for cancers
• Analyzing health care outcomes to inform clinical decision-making
• Understanding and meeting the medical, physical, psycho-social, cognitive, and other needs of a rapidly growing population of cancer survivors
A hallmark of the Center is a strong collegial culture that fosters extensive research collaborations. The Center's partners at Vanderbilt University include the Vanderbilt Institute of Chemical Biology, the Vanderbilt University Institute of Imaging Science, and the Monroe Carell Jr. Children's Hospital.
Vanderbilt-Ingram's commitment to community outreach is exemplified by a long-standing partnership with historically black institutions Meharry Medical College and Tennessee State University, as part of the Meharry-Vanderbilt Alliance. This collaboration focuses on reducing health disparities by: increasing access to care and clinical trials among the underserved; providing support and mentoring students, trainees, and young scientists from underrepresented groups; and conducting research to reduce the burden of cancer among minorities and the underserved.
Another major program is the Southern Community Cohort Study (SCCS), an NCI-funded initiative of Vanderbilt, Meharry, and dozens of federally funded community health centers in the southeastern United States. The SCCS is enrolling and following approximately 90,000 people—two-thirds of them African American—with the goal of understanding and addressing why African Americans and people in this region face a higher burden of cancer than other groups and regions in the nation.
To address the growing need for cancer care in the region, Vanderbilt-Ingram continues to develop partnerships with community health care providers throughout Tennessee to bring the Center's expertise and quality of care to more communities across the region.
* This profile was provided by the Vanderbilt-Ingram Cancer Center.