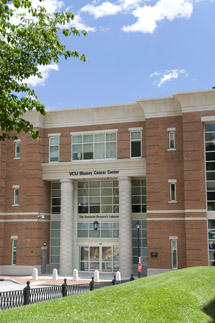 Massey Cancer Center
Virginia Commonwealth University
Cancer Center
Robert A. Winn, MD, Director
Richmond, Virginia
General Information: (804) 828-0450

Virginia Commonwealth University (VCU) Massey Cancer Center was founded in 1974 and received its NCI designation the following year.  The mission of VCU Massey Cancer Center is to discover, develop and deliver effective means to prevent, detect, treat and ultimately cure cancer through innovative research, patient care and education.
Massey Cancer Center conducts cancer research at every level, including basic science, translational, clinical and population sciences research. Engaged in this research are more than 180 Massey research members, including scientists and physicians from 36 academic departments, six schools and one college at VCU. They collaborate on research in five key scientific programs: Cancer Cell Signaling, Cancer Molecular Genetics, Cancer Prevention and Control, Developmental Therapeutics, and Radiation Biology and Oncology. These programs are highly interdisciplinary and span across multiple cancer types.
Massey Cancer Center has a major strength in translational research, in which collaborations between laboratory scientists, population scientists and clinicians facilitate the translation and real-world application of research discoveries into improved patient care and advances in cancer prevention and control.  These advances include the development of new drugs and new combinations of drugs, such as pemetrexed, a leading medication for lung cancers that a Massey researcher co-developed; neoadjuvant therapy (chemo before surgery), which Massey helped pioneer; new technologies, such as Intensity Modulated Radiotherapy (IMRT), which Massey was the first in the nation to offer for delivery of high radiation doses to tumors while sparing surrounding normal tissue; new approaches to symptom management, such as Calmare pain therapy, which Massey was the first in the U.S. to test for the alleviation of pain; and cancer prevention interventions, such as Massey's discovery that simpler colonoscopies (ones without surgery to remove polyps) are safer.
A key part of the translational research cycle is developing and conducting clinical trials that test promising scientific breakthroughs, and Massey Cancer Center is a leader in Virginia offering more than 100 clinical trials for a variety of cancers. Massey also leads a statewide network for cancer clinical research that brings state-of-the-art clinical trials to patients in their own communities and emphasizes the inclusion of minorities in clinical trials. Massey is one of only 12 institutions in the nation to receive the type of NCI grant that supports this network that fosters access to cancer research for minority and medically underserved patients.
The inclusion of minorities in research is critical to broadening the applicability of the research and helping to reduce the health disparities prevalent in these populations.  Massey Cancer Center is nationally recognized for its work in cancer disparities, studying the socioeconomic and cultural forces causing or contributing to disparities in cancer outcomes with a focus on both underserved minority populations and communities, and the medically indigent.
In addition to its research activities, Massey Cancer Center provides comprehensive, award-winning clinical oncology care, including a full range of medical and support services. Massey treats patients with all kinds of cancer, including rare and complex cancers. Both ambulatory and inpatient care are delivered at Massey at various sites across the state by multidisciplinary teams of disease-specific specialists to fully coordinate and personalize each patient's course of treatment. Massey is also an internationally recognized leader in palliative care, providing pain and symptom management as well as emotional, spiritual and psychological support for patients and their families.
Massey Cancer Center also serves as a vital resource for education. The center offers academic programs and training for students, cancer researchers and oncology health care professionals as well as health outreach programs for cancer patients, caregivers and the surrounding community.
* This profile was provided by the Massey Cancer Center.