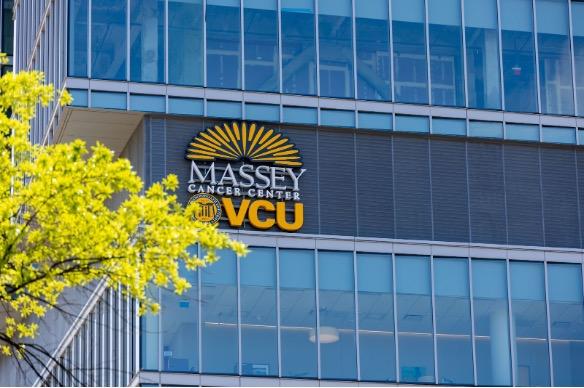 VCU Massey Comprehensive Cancer Center
Virginia Commonwealth University
Comprehensive Cancer Center
Robert A. Winn, MD, Director
Richmond, Virginia
General Information: (877) 4MASSEY

Virginia Commonwealth University (VCU) Massey Comprehensive Cancer Center (Massey) was founded in 1974 and received its initial NCI designation the following year. In 2023, Massey was recognized as an NCI-designated Comprehensive Cancer Center Center and subsequently changed its name to VCU Massey Comprehensive Cancer Center. Massey's mission is to reduce the state cancer burden for all Virginians by addressing the confluence between biological, social, and policy drivers through high-impact, cutting-edge research; person-centered care across the continuum, from prevention through survivorship; community integration; and training the next generation of community-centric researchers and health care professionals. As a leading academic medical center within the Commonwealth of Virginia, Massey serves a 66-locality catchment area spanning central, southern, and eastern Virginia. This region is home to more than four million residents and is characterized by communities with substantial racial, geographic, and socioeconomic diversity that contributes to a higher overall cancer burden and significant health disparities than reported nationally. 
A community-centric approach
Massey is introducing a new generation of community-centered cancer centers, leading the nation in establishing a 21st-century model of equity for cancer research and care. Massey uses a "community-to-bench" model to ensure the community serves as an equal expert and research partner, enabling Massey to better refine scientific questions and best address the cancer burden and disparities of those the cancer center serves. This approach ensures more consistent integration of community input into Massey's cancer research, education, care, and policy initiatives. 
Research at VCU Massey Comprehensive Cancer Center
Massey conducts cancer research at every level, including basic research, translational, clinical, and population sciences. Nearly 150 Massey research members span more than 38 academic departments and collaborate across three scientific research programs: Cancer Biology, Developmental Therapeutics, and Cancer Prevention and Control. 
Informed by its "community-to-bench" model, Massey's strengths are reflected in the center's scientific expertise in community-engaged research and efforts to eliminate health disparities and ensure equitable access to cancer prevention, screening, care, and survivorship services. Furthermore, a growing portfolio of team science and inter-institutional partnerships are co-led by investigators representing diverse disciplines and perspectives.
Through one of the largest offerings of clinical trials in Virginia, Massey's translational research is key to developing, testing, and evaluating new therapeutic approaches. Massey also leads a statewide network for cancer clinical research through its Minority/Underserved NCI Community Oncology Research Program (MU-NCORP). The MU-NCORP brings state-of-the-art clinical trials to patients in their own communities, with an emphasis on the inclusion of minorities and medically underserved patients in clinical trials. Massey is one of only 14 MU-NCORPs in the nation.
As a national leader in cancer research training and education, Massey supports the development of emerging scientists from high school to early professional careers with an emphasis on diversifying the cancer workforce and attracting individuals to long-term careers in oncology-related fields. In addition, Massey offers a number of mentorship and career development opportunities through participation in cancer research events, seminars, and educational workshops.
Patient care and clinical services
In addition to its research activities, Massey provides comprehensive clinical oncology care, including a full range of medical and support services. Massey treats patients with all kinds of cancer, including rare and complex cancers. Both ambulatory and inpatient care are delivered by Massey at various sites across the state by multidisciplinary teams to fully coordinate and personalize each patient's course of treatment. Massey is Virginia's largest and most comprehensive bone marrow transplant provider and the first in the state for children with cancer, offering every type of bone marrow and stem cell transplantation.
Massey also boasts an innovative model supporting survivors and their caregivers from the time of diagnosis through treatment and beyond. Massey's Survivorship Clinic emphasizes prevention and risk reduction for recurrent and new cancers, management of chronic health conditions, and patient empowerment while contributing to the center's research and educational missions. 
*This profile was provided by the VCU Massey Comprehensive Cancer Center