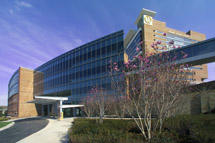 Wake Forest Baptist Comprehensive Cancer Center
Comprehensive Cancer Center
Boris Pasche, M.D., Ph.D., Director
Medical Center Boulevard
Winston-Salem, North Carolina 27157
Main: (336) 716-7971
Appointments: (336) 716-WAKE
The Wake Forest University (WFU) School of Medicine was founded in 1902 and North Carolina Baptist Hospital opened in 1923. It has grown into a large academic medical center with 900 faculty members, more than 100 buildings on 290 acres, and 900 licensed beds. The Comprehensive Cancer Center of Wake Forest University (CCCWFU) started in the early 1960's and became an NCI-designated cancer center in 1972 and a comprehensive center in 1990.
The mission of the Cancer Center is to improve the lives of cancer patients by focusing basic, clinical, and population sciences on the problems of cancer prevention, early diagnosis, and novel treatment. The membership of CCCWFU is comprised of more than 125 faculty members from 34 departments. The Center's research is divided into four programs: Cell Growth and Survival, Cellular Damage and Defense, Clinical Research, and Cancer Prevention and Control. To facilitate the scientific and translational goals of the programs, the CCCWFU has established three Centers of Excellence in brain, breast, and prostate cancer.
The CCCWFU recognizes the importance of building cross-departmental and trans-disciplinary team approaches to advance the science and treatment of cancer. Teams have been developed in cancer genomics, the tumor microenvironment, nanotechnology, imaging, novel anticancer drugs and devices, cancer survivorship, tobacco control, and cancer health disparities. Collaborations with other centers and schools within the institution are an essential element to the success of this research. The Cancer Center has strong connections with the Wake Forest Institute of Regenerative Medicine, the Center for Genomics and Personalized Medicine, the Wake Forest University Departments of Physics and Chemistry, and the Virginia Tech-Wake Forest University School of Biomedical Engineering and Sciences.
The Center is the main tertiary referral center for patients in a large geographic region. The CCCWFU provides a multidisciplinary approach to treatment in a state-of-the-art facility. A six-story expansion of the Cancer Center opened in December 2013. The new portion of the building contains acute care oncology inpatient beds and an oncology intensive care unit, in addition to the existing floors which house all outpatient oncology services. This new building provides an exceptional environment for patients, family and caregiver experience.  Cutting-edge research and precision medicine is available to all patients who have access to approximately 200 clinical trials.
The CCCWFU was founded with a strong community orientation and continues this tradition by addressing cancer issues that are important to the region's large contingents of African Americans, Latinos, Native Americans, rural poor, and pockets of urban poor. The Center works very closely with the Maya Angelou Center for Health Equity at WFU, which was founded by the renowned poet to address health disparities across the region and the nation.
* This profile was provided by the Comprehensive Cancer Center of Wake Forest University.