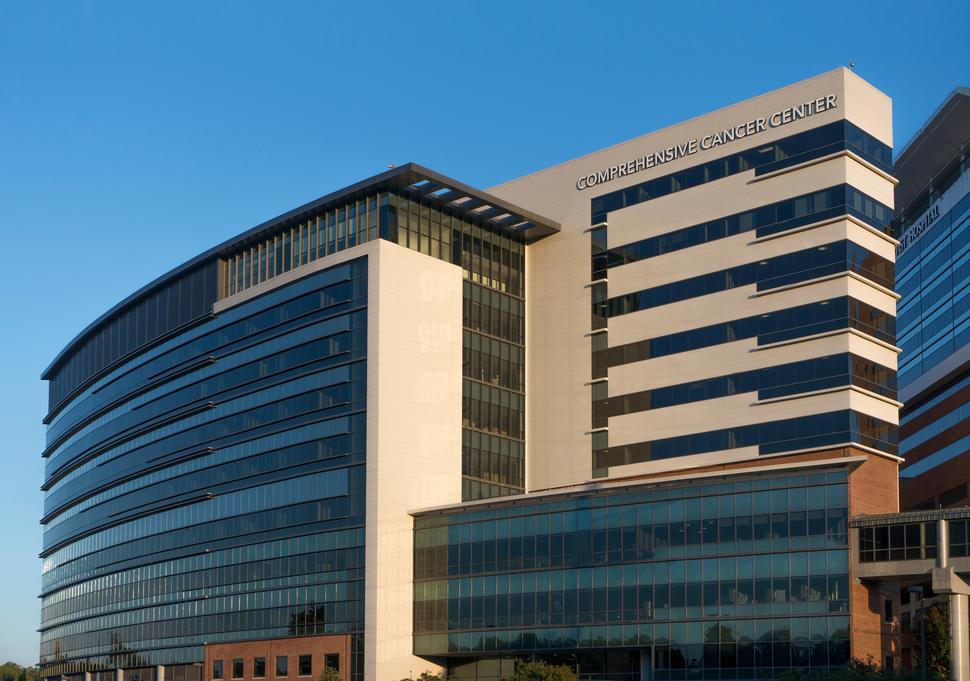 Atrium Health Wake Forest Baptist Comprehensive Cancer Center
Comprehensive Cancer Center
Ruben A. Mesa, MD, FACP, Executive Director
Winston-Salem, North Carolina
Main: (336) 716-7971

The Wake Forest Baptist Comprehensive Cancer Center (WFBCCC) became an NCI-Designated Cancer Center in 1974. Offering nine cancer care locations across the Wake Forest Health Network, the center provides access to cancer care and expertise to the Piedmont and southern Appalachian region, an area of 58 contiguous counties in North Carolina, Virginia, and West Virginia. This region has significant health disparities compared with national averages.
WFBCCC is focused on improving cancer outcomes, patient advocacy, and community engagement. Its mission is to reduce cancer incidence, morbidity, and mortality in the local area it serves, nationally, and internationally through cutting-edge research, treatments, education, outreach, and multidisciplinary training. The WFBCCC leverages the expertise of more than 400 physicians and researchers to translate scientific knowledge and innovations directly to patients.
Research at WFBCCC
The WFBCCC's cancer research activities are focused on four programmatic areas: Cancer Prevention and Control, Neuro-Oncology, Cancer Genetics and Metabolism, and Signaling and Biotechnology. Each of these programs meets the specific cancer-related health needs of the communities the WFBCCC serves including tobacco cessation, health disparities, difficult-to-treat cancers, survivorship, and precision medicine.
The WFBCCC has more than 250 clinical trials available for patients with various types and stages of cancer. The center offers more cancer-related clinical trials than any other hospital in the region, making access to the latest therapies, prevention techniques, and survivorship strategies available to patients across the area and beyond.
Select Scientific Initiatives at WFBCCC
The WFBCCC is the recipient of a number of important grants fostering the growth of its four research programs. A few highlighted grants include:
NCI Community Oncology Research Program (NCORP), a $25 million grant focused on bringing cancer clinical trials to people in their own communities throughout the United States, thereby generating a broadly applicable, evidence-based approach that contributes to improved patient outcomes and a reduction in cancer disparities.  
Facilitated Access to Experimental Trials (FAST) Program, a $750K grant focused on improving access to cancer care for rural and minority communities by broadening access to promising cancer clinical trials through the NCI Experimental Therapeutics Clinical Trials Network (ETCTN).
Maximizing Local Access to Therapeutic Deliveries in Glioblastoma, a $9.2 million NCI P01 grant that investigates novel therapeutic approaches to improve delivery of unique drug candidates to glioblastoma tumors. This grant is well suited for rapid translation to clinical settings.
The WFBCCC maintains a high level of commitment to scientific discovery and translation, innovative clinical research, and cancer prevention and survivorship research. Several notable initiatives are:
CPI-613 (devimistat): this novel therapy was developed at the WFBCCC. It is an inhibitor of mitochondrial metabolism with promising activity in advanced pancreatic cancer as well as in refractory leukemia.
TheraBionic P1 device: a WFBCCC investigator developed a medical device that uses nonthermal, radio wave therapy to block the growth of liver cancer cells anywhere in the body without damaging healthy cells.
Precision medicine: a clinical study recently opened for cancer patients for whom standard treatments have failed. Based upon a patient's genetic profile and mutations, this study identifies the opportunity to repurpose drugs approved for other cancers to treat patients not responding to current therapies.
mPATH: a digital health navigator program developed and piloted at the WFBCCC to address colorectal and lung cancer health disparities. mPATH offers patients easy access to kiosks in their primary care providers' offices to help identify those who need screening, educate them about options, let them request a screening test, and transmit results to their electronic health record.
* This profile was provided by the Comprehensive Cancer Center of Wake Forest University.