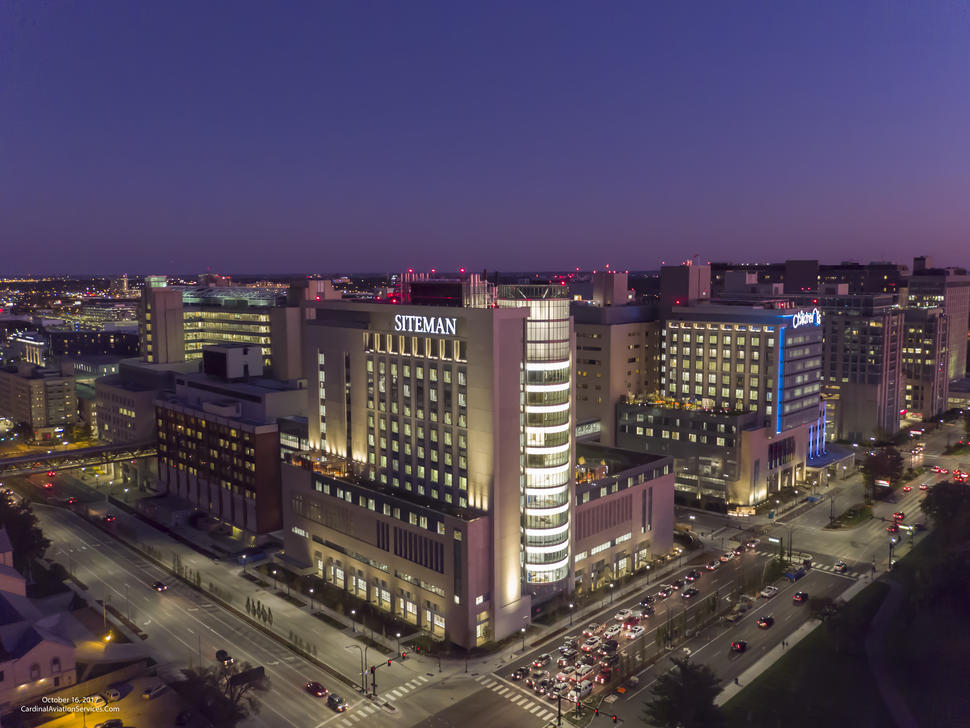 Alvin J. Siteman Cancer Center
Washington University School of Medicine and Barnes-Jewish Hospital
Comprehensive Cancer Center
Timothy J. Eberlein, M.D., Director
St. Louis, Missouri
Main: (314) 747-7222

In 2001, 2 years after the Alvin J. Siteman Cancer Center was established, it was named an NCI-Designated Cancer Center and was further designated a Comprehensive Cancer Center in 2005.
Siteman Cancer Center is an international leader in moving laboratory research into the clinic, including new methods and interventions to better diagnose, treat, and prevent cancer.
The center includes the cancer research, prevention, and treatment programs of Barnes-Jewish Hospital and Washington University School of Medicine in St. Louis. Siteman treats nearly 10,000 newly diagnosed cancer patients each year, making it one of the largest cancer centers in the United States.
Research at Siteman Cancer Center
Siteman offers the expertise of more than 450 Washington University scientists and physicians whose research results are quickly incorporated into treatment options, including hundreds of therapeutic clinical trials.
Of particular note is Siteman's innovative research aimed at improving the survival of leukemia patients and reducing the treatment-related side effects they commonly experience. In addition, Siteman researchers are developing new approaches to detect and treat pancreatic cancer.
Other recognized research strengths include: genomics; cancer imaging, prevention, and disparities; and the use of the body's immune system to fight cancer.
Select Scientific Initiatives at Siteman Cancer Center
As leaders in sequencing the genomes of cancer patients and their tumor cells, Washington University scientists at Siteman have a unique perspective on the genetic changes that drive the development of cancer. These researchers and clinicians are engaged in studies to determine which drugs will work best for patients based on the genetic makeup of their tumors, including breast, lung, endometrial, and other forms of the disease.
Siteman has clinical programs that specialize in bone marrow and stem cell transplantation, gynecologic oncology, sarcoma, and neuro-oncology. 
Public health and prevention scholars at the center are integrating evidence-based cancer control initiatives into clinical and public health practice, and exploring ways to improve tobacco control.
Engineers in optical imaging at Siteman are developing goggles that use near-infrared light to assist surgeons in visualizing tumors. The investigational technology relies on a biomarker that binds to cancer cells, causing the tumor to "light up" and become visible to surgeons wearing the goggles.
This profile was provided by Siteman Cancer Center.