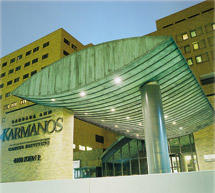 The Barbara Ann Karmanos Cancer Institute
Wayne State University School of Medicine
Comprehensive Cancer Center
Boris C. Pasche, M.D., Ph.D., FACP, Director
Detroit, Michigan
Appointments: 1-800-527-6266 (1-800-KARMANOS)

The Karmanos Cancer Institute (KCI) is a not-for-profit, NCI-designated Comprehensive Cancer Center in metropolitan Detroit.  The original designation as an NCI-designated Comprehensive Cancer Center was obtained under the name "Meyer L. Prentis Comprehensive Cancer Center of Metropolitan Detroit" in 1978.  The institute was founded in 1943 under the name Detroit Institute for Cancer Research.  KCI was formed in 1995 through a strategic partnership of the Meyer L. Prentis Comprehensive Cancer Center of Metropolitan Detroit, the Wayne State University Cancer Institute, the Michigan Cancer Foundation (MCF), and the clinical cancer programs of the Detroit Medical Center.  KCI was named after Barbara Ann Karmanos, the late wife of Peter Karmanos, Jr., a local philanthropist.
The Karmanos Cancer Institute is a unique, urban-based integrated center of research, patient care and education, dedicated to the prevention, early detection, treatment and eventual eradication of cancer. Key to achieving this mission is KCI's research effort, which is conducted among four interdisciplinary programs, organized to integrate basic, translational, clinical, and population research activities.
The Tumor Biology and Microenvironment Program aims to eradicate cancer by identifying the cellular and molecular mechanisms that drive interactions between tumors and their microenvironment, and develop and test innovative diagnostic and treatment strategies.
The goals of the Molecular Imaging Program include the development and testing of new imaging methods ranging from preclinical work on the synthesis of new probes and development of new devices to the clinical evaluation of imaging approaches to assess cancer risk, detect cancer, guide treatment and monitor therapy.
The Molecular Therapeutics Program focuses on developing new approaches for treating cancer, ranging from drug discovery to mechanism-based efforts emphasizing mechanisms-of-action of novel tumor-targeted and standard agents and critical signaling pathways.
The Population Studies and Disparities Research Program aims to advance the understanding of the determinants of cancer in metropolitan Detroit's diverse population in an effort to decrease racial and ethnic disparities.  The goals of this Program include identifying risk factors underlying disease onset and progression, and developing and testing intervention strategies to reduce risk and improve diagnosis, treatment and outcomes.  KCIs Metropolitan Detroit Cancer Surveillance System was a founding participant in the NCI's national Surveillance, Epidemiology and End Results (SEER) program.  This system facilitates investigations into race-related disparities in cancer incidence and survival. Studies are underway to identify environmental, genetic, and social/cultural determinants of health disparities.
A primary objective of KCI is to integrate its scientific research and clinical programs with community outreach activities to local populations in metropolitan Detroit and throughout Michigan.  Research is conducted through more than 450 protocols at the Center, including approximately 330 clinical investigations and a Phase I trial program.
* This profile was provided by the Barbara Ann Karmanos Cancer Institute.