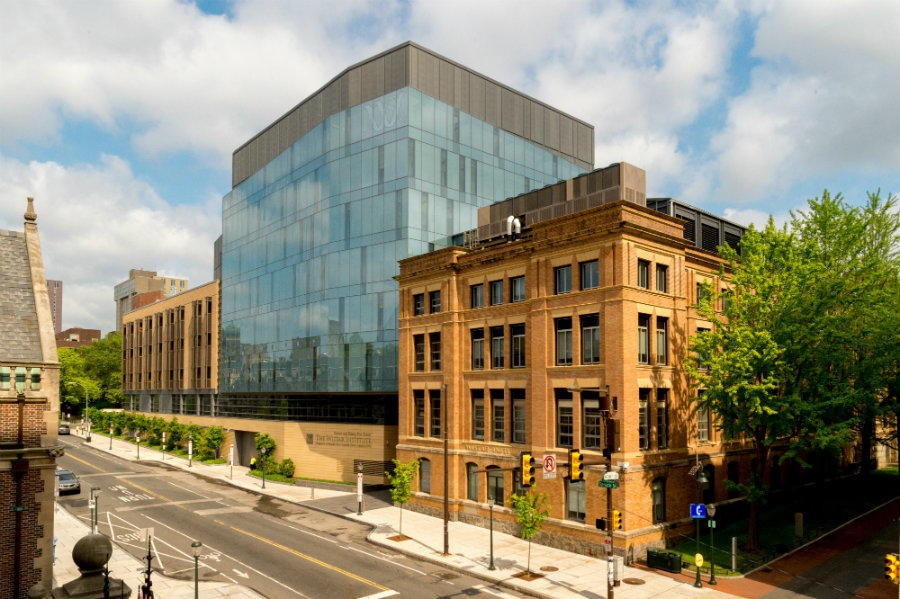 Ellen and Ronald Caplan Cancer Center of The Wistar Institute
The Wistar Institute
Basic Laboratory Cancer Center
Dario C. Altieri, M.D., Director
Philadelphia, Pennsylvania
Main: (215) 898-3700

In 1972, The Wistar Institute became the first NCI-Designated Basic Cancer Center. The Wistar Institute was founded in 1892 as an anatomical museum and anatomical research and training center, but quickly evolved into a biomedical research facility that gained an international reputation. Throughout the 20th century, Wistar pioneered animal model studies and vaccine development. Today, Wistar is an international leader in basic biomedical research in cancer and infectious diseases, with a focus on discoveries leading to the development of novel therapies and vaccines.
The mission of The Wistar Institute Cancer Center is to merge basic, translational, and patient-oriented cancer research in a single scientific continuum with a focus on cancer prevention, diagnosis, and therapy. The institute's scientists pursue research to understand the causes, treatment, and prevention of cancer. The Wistar Institute is committed to accelerating research advances from bench to bedside through science and collaboration among scientific investigators and academic and industry partners worldwide.
Through agreements with other institutions, Wistar researchers have preferred access to collaborating resources, including the Gene Editing Institute at Christiana Care's Helen F. Graham Cancer Center & Research Institute and the Cell Culture and Transgenic Mouse Facilities at Fox Chase Cancer Center.
Since the institute's inception, training the next generation of scientific investigators has been a vital part of Wistar's mission. Wistar is committed to training predoctoral students, postdoctoral fellows, and visiting scientists. Education at the institute extends into the Philadelphia community, including science mentoring programs for high school students, a biotechnology training program for college students, and a biomedical research apprenticeship program.
Research at The Wistar Institute
The Wistar Institute has a long history of advances in cancer genetics, cancer biology, tumor immunology, and virology, including the identification of genetic alterations associated with cancer, the development of monoclonal antibodies used to study pathways and proteins involved in tumor development, and contributions to improved cancer treatments and diagnostic tests.
Wistar's cancer research is organized through collaborative research centers. The Wistar Institute Melanoma Research Center strives to understand the unique biology of melanoma, especially concentrating on the mechanisms of therapy resistance and the role of the tumor microenvironment in tumor progression. The center serves as a collaborative hub, bringing together basic scientists, clinicians, the life sciences industry, and melanoma advocates to save lives through research and development of new and better therapies.
Additional scientific centers of note at Wistar are the Center for Systems and Computational Biology and the Vaccine and Immunotherapy Center. These centers leverage the institute's strengths in immunology, virology, and immune-oncology to improve public health through the creation of next-generation vaccines and therapeutic antibodies for life-threatening diseases, including cancer.
Select Scientific Initiatives at The Wistar Institute
The Wistar Institute is structured into three research programs, taking an interdisciplinary approach to cancer research:
The Gene Expression and Regulation Program leverages expertise in genomics, biochemistry, and structural biology to characterize mechanisms of transcriptional regulation, epigenetics, chromosome organization, and RNA-mediated gene regulation, with an emphasis on their roles in cancer etiology and therapeutics. This program aims to merge basic understanding of fundamental biological mechanisms with translational identification of new, actionable therapeutic targets in cancer. To address this goal, the program brings together scientific expertise in three areas: 1) transcription and chromatin organization, 2) noncoding RNAs and epigenetics, and 3) chromosomes and genome dynamics. In addition, the program is at the forefront of interdisciplinary research on chemical biology and novel cancer drug targets.
The Molecular and Cellular Oncogenesis Program focuses on the underlying processes of normal and malignant cell growth and differentiation. The goal of the program is to employ a strong mechanistic understanding of cancer signaling networks to improve diagnosis and therapy, spanning the continuum of basic, translational, and patient-oriented cancer research. Program members merge expertise in basic and translational cancer biology with proteomics, functional genomics, bioinformatics, and medicinal chemistry to provide impactful contributions on three main research themes: 1) mechanisms of cancer growth control, 2) targeted cancer therapeutics, and 3) systems biology/cancer "–omics."
The Immunology, Microenvironment and Metastasis Program addresses the basic mechanisms that govern host–tumor interactions and metastatic dissemination to find novel translational opportunities for diseases diagnosis and therapy, with special emphasis on the mechanisms regulating immune responses in cancer and their potential therapeutic manipulation. Program members focus on three main themes in the biology of the tumor microenvironment: 1) mechanisms of local immunosuppression, 2) host–tumor crosstalk in disease progression and treatment response, and 3) pathways of metastatic competence.
Functioning as engines of discovery for biomedical research initiatives, The Wistar Institute Shared Resources initiative provides professional expertise and innovative state-of-the art technologies to cancer center program members. The initiative is supported by an NCI Cancer Center Support Grant and includes an animal facility, biomedical research support facility, and expertise in flow cytometry, genomics, imaging, molecular screening, protein expression, proteomics, and metabolomics.
* This profile was provided by The Wistar Institute Cancer Center.