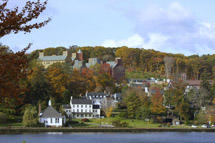 Cold Spring Harbor Laboratory Cancer Center
Basic Laboratory Cancer Center
David Tuveson, M.D., Ph.D, Director
1 Bungtown Road
Cold Spring Harbor, New York 11724
Main: (516) 367-8800

Cold Spring Harbor Laboratory (CSHL) initiated work on a DNA tumor virus research program in 1969. This successful program expanded to further study of viruses and, in the early 1980's, the Center's work on cancer research expanded into additional areas. These endeavors formed the foundation for the CSHL Cancer Center which became an NCI-designated cancer center in 1987.
The CSHL Cancer Center is a basic research facility devoted to the understanding of the fundamental biology of human cancer. With a research staff of more than 30 faculty and 300 scientists, CSHL is committed to exploring the molecular basis of human cancer through a focused, multidisciplinary approach to improve the diagnosis and treatment of all major forms of the disease. The Center is developing and implementing novel technologies for use both in cancer gene discovery and for the validation of cancer candidate genes and new therapeutic agents.
The CSHL Cancer Center is organized into three research programs. The Gene Regulation and Cell Proliferation program focuses on the regulation of gene expression, cell division cycle control and chromosome structure in normal and cancer cells. The Signal Transduction program focuses on signal transduction pathways and cell architecture in normal and cancer cells. The Cancer Genetics program focuses on understanding the genetic basis of cancer, cancer progression, and development of resistance to chemotherapy. The biochemical and genetic tools being developed at CSHL enhance the capacity to understand, diagnose, and treat cancer.
CSHL scientists have long been involved with integrating basic and clinical research and have a well-established network of clinical collaborations in place. Institutional collaborators include Memorial Sloan Kettering Cancer Center, Johns Hopkins School of Medicine, Columbia University Medical School, New York University Medical School, Stony Brook University Medical School, and the Karolinksa Institute in Sweden.
The Center also facilitates the rapid dissemination of scientific information and technology through an extensive education and teaching program. The educational activities range from workshops for students and teachers at the Dolan DNA Learning Center to advanced courses for scientists through an extensive Meetings and Courses Program and the Banbury Conference Center. There is also a Ph.D. program at the Watson School of Biological Sciences. The CSHL Press further advances and spreads scientific knowledge through its numerous publications.
Outreach to the general public includes informational seminars about the latest discoveries and advances in the field of cancer research and therapy for interested local groups as well as public lectures that address contemporary scientific or medical issues in cancer. These widely-publicized lectures are well attended by the general public and the media.
* This cancer center is one of seven cancer centers that only conduct laboratory research and do not provide patient care.
** This profile was provided by the Cold Spring Harbor Laboratory Cancer Center.