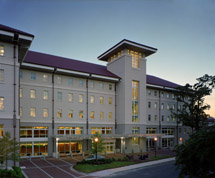 Winship Cancer Institute
Emory University
Comprehensive Cancer Center
Walter J. Curran, M.D. , Executive Director
1365C Clifton Road
Atlanta, Georgia 30322

Main: (404) 778-1900
Toll Free: 1-888-946-7447 (1-888-WINSHIP)
Winship Cancer Institute of Emory University (Winship) is the first and only NCI-designated comprehensive cancer center in the state of Georgia, a distinction it earned in 2017. Established in 1937, Winship brings together integrated cancer care, research, prevention, and education across all of Emory University. As a matrix organization, Winship membership includes 150 core members and 179 associate members representing 33 different departments in the Schools of Medicine, Nursing and Public Health and Emory College.
Central to the mission and vision of Winship is the facilitation of innovative cancer-related research. A major Winship emphasis is linking its clinical trials program with its Discovery and Developmental Therapeutics Program and the development of novel therapeutics. Winship runs a dedicated Phase I Clinical Trials Unit in addition to offering Phase II and Phase III trials. In 2014, Winship was selected as one of the NCI's 30 Lead Academic Participating Sites to provide leadership to the National Clinical Trials Network.
Winship's four research programs are: Cancer Cell Biology, Cancer Genetics and Epigenetics, Cancer Prevention and Control, and Discovery and Developmental Therapeutics.
Winship's research spans the translational continuum from basic, clinical and translational research to population-based outcomes and dissemination programs. Notable areas of research include: breast, brain, hematologic malignancies, head and neck and lung cancers; also basic research in DNA damage and repair, epigenetic regulation, cellular signaling and metastasis in cancer cells.
Winship also collaborates in cross cutting initiatives with Atlanta-area research institutions including the Georgia Institute of Technology, the Centers for Disease Control and Prevention, the Morehouse School of Medicine and the American Cancer Society.
Winship places a strong emphasis on community outreach, dissemination of research findings, and addressing health disparities, whether due to lack of access to healthcare, inadequate insurance, or disparities experienced due to race, ethnicity, gender, or geographic location.
* This profile was provided by the Winship Cancer Institute.