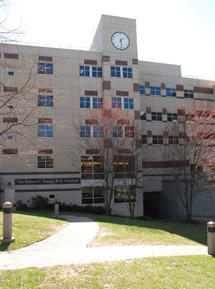 Fox Chase Cancer Center
Comprehensive Cancer Center
Richard I. Fisher, M.D., President and CEO
333 Cottman Avenue
Philadelphia, Pennsylvania 19111
New Patient Appointments: (215) 728-2570
Cancer Information Line: 1-888-369-2427 (1-888-FOX-CHASE)
Fox Chase Cancer Center was formed in 1974 by the union of the American Oncologic Hospital, which had been established in 1904, and the Institute for Cancer Research, founded in 1927. Fox Chase became an NCI-designated comprehensive cancer center in 1974.  An affiliate of the Temple University Health System since 2012, Fox Chase is a freestanding cancer center and serves as the Cancer Program for Temple University.
The mission of Fox Chase Cancer Center is to prevail over cancer by marshaling hearts and minds in bold scientific discovery, pioneering prevention, and compassionate care. With an overall staff of 2,400, the Center provides both patient care and research in more than 80 laboratories staffed by 325 physicians and scientists. The affiliation with Temple has added value to the cancer center with the addition of 50 research program members from multiple University Departments and the School of Medicine. Clinical, basic, and population research conducted by experts across disciplines in turn enables the Center to translate new research findings into medical applications that may become models for improved cancer care. Fox Chase Cancer Center offers the opportunity for participation in clinical trials both at the Center and out in the community, through its Extramural Research Program.
Research programs at the Center encompass Cancer Biology, Blood Cell Development and Function, Molecular Therapeutics, Cancer Epigenetics, and Cancer Prevention and Control. Among the prevention-related services offered are special programs to help people with family histories or other specific risks of breast and ovarian cancer, gastrointestinal cancer, melanoma, and prostate cancer.
Fox Chase has a rich scientific history as the center that discovered the Philadelphia Chromosome, and has had two Nobel Prize winners. They are a founding member of the National Comprehensive Cancer Network, were named as a best place for researchers to work in The Scientist, and a top cancer hospital by US News & World Report.
* This profile was provided by the Fox Chase Cancer Center.