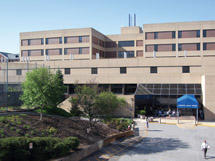 Georgetown Lombardi Comprehensive Cancer Center
Georgetown University
Comprehensive Cancer Center
Louis M. Weiner, M.D., Director
3970 Reservoir Road, NW
Washington, District of Columbia 20007
Appointments: (202) 444-2223
CancerLine: (202) 444-4000
In 1971, the Georgetown Lombardi Comprehensive Cancer Center (Georgetown Lombardi) was established at Georgetown University, becoming an NCI-designated cancer center in 1974. The Center achieved NCI comprehensive status in 1990. Georgetown Lombardi is part of Georgetown University Medical Center and Georgetown University Hospital. The mission of the Center is to improve the diagnosis, treatment, and prevention of cancer through innovative basic science, clinical research, patient care, community outreach, and the training of cancer specialists of the future.
Georgetown Lombardi comprises 165 members, scientists and physicians, who work in five research programs focusing on breast cancer, cancer control, cancer risk, clinical experimental therapeutics, and molecular oncology and carcinogenesis. The Center's research emphases include high-priority transdisciplinary initiatives, minority health and health disparities, and systems biomedicine initiatives.
The Center pursues local and regional partnerships to expand its community outreach. Georgetown Lombardi researchers and clinicians contributed to the first cancer control plan for Washington, D.C. in 2006. The Capital Breast Care Center (CBCC) in southeast Washington is a major initiative to reduce breast cancer disparities. The Center also established a joint partnership with the University of the District of Columbia to investigate ways to increase cancer awareness and reduce cancer incidence among African Americans.
Georgetown Lombardi established an Office of Minority Health and Health Disparities to conduct research focused on reducing cancer disparities among underserved minority populations in Washington, including African Americans, Latinos, and Asian Americans and plans to open a satellite office in the city to better fulfill its community-based research mission.
The Center has recently expanded its tissue banking and clinical annotation capabilities to support systems biomedicine in collaboration with Indivumed GmbH. Recently, Georgetown Lombardi launched the Georgetown Database of Cancer (G-DOC), a data integration platform and knowledge discovery system for the oncology and translational research communities. By aggregating public and proprietary clinical, molecular, and genomic data from across the Medical Center, G-DOC is expected to bring about significant advances in personalized medicine and promote the identification of new drug targets and therapeutic modalities.
Patient care takes place at the Georgetown University Hospital, a part of MedStar Health, a non-profit regional network of nine hospitals and 20 other health-related businesses. The Georgetown Lombardi-MedStar relationship has resulted in increased accrual to clinical trials.
Education and training of tomorrow's leaders in cancer treatment and research is at the core of Georgetown Lombardi's mission, spanning all levels of learning, from programs for high school students to postdoctoral fellowships. The Tumor Biology Training Program offers interdisciplinary training for a career in cancer research to masters and doctoral students.
* This profile was provided by the Georgetown Lombardi Comprehensive Cancer Center.