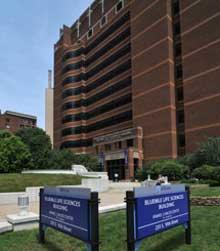 Sidney Kimmel Cancer Center at Thomas Jefferson University
Cancer Center
Karen E. Knudsen, Ph.D., Enterprise Director
233 South 10th Street
Philadelphia, Pennsylvania 19107
Sidney Kimmel Cancer Center main number: 1-215 503-5692
Hospital: 1-215-503-4500
The Sidney Kimmel Cancer Center (SKCC) at Thomas Jefferson University was honored to receive its first NCI-Designation in 1995, acknowledging its prominence as a national center for cancer research and treatment. Originally established in 1991 as the Jefferson Cancer Center (JCC), the SKCC was later renamed in 1996 (KCC) and again in 2015 (SKCC) to honor its major benefactor, Sidney Kimmel, a Philadelphia-born philanthropist with a longstanding commitment to cancer research.
The SKCC fosters interactions among cancer-related researchers and clinicians belonging to its three consortium partners, Thomas Jefferson University, Drexel University, and the Lankenau Institute for Medical Research. With over 400 members spanning across 25 departments and 3 institutions as well as supporting 25 members of the Sidney Kimmel Cancer Network, we have been at the forefront of brining expert driven cancer care and research closer to home. Our integrated, multidisciplinary approach to cancer treatment puts our patient's first. Cancer treatment at the Sidney Kimmel Cancer Center utilizes cutting edge technology, along with world class therapeutics and the latest clinical trial options. With an emphasis on translational research we aim to translate our latest research discoveries to new treatment options for our patients, in a time efficient manner.
The research faculty is committed to discovering cancer risk factors in the population, developing new methods to detect early cancer, devising more effective cancer treatments and prevention strategies, and assessing cancer treatment outcomes through patient follow-up studies. The SKCC is committed to translating basic research findings into medical applications, pursuing a bench-to-bedside strategy of developing innovative cancer treatments, testing them through clinical trials, and providing patients with cutting-edge therapies that will improve survival and quality of life while minimizing undesirable side effects of treatment. SKCC investigators are organized into five interdisciplinary research programs. Two programs are centered on basic science disciplines: the Cancer Cell Biology and Signaling (CCBS) Program and the Molecular Biology and Genetics (MBG) Program. Three programs are focused on specific disease areas: the Prostate Cancer (PC) Program, Breast Cancer (BC) Program, and Gastrointestinal Cancer (GIC) Program. Our Transdisciplinary Integration of Population Science (TIPS) approach to research allows our population scientists to fully integrate into our programs of excellence while carrying out their population health based efforts.
The SKCC continues to strive in our mission to leverage the research expertise to reduce overall incidence, burden and mortality from cancer in the Greater Philadelphia area and beyond. Community outreach and engagement will continue to be a priority as we try to understand the needs of our patients. Expanding strategies for prevention and screening while achieving better outcomes is what the center strives for. With the goal in mind that we will not rest Until Every Cancer is Cured.
* This profile was provided by the Kimmel Cancer Center at Thomas Jefferson University.