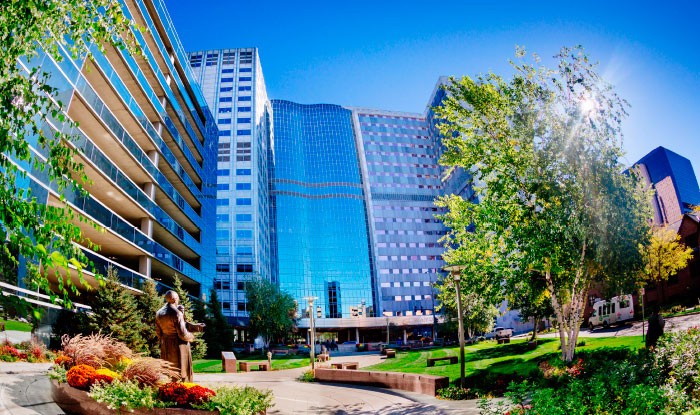 Mayo Clinic Cancer Center
Comprehensive Cancer Center
Robert B. Diasio, M.D. , Director
200 First Street, S.W.
Rochester, Minnesota 55905

Main: (507) 284-2511
New Patient Appointments:
Arizona: 800-446-2279
Florida: 904-953-0853
Minnesota: 507-538-3270
New International Patient Appointments:
Arizona: 480-301-7101
Florida: 904-953-7000
Minnesota: 507-284-8884
Mayo Clinic Cancer Center is the only NCI-designated Comprehensive Cancer Center with three geographic sites. It was one of the first cancer centers to receive the NCI designation in 1973.
More than 122,000 cancer patients come to Mayo Clinic Cancer Center each year, where physicians, care providers and researchers – more than 1,000 of them – help patients find individualized solutions to address all aspects of their cancer journeys. Patients are cared for by a team of experts who address not only their cancer diagnoses, but their healthcare needs beyond cancer.
Mayo Clinic Cancer Center has 10 major cancer research programs that translate scientific discoveries in the laboratory into leading-edge treatments and therapies for patients: cancer immunology and immunotherapy, cancer prevention and control, cell biology, developmental therapeutics, gastrointestinal cancer, gene and virus therapy, genetic epidemiology and risk assessment, hematologic malignancies, neuro-oncology, and women's cancer.
Mayo Clinic Cancer Center patients have access to hundreds of clinical trials led by Mayo Clinic physicians and scientists. More trials are available through cooperative research agreements with the NCI and clinical trial study groups.
Mayo Clinic Cancer Center receives more than $108 million in competitive peer review grants that support cancer research, including the NCI's highly sought Specialized Programs of Research Excellence (SPORE) grants. SPORE grants support projects intended to produce new approaches to the prevention, early detection, and diagnosis and treatment of cancer. The Mayo Clinic Cancer Center has four SPORE grants and one SPORE grant that it shares with another institution. These grants support research in brain cancer, breast cancer, ovarian cancer, pancreatic cancer and lymphoma.
Mayo Clinic Cancer Center also receives NCI funding to serve as:
• One of 30 Lead Academic Participating Sites (LAPS) in the NCI National Clinical Trials Network (NCTN).
• The Statistics and Data Center for the Alliance for Clinic Trials in Oncology (Alliance).
• The NCI Community Oncology Research Program (NCORP) Research Base for the Alliance.
Mayo Clinic Cancer Center also:
• Serves as the administrative and research base for the Cancer Prevention Network, a clinical trial study group.
• Serves as the Research Coordinating Center for Academic and Community Cancer Research United (ACCRU).
• Coordinates the Phase 2 Consortium (P2C), a multicenter consortium specializing in phase II clinical trials of anti-cancer agents.
• Serves as the base for the Pancreatic Cancer Genetic Epidemiology (PACGENE) Consortium, a group of NCI-funded individuals searching for the genetic underpinnings of pancreatic cancer.
• Participates in the NIH Pharmacogenetics Research Network research program.
• Is a member of GLIOGENE, an international consortium of familial brain tumor researchers.
These relationships enable Mayo Clinic Cancer Center to recruit patients to clinical trials being conducted across the world.
The Mayo Clinic Cancer Center also focuses on comprehensive education and support for cancer patients and their caregivers. Its Cancer Education Program reaches nearly 35,000 people annually through nationwide outreach and social media efforts.
* This profile was provided by the Mayo Clinic Cancer Center.