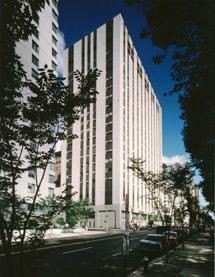 Memorial Sloan-Kettering Cancer Center
Comprehensive Cancer Center
Craig B. Thompson, M.D., President & CEO
1275 York Avenue
New York, New York 10065
General: (212) 639-2000
Pediatric Appointments: (212) 639-5954
Founded in 1884 as the New York Cancer Hospital, Memorial Sloan-Kettering Cancer Center (MSKCC) is one of the oldest cancer centers in the country. The hospital combined with the Sloan Kettering Institute in 1960 to form MSKCC. It was one of the first cancer centers to receive the NCI designation in 1971. As a Comprehensive Cancer Center, MSKCC provides patient care and conducts cancer research.
There is close collaboration between physicians and scientists at the Center. This enables its 804 hospital attending staff and 142 Sloan-Kettering Institute researchers to both deliver a high level of cancer care and enable the discovery and application of effective strategies to prevent, control, and provide treatment for cancer. MSKCC's experts have established standards of care and treatment protocols for each type and stage of cancer. A high degree of specialization means the Center's physicians treat more than 400 different subtypes of cancer.
At the same time, MSKCC offers a full range of programs to help patients and families throughout all phases of treatment, including support groups, genetic counseling, help in managing pain and symptoms, rehabilitation, integrative medical services, and assistance in navigating life after treatment.
Research conducted at the Center includes pioneering work in developing novel therapeutic regimens that have made possible remarkable progress in treating cancer. MSKCC physicians are currently leading more than 550 clinical trials for pediatric and adult cancers. The Center has been a leader in understanding the disease and developing new ways to diagnose and treat cancer. It has also made progress in understanding the biology of cancer through research programs in cancer biology and genetics, cell biology, computational biology, developmental biology, immunology, molecular biology, molecular pharmacology and chemistry, and structural biology.
MSKCC has initiated a series of training programs to prepare the next generation of physicians, scientists, and other health care professionals for leadership roles in the life sciences and medicine. The Gerstner Sloan-Kettering Graduate School of Biomedical Sciences at MSKCC was established in 2004 and offers a Ph.D. degree in cancer biology.
Ancillary facilities comprise a network of community-based, state-of-the-art cancer treatment sites. The Center has continued expanding its facilities since 2000 with the Zuckerman Research Center, the Evelyn H. Lauder Breast Center and MSKCC Imaging Center, the Brooklyn Infusion Center, and an Outpatient Rehabilitation Center.
MSKCC has made advances in a number of fields, including drug discovery, radiation therapy, and pediatrics. A program was created to treat children and young adults even with the rarest types of cancers. With the creation of the Pediatric Day Hospital, children predominantly receive their treatment in an outpatient setting, improving the quality of life for patients and families. In addition, a follow-up survivor program is available for adults and children.
* This profile was provided by the Memorial Sloan-Kettering Cancer Center.