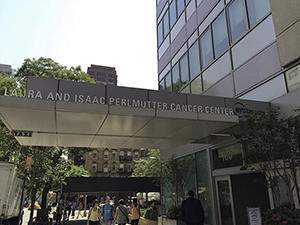 Laura and Isaac Perlmutter Cancer Center at NYU Langone Health
Comprehensive Cancer Center
Benjamin Neel, M.D., Ph.D., Director
550 First Avenue
1201 Smilow Building
New York, New York 10016
Main: (212) 731-6000
Physician Referral: 1-888-769-8633
The Laura and Isaac Perlmutter Cancer Center at NYU Langone Medical Center is dedicated to pioneering basic research and clinical trials that bring the latest advances in cancer care to patients. Founded and NCI-designated in 1975, the Center integrates research, education, community outreach, and patient care to deliver compassionate care for the whole person—not just the disease.
The Center's scientific research programs address fundamental questions about the biology of cancer, as well as disease-specific research questions centered on individual types of cancer. Current research programs include cancer immunology, environmental and molecular carcinogenesis, growth control, epidemiology and cancer control, stem cell biology, breast cancer, genitourinary cancer, and melanoma. As a multidisciplinary translational research center, more than 165 experts collaborate across disciplines to advance our understanding of cancer to bring improved, comprehensive treatment options to patients.
In addition to its own dedicated cancer research faculty, Perlmutter Cancer Center also comprises experts from numerous NYU School of Medicine departments, including Medicine, Pathology, Biochemistry and Molecular Pharmacology, Cell Biology, Microbiology, the Skirball Institute, the Institute for Systems Genetics, the Institute for Computational Medicine, Population Health, Environmental Medicine, Pediatrics, and Dermatology, among others. Our membership also includes faculty in other NYU schools, including the College of Dentistry, the Rory Meyers College of Nursing, and the undergraduate campus.
The Perlmutter Cancer Center is devoted to sharing our evolving understanding of cancer prevention and treatment among physicians, researchers, patients, and the community. Through graduate education and interdisciplinary training programs at NYU School of Medicine's Sackler Institute of Graduate Biomedical Sciences, the Center works to educate future leaders in the fields of cancer research and care. The Center annually organizes over 60 community events – informative lectures, cancer screenings, and special programs for diverse populations – for patients and community members. These outreach and education programs expand opportunities for patients, families, caregivers, and friends to access information, education, and support.
With over 20 locations across Manhattan, Brooklyn, Queens, and Long Island, the Perlmutter Cancer Center serves one of the nation's largest, most diverse patient populations. The Center also provides cancer care and clinical trials at Bellevue Hospital, one of the nations' oldest and best public facilities. Because of this, the Center coordinates specialized programs to address health care disparities and understand disease etiology in specific patient populations, which can improve diagnostic and treatment services for all cancer patients.
* This profile was provided by the Laura and Isaac Perlmutter Cancer Center.