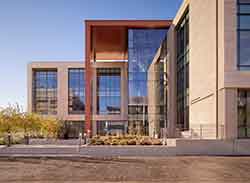 Stanford Cancer Institute
Stanford University
Comprehensive Cancer Center
Beverly S. Mitchell, M.D. , Director
Lorry Lokey Stem Cell Building
265 Campus Drive, Suite G2103
Stanford, California 94305

Referral Center: (650) 498-6000
Toll Free: 1-877-668-7535
International Medical Services: 1-877-487-0237
The Stanford Cancer Institute at Stanford University was founded in 2003, received its initial NCI designation in 2007 and its comprehensive center designation in 2016. The Institute is a consortium center that includes the Cancer Prevention Institute of California (CPIC). The Institute's research efforts are focused on improving the diagnosis, treatment and outcomes for cancer patients, as well as understanding cancer etiologies among diverse populations and reducing the incidence of cancer.
The Institute draws on the multidisciplinary expertise of more than 400 faculty, researchers and clinicians who participate in basic, translational and clinical research, representing the School of Medicine, other schools and departments within Stanford University, as well as CPIC and SRI International. Stanford's strengths in basic science, biostatistics, bioengineering and technology facilitate the development of new approaches to cancer etiology, prevention, diagnosis and treatment. The Institute's members have contributed in the areas of new imaging and radiology techniques, antibody and biologic therapies, circulating tumor DNA, cell sequencing and other technologies, as well as new surgical techniques to treat cancers.
Research at Stanford is typically interdisciplinary, involving experts from a number of fields. Key areas of research include cancer stem cells, radiation biology, cancer biology, cancer imaging and early detection, molecular therapeutics, lymphoma and leukemia, immunology and immunotherapy, hematopoietic cell transplantation, cancer epidemiology, and cancer prevention and control.
Collaborations between the laboratory scientists and clinicians facilitate the translation of scientific research and technical advances into improved patient care. The Institute's clinical partners include Stanford Health Care, Lucile Packard Children's Hospital Stanford and the Palo Alto Veteran's Hospital.
Training the next generation of cancer researchers is accomplished through several programs in clinical and basic sciences. There are doctoral programs in cancer biology and immunology. In addition to research training programs, Stanford offers continuing medical education in the latest advances in cancer medicine.
Translational research is at the heart of the Institute's programs. Investigators gain new insights into the genetic, behavioral and environmental factors that can impact an individual's risk for cancer and the prognosis following a cancer diagnosis. The transformation of those insights into improved public health is central to Stanford's mission. The Institute has a growing drug development program, a Phase 1 clinical trials program for testing novel anti-cancer compounds in humans and access to other resources including the newly established Stanford Laboratory for Cell and Gene Medicine that produces human biological materials at scale.
Stanford also conducts hundreds of investigator-initiated and industry-sponsored cancer clinical trials, engaging in active recruitment throughout the greater Bay Area to ensure the broadest possible access to these emerging therapies. Particular emphasis is placed on engaging minority and underserved communities.
The Institute provides the latest information in cancer prevention & screening and promotes access to cancer screening services and clinical trials through a number of outreach initiatives. As part of this effort across the San Francisco Bay Area, members of the Institute work closely with community-based organizations to address the unequal burden of cancer in medically underserved populations.
* This profile was provided by the Stanford Cancer Institute.