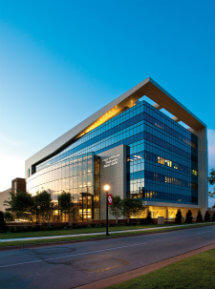 Stephenson Cancer Center
The University of Oklahoma
Cancer Center
Robert S. Mannel, MD, Director
800 NE 10th Street
Oklahoma City, Oklahoma 73104
Patient Care: (405) 271-1112
Toll-Free: 1 (800) 750-2273
The Stephenson Cancer Center was founded in 2001 by the State Legislature and University of Oklahoma (OU) in response to increasing concern about Oklahoma's heavy cancer burden. The subsequent effort to develop the Stephenson Cancer Center was the largest public-private biomedical initiative in state history and resulted in NCI designation in 2018.
Located at the University of Oklahoma Health Sciences Center in Oklahoma, City, the Stephenson Cancer Center is the only NCI-Designated Cancer Center in Oklahoma. It provides a critically important resource for patients in Oklahoma who are seeking specialized, research-driven cancer treatment, and it forms the hub of a statewide network that supports basic, clinical trials, and community-based research at institutions across Oklahoma.    
The Stephenson's mission is to reduce the burden of cancer in Oklahoma and the nation through a comprehensive and integrated program of research, treatment, education, and community engagement. The Stephenson has a specific focus on working with Oklahoma's large rural and American Indian communities to address the disproportionately high rates of cancer incidence and mortality that afflict these populations. These community outreach efforts include sponsoring education, screening, and prevention programs for underserved and disadvantaged populations across the state.
The Stephenson Cancer Center has an organizational structure designed to promote transdisciplinary, team-based science; translate ideas from the laboratory to the clinical setting; and stimulate research that impacts Oklahoma and the nation. The Stephenson's 100 research members are located on the OU Health Sciences Center and OU Norman campuses. Collectively, they hold appointments in seven colleges and 30 academic departments, underscoring the transdisciplinary expertise these investigators bring to the problem of cancer. Stephenson research activities are organized into three formal programs: Preclinical Translational Cancer Research, Gynecologic Cancers, and Cancer Prevention and Control. A fourth program, Experimental Medicine and Developmental Therapeutics, is in development.
The Stephenson is a national leader in clinical trials research. It is one of 30 Lead Academic Participating Sites (LAPS) in the NCI's National Clinical Trials Network (NCTN), and annually ranks among the top LAPS centers for enrollment of patients to NCTN treatment and Precision Medicine screening trials. The Stephenson's Early-Phase Clinical Research Program is among the top 10 such programs nationally in terms of accrual, providing Oklahomans with access to a large portfolio of novel, targeted therapies through participation in early-phase trials.
Alongside these research activities, the Stephenson Cancer Center provides patients with the highest level of patient-centered cancer care and with access to the latest therapies. Stephenson oncology physicians are organized into multidisciplinary, disease-specific teams, complemented by a comprehensive array of patient supportive care services.
As the only academic cancer center in Oklahoma, the Stephenson has an important mission to help train the next generation of cancer researchers and oncology healthcare professionals. It supports a wide array of education, training, and career enhancement programs for students at all levels, with a special focus on initiatives that promote enhanced participation of American Indian and other underrepresented populations in biomedical research and healthcare.
* This profile was provided by the Stephenson Cancer Center.