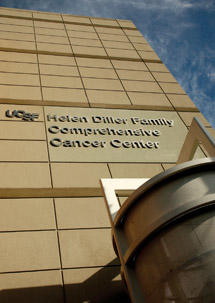 UCSF Helen Diller Family Comprehensive Cancer Center
University of California at San Francisco
Comprehensive Cancer Center
Alan Ashworth, Ph.D., FRS, Director
1450 3rd Street, Box 0128
San Francisco, California 94115
Appointments & Physician Referral Service:: 1-888-689-8273
International Inquiries: 415-353-8489
In 1948, the University of California at San Francisco (UCSF) established the Cancer Research Institute, a precursor to consolidation of its cancer activities in more recent decades. NCI designation as a comprehensive cancer center came in 1999 and the Center was renamed the UCSF Helen Diller Family Comprehensive Cancer Center in 2007. The Center is a member of the National Comprehensive Cancer Network.
The Center integrates the work of researchers and clinicians who are dedicated to four fundamental pursuits: laboratory research into the causes and events of cancer's progression; clinical research to translate new knowledge into viable treatments; sensitive, state-of-the-art patient care; and population research that can lead to prevention, early detection, and quality-of-life improvement for those living with cancer.
The Center's nearly 400 members and associate members represent dozens of departments and institutes across UCSF, which is the only University of California campus devoted exclusively to the health sciences. Members are faculty investigators in laboratory, clinical, and population-based research who collaborate across the cancer spectrum, from basic biology to risk factors and prevention and control strategies. Among the 11 formal research programs, six are disease-focused (breast, prostate, hematopoietic, neurologic, pancreas, and pediatric), and five address cross-cutting emphases (genetics, cancer and immunity, cell cycling/signaling, society/diversity/disparities, and tobacco control).
Many other members of the UCSF community—physicians, nurses, and staff—contribute to patient care at the Center. Physical facilities, including two dedicated laboratory research buildings, are divided among three UCSF campuses. Eventually, both inpatient and outpatient cancer services will be housed at the University's Mission Bay campus, where a new integrated medical center is being built. Clinical areas of special interest at UCSF include breast, prostate, and central nervous system tumors, and neuroblastoma. Patients are offered an opportunity to join clinical trials.
Other programs of note include a Cancer Risk Program that identifies families and individuals at high risk for colorectal, breast, ovarian, and prostate cancer. Extensive support services include the Ida & Joseph Friend Cancer Resource Center and an award-winning Art for Recovery program, as well as services focusing on cancer survivorship, symptom management, and psycho-oncology.
Future researchers have many opportunities to pursue studies at UCSF in cancer-focused basic science, prevention and control, and clinical research within M.D., Ph.D., and other graduate programs. There is also a minority training program in cancer control research to increase ethnic diversity in this research field. The Center has a special relationship with Lawrence Berkeley National Laboratory to leverage cancer research capabilities, and it also partners with San Francisco State University, a minority-serving institution, to improve the health of minority populations served by the Center.
* This profile was provided by the University of California San Francisco Helen Diller Family Comprehensive Cancer Center.