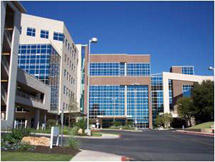 Mays Cancer Center at UT Health San Antonio
University of Texas Health Science Center
Cancer Center
Ruben A. Mesa, M.D., FACP, Director
7979 Wurzbach Road
Urschel Tower, Room U627
San Antonio, Texas 78229
Appointment & Referrals: (210) 450-1000
Cancer Information Line: 1-800-340-2872
In 1974, the Cancer Therapy & Research Center (CTRC) at the University of Texas (UT) Health Science Center at San Antonio began to offer outpatient radiation therapy to the local community. In 1991, CTRC launched its Institute for Drug Development (IDD) to find new treatments for patients with cancer through the integration of research programs of excellence in the translational and clinical sciences. Over the years, the Center expanded, and, in 1993, CTRC became an NCI-designated cancer center. Since 2007, CTRC has been a component of the UT Health Science Center at San Antonio.
The mission of CTRC is to conquer cancer through research, prevention and treatment. The CTRC is located in the center of a growing complex of clinical and science facilities at the UT Health Science Center. Working in disease-specific, multidisciplinary clinics, the more than 50 physician-members of the Center work with the staff to build a regimen of treatment for each patient in a convenient, one-stop approach.
The CRTC treats cancer in all its forms. Its physicians offer treatment at 10 disease-specific, multidisciplinary clinics: breast, gastrointestinal, gynecologic, genitourinary, geriatric, head and neck, hematologic/blood, neuro-oncology, sarcoma, and thoracic-pulmonary cancers. The Center offers its patients the full spectrum of clinical and support services to meet the medical, nutritional, and spiritual needs of the patient from diagnosis through treatment, rehabilitation, discharge and follow-up care. In providing care, the CTRC partners with several community hospitals.
CTRC accelerates the development of anticancer agents by integrating basic, translational, and clinical research on the UT campus. The IDD serves as the focal point for clinical trials, attracting patients from the community and beyond to join Phase I, II, and III studies.
Novel treatments under investigation at the Center include a new class of cancer drugs that are nontoxic to healthy cells. Investigators are also exploring ways to develop novel immune therapies that promise to be more selective for cancer with less damage to normal tissue.
CTRC also collaborates with the Barshop Institute for Longevity and Aging on investigations of ways to prolong life and reduce cancer development.
Cancer therapy at CTRC began with radiation therapy. Its use in treatment is enhanced through updated applications and radiation technologies. The CTRC currently has a focus across the spectrum of cancer care from prevention to detection to treatment, with major scientific discoveries in each of these areas. The CTRC-sponsored San Antonio Breast Cancer Symposium attracts 9,000 physicians and scientists from around the world to San Antonio each December.
Throughout the CTRC, it is the collaboration among scientists, clinicians, and staff that both provides and advances the standard of care for cancer.
* This profile was provided by the Cancer Therapy and Research Center.