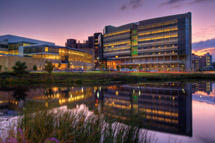 University of Wisconsin Carbone Cancer Center
Comprehensive Cancer Center
Howard Bailey, M.D., Director
1111 Highland Avenue, Rm. 7057
Madison, Wisconsin 53705
General Information: (608) 263-8600
Cancer Connect: 1-800-622-8922
In 1940, the McArdle Laboratory for Cancer Research was founded at the University of Wisconsin (UW) at Madison. In 1973, the University started the University of Wisconsin Clinical Cancer Center. They were combined as the University of Wisconsin Comprehensive Cancer Center and received their NCI designation in 1973. The Center was renamed the UW Carbone Cancer Center (UWCCC) in 2006.
The UWCCC is an integral part of the UW School of Medicine and Public Health and brings together more than 280 physicians and scientists from 55 departments and nine schools to conduct research and translate laboratory discoveries into new patient treatments. Much of the research is conducted in the Wisconsin Institutes for Medical Research Building, while clinical care is provided at the UW Hospital and Clinics.
Research scientists, academic faculty, and clinicians work together across eight research programs: cancer control, cancer genetics, chemoprevention, experimental therapeutics, human cancer virology, imaging and radiation sciences, nuclear signaling, and tumor microenvironment. The teamwork exemplified in these programs has led to other significant collaborations within the local community that focus on research, community outreach, clinical trial accrual, and work with underserved populations.
The Wisconsin Oncology Network, for example, is a regional network established to allow community health centers from throughout Wisconsin and northern Illinois to enroll patients in select cancer clinical trials that are open at the UWCCC. The Wisconsin Network for Health Research is another collaborative research partnership which promotes the discovery and application of scientific knowledge for researchers throughout the state.
Several collaborations fall in the area of cancer prevention and control. The UW Center for Tobacco Research and Intervention (UW-CTRI) takes a leadership role in reducing the burden of illness and death from tobacco use. Researchers in this program seek to expand understanding of tobacco dependence and its treatment, as well as to design interventions that will significantly reduce tobacco use. UWCCC is also part of the Wisconsin Comprehensive Cancer Control Program, a community-based program established by the state to develop a Comprehensive Cancer Control Plan 2010-2015. The program is guided by the Wisconsin Cancer Council, a coalition of 75 statewide, regional, and local organizations.
One of two significant minority outreach programs at UWCCC is the Partnerships with Underserved/Minority Populations, a project using community-based participatory research principles. The project is studying community readiness for change and undertaking an assessment of quality cancer care in eight underserved communities, including African Americans, Latinos, Hmong, American Indians, Amish, and the rural poor. The second outreach program, called the Spirit of Eagles, addresses comprehensive cancer control through partnerships with American Indian tribes and other entities throughout the upper Midwest.
* This profile was provided by the University of Wisconsin Carbone Cancer Center.