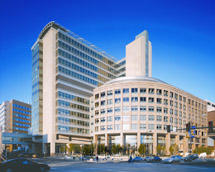 Alvin J. Siteman Cancer Center
Washington University School of Medicine and Barnes-Jewish Hospital
Comprehensive Cancer Center
Timothy J. Eberlein, M.D., Director
660 South Euclid Avenue
Campus Box 8109
St. Louis, Missouri 63110
Main: (314) 747-7222
Toll Free: 1-800-600-3606
The Alvin J. Siteman Cancer Center was founded in 1995, received its NCI-designation in 2001, achieved Comprehensive Cancer Center status in 2004, and earned membership in the National Comprehensive Cancer Network in 2006.
The Center brings together the cancer programs of the Washington University School of Medicine and Barnes-Jewish Hospital. The scientists and physicians at the two institutions conduct research and training and deliver care to more than 40,000 cancer patients annually. Patients are treated by multidisciplinary care teams, which also provide support for cancer survivors.
Siteman is dedicated to advancing new approaches to cancer prevention, diagnosis, and treatment through research. Formal research programs include cancer and developmental biology, tumor immunology, hematopoietic development and malignancy, cellular proliferation, prevention and control, translational and clinical research, oncologic imaging, and breast cancer research. The strengths of these programs come together in novel transdisciplinary efforts including those in the areas of vaccines, chemoprevention, nanotechnology, gene therapy, and proteomics.
The Center has integrated and expanded three specialized areas of expertise—genomics, imaging, and prevention—into its disease-based research efforts. Its partnership with Washington University's renowned Genome Institute has produced significant advances in the identification of genetic mutations and therapeutic targets in cancer, through a whole-genome sequencing approach. A similar affiliation with the university's Mallinckrodt Institute of Radiology provides investigators with access to novel techniques for diagnosing and staging cancer and monitoring treatment. Prevention efforts benefited from the establishment of the Institute for Public Health at Washington University, enabling Siteman to focus on strategies for identifying risk, reducing disparities, customizing communication, and improving outreach, with the ultimate goal of a healthier population.
Such collaborations have enhanced the Center's ability to move discoveries from bench to bedside, as scientists have worked with clinicians and patient involvement in clinical trials has increased. Access to these trials is also available at two satellite facilities in the metropolitan St. Louis area.
Siteman's Program for the Elimination of Cancer Disparities strives to reduce barriers to cancer education, care, and research for underserved groups. Through this program, the Center has been able to increase minority accrual to clinical trials. Siteman emphasizes community education and health care provider outreach programs, including cancer screening, throughout the region.
* This profile was provided by the Alvin J. Siteman Cancer Center.