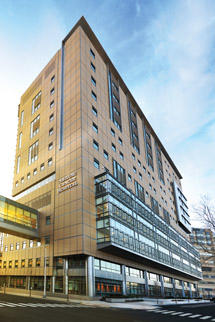 Yale Cancer Center
Yale University School of Medicine
Comprehensive Cancer Center
Charles S. Fuchs, MD, MPH, Director
333 Cedar Street
New Haven, Connecticut 06510
Patient Care: (203) 785-4191
Toll Free: 1-866-925-3226 (1-866-YALECANCER)
Yale Cancer Center is a collaboration among nearly 350 nationally and internationally renowned scientists and physicians from Yale School of Medicine and Smilow Cancer Hospital. An NCI-designated comprehensive cancer center since 1974, Yale Cancer Center (YCC) is the only such designated center in Connecticut. Yale Cancer Center's goals include advancing our understanding of cancer through cutting-edge research; developing innovative cancer treatments; setting the standard for outstanding patient- and family-centered care; expansion of cancer education and training; and the prevention of cancer.
The Center builds on the scientific traditions of Yale University, with continued investment in basic, clinical, translational, and population sciences research. There are seven research programs recognized by NCI at the Center: Cancer Immunology, Cancer Prevention & Control, Developmental Therapeutics, Genomics, Genetics & Epigenetics, Radiobiology & Radiotherapy, Signal Transduction, and Virus and other Infection-associated Cancers.
Cancer research at Yale began decades before the Center was founded when the first use of a cancer drug was administered to a patient at Yale New Haven Hospital using nitrogen mustard in 1942. The first formal research program at Yale was in developmental therapeutics in 1974. It represents the foundation of the translational research efforts at YCC. Discoveries from the laboratories are taken into the clinical setting and observations made there are returned to the laboratories for further refinement into improved cancer treatments.
Smilow Cancer Hospital cares for more patients in Connecticut than any other hospital in the state at its main location and the 10 Smilow Cancer Hospital Care Centers. The main hospital consolidates all of the medical center's cancer services, both inpatient and outpatient, into one building. The facility opened in 2009 with an explicit commitment to personalized cancer care, with each patient receiving a unique and comprehensive treatment plan. Multispecialty teams dedicated to different types of cancer share clinic space, facilitating collaboration among all disciplines involved in cancer treatment.
Our patients also have access to a diverse set of clinical trials offering the most advanced treatment options for patients of all types of cancers. In addition, specialty programs in genetic counseling, cancer screening, palliative care, cardio-oncology, interventional oncology, cardio-dermatology, pain management, sexuality and intimacy, and nutrition are available for patients. When patients have completed their treatment, the Center offers services to them through a dedicated survivorship clinic. The clinic provides medical care, nutritional and lifestyle guidance, and support for cancer survivors throughout the state.
* This profile was provided by Yale Cancer Center.