A Snapshot of Bladder Cancer
Incidence and Mortality
Although urinary bladder cancer incidence rates are much higher in whites than in African Americans, mortality rates are only slightly higher, due in large part to the later stage at diagnosis among African Americans. Incidence and mortality rates for Hispanics, American Indians/Alaska Natives, and Asians/Pacific Islanders are lower than those for whites and African Americans. Incidence and mortality rates have changed very little for most racial and ethnic groups over the past 20 years, with the exception of African Americans, for whom mortality has been decreasing. Overall, men are about four times more likely than women to be diagnosed with bladder cancer. Since 2001, mortality rates have been stable in men and slowly declining in women.
Smoking is the most important risk factor for bladder cancer. Other risk factors include having a family history of or gene mutations linked to bladder cancer, occupational exposure to certain chemicals used in processing paint, dye, metal and petroleum products, taking certain chemotherapy drugs, drinking well water contaminated with arsenic, taking the Chinese herb Aristolochia fangchi, and chronic urinary tract infections (including those caused by Schistosoma haematobium). Although there is no standard or routine screening test for bladder cancer, cystoscopy (a procedure used to see inside the urinary bladder and urethra) and urine cytology (a test to look for abnormal cells in urine) are used in patients who have previously had bladder cancer. Standard treatments for bladder cancer are surgery, radiation therapy, chemotherapy, and biological therapy.
Assuming that incidence and survival rates follow recent trends, it is estimated that $4.1 billion1 will be spent on bladder cancer care in the United States in 2014.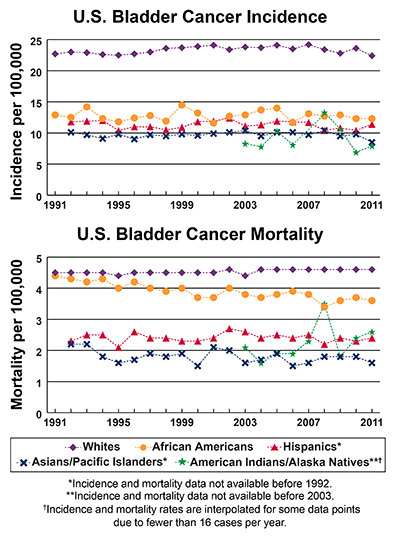 NCI's Investment in Bladder Cancer Research
To learn more about the research NCI conducts and supports in bladder cancer, visit the NCI Funded Research Portfolio (NFRP). The NFRP includes information about research grants, contract awards, and intramural research projects funded by NCI. When exploring this information, it should be noted that approximately half of the NCI budget supports basic research that may not be specific to one type of cancer. By its nature, basic research cuts across many disease areas, contributing to our knowledge of the underlying biology of cancer and enabling the research community to make advances against many cancer types. For these reasons, the funding levels reported in NFRP may not definitively report all research relevant to a given category.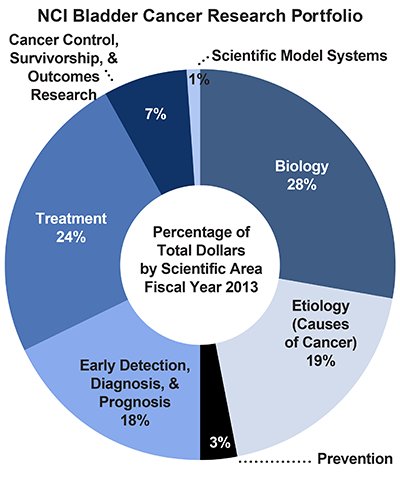 Other NCI programs and activities relevant to Bladder cancer include:
The Prostate and Urologic Cancer Research Group is conducting and supporting clinical trials, biomarker discovery, and technology development for the prevention and early detection of prostate and bladder cancers.
Investigators participating in the International Consortium of Bladder Cancer are coordinating research activities and pooling data across ongoing and completed bladder cancer epidemiology studies.
Through The Cancer Genome Atlas (TCGA) program, researchers are systematically identifying the major genomic changes involved in more than 20 cancers, including bladder cancer, using state-of-the-art genomic technologies. A recent analysis of 131 muscle-invasive bladder cancers (a major form of bladder cancer) identified a number of molecular alterations that may represent new potential therapeutic targets for this disease. [PubMed Abstract]
The Biomarker, Imaging and Quality of Life Studies Funding Program (BIQSFP) is currently supporting biomarker, imaging, and quality of life studies, with or without cost-effectiveness analysis, that are associated with randomized cancer clinical trials. One BIQSFP study is investigating a biomarker to predict response of bladder cancer to chemotherapy.
The phase II trial Bacillus Calmette-Guerin (BCG) Combined With PANVAC Versus BCG Alone in Adults With High Grade Non-Muscle Invasive Bladder Cancer Who Failed At Least 1 Course of BCG is studying if the addition of a PANVAC vaccine to the standard BCG treatment results in improved disease-free survival compared to BCG alone.
A bladder-cancer-specific Specialized Program of Research Excellence (SPORE) is studying the early detection of bladder cancer, new therapeutic strategies, and markers to predict bladder cancer recurrence.
Selected Advances in Bladder Cancer Research
Additional Resources for Bladder Cancer
---