Bladder Cancer Diagnosis
If you have symptoms or lab test results that suggest bladder cancer, your doctor will need to find out if they're due to cancer or another condition. Your doctor may
ask about your personal and family medical history to learn more about your symptoms and possible risk factors for bladder cancer
ask for a sample of your urine so it can be checked in the lab for blood, abnormal cells, or infection
do a physical exam, which for women, may include a pelvic exam, to check for signs of cancer
Depending on your symptoms, medical history, and results of your urine lab tests and physical exam, your doctor may recommend more tests to find out if you have bladder cancer, and if so, its extent (stage).
Tests to diagnose bladder cancer
The following tests and procedures are used to diagnose bladder cancer. The results will also help you and your doctor plan treatment.
Cystoscopy
Cystoscopy is a procedure in which the doctor looks inside the bladder and urethra (the tube that carries urine out of your body) to check for abnormal areas. A cystoscope is slowly inserted through the urethra into the bladder to allow the doctor to see inside. A cystoscope is a thin, tube-like instrument with a light and a lens for viewing. It may also have a tool to remove very small bladder tumors or tissue samples for biopsy. Cystoscopy helps to diagnose, and sometimes treat, bladder cancer and other conditions.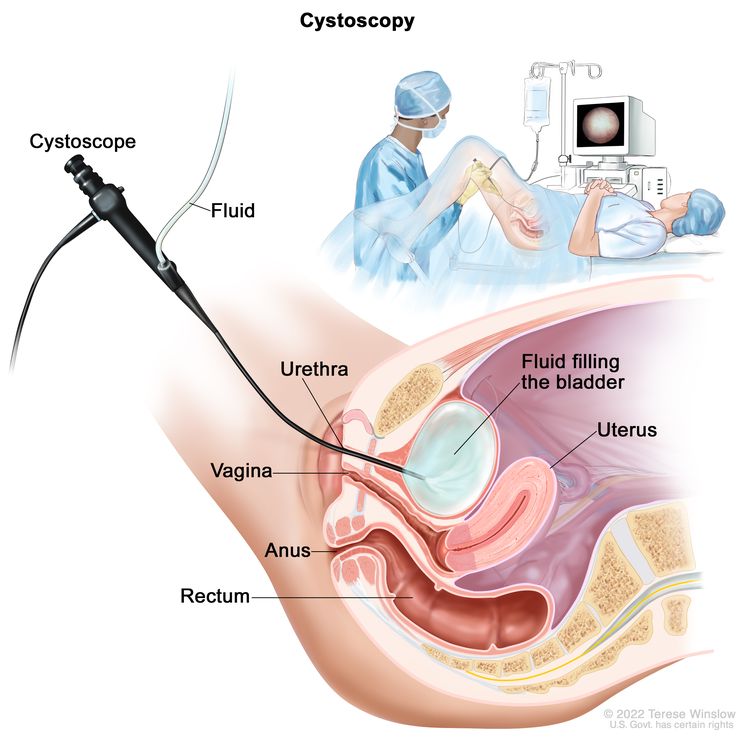 Biopsy
A biopsy is usually done during a cystoscopy procedure. Biopsy is a procedure in which a sample of cells or tissue is removed from the bladder so that a pathologist can view it under a microscope to check for signs of cancer. It may be possible to remove the entire tumor at the time of the biopsy.
Talk with your doctor to learn what to expect during and after your cystoscopy and biopsy. Some people have blood in the urine or discomfort and a burning sensation while urinating for a day or two.
To learn about the type of information that can be found in a pathologist's report about the cells or tissue removed during a biopsy, see Pathology Reports.
Computed tomography (CT) urogram or intravenous pyelogram (IVP)
CT urogram is a test that takes a CT scan of the urinary tract using a contrast dye injected into a vein. To begin the procedure, a CT machine takes a series of detailed pictures of the kidneys. The contrast dye is then injected, and another CT scan of the kidneys, bladder, and ureters is done. About 10 minutes later, a final scan is taken as the contrast dye drains from the kidneys into the bladder. CT urogram also captures detailed pictures of nearby bones, soft tissues, and blood vessels. This allows the doctor to see how well your urinary tract is working and to check for signs of disease.
IVP is an x-ray imaging test of your urinary tract. After a contrast dye is injected into a vein, a series of x-ray pictures of the kidneys, ureters, and bladder are taken to find out if cancer is present in these organs. As the contrast dye moves through the kidneys, ureters, and bladder, more x-ray pictures are taken at specific times. This allows your doctor to see how well your urinary tract is working and to check for signs of disease.
Urine tumor marker test
Urinary tumor markers are substances found in the urine that are either made by bladder cancer cells or that the body makes in response to bladder cancer. For this test, a sample of urine is checked in the lab to detect the presence of these substances. Urine tumor marker tests may be used to help diagnose some types of bladder cancer.
Tests to stage bladder cancer
If you're diagnosed with bladder cancer, you will be referred to a urologic oncologist. This is a doctor who specializes in diagnosing and treating cancers of the male and female urinary tract and the male reproductive organs. They will recommend tests to determine the extent of cancer. Sometimes the cancer is only in the bladder. Or, it may have spread from the bladder to other parts of the body. The process of learning the extent of cancer in the body is called staging. It is important to know the stage of the bladder cancer to plan treatment.
For information about a specific stage of bladder cancer, see Bladder Cancer Stages.
The following imaging tests may be used to determine the bladder cancer stage.
Getting a second opinion
Some people may want to get a second opinion to confirm their bladder cancer diagnosis and treatment plan. If you choose to seek a second opinion, you will need to get important medical test results and reports from the first doctor to share with the second doctor. The second doctor will review the pathology report, slides, and scans before giving a recommendation. The doctor who gives the second opinion may agree with your first doctor, suggest changes or another approach, or provide more information about your cancer.
To learn more about choosing a doctor and getting a second opinion, see Finding Health Care Services. You can contact NCI's Cancer Information Service via chat, email, or phone (both in English and Spanish) for help finding a doctor, hospital, or getting a second opinion. For questions you might want to ask at your appointments, see Questions to Ask Your Doctor.