A Snapshot of Pancreatic Cancer
Incidence and Mortality
Pancreatic cancer, the 12th most common cancer in the United States, is relatively rare; however, it is the fourth leading cause of cancer-related death in both men and women in the United States. In 2014, it is estimated that more than 46,000 people in the United States will be diagnosed with pancreatic cancer and nearly 40,000 will die of this disease. Because pancreatic cancer usually is diagnosed at an advanced stage, the survival rate is extremely low compared with that of many other cancer types. The overall pancreatic cancer incidence rate has not significantly changed since 2002, but the mortality rate has increased an average of 0.4% annually from 2002-2011.
African Americans have higher rates of pancreatic cancer incidence and mortality than whites or other racial/ethnic groups. Pancreatic cancer incidence and mortality rates also are higher in men than in women.
Cigarette smoking is the most important risk factor for pancreatic cancer. Additional risk factors include personal history of diabetes or chronic inflammation of the pancreas (pancreatitis), obesity, certain hereditary conditions, and a family history of the disease or pancreatitis. Early-stage pancreatic cancer is often asymptomatic, and there is no routine screening test for pancreatic cancer. Standard treatments for pancreatic cancer include surgery, radiation therapy, chemotherapy, chemoradiation, and targeted therapy.
Assuming that incidence and survival rates follow recent trends, it is estimated that $2.6 billion1 will be spent on pancreatic cancer care in the United States in 2014.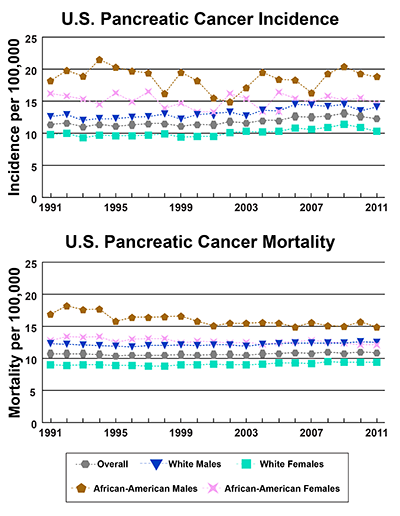 NCI's Investment in Pancreatic Cancer Research
To learn more about the research NCI conducts and supports in pancreatic cancer, visit the NCI Funded Research Portfolio (NFRP). The NFRP includes information about research grants, contract awards, and intramural research projects funded by NCI. When exploring this information, it should be noted that approximately half of the NCI budget supports basic research that may not be specific to one type of cancer. By its nature, basic research cuts across many disease areas, contributing to our knowledge of the underlying biology of cancer and enabling the research community to make advances against many cancer types. For these reasons, the funding levels reported in NFRP may not definitively report all research relevant to a given category.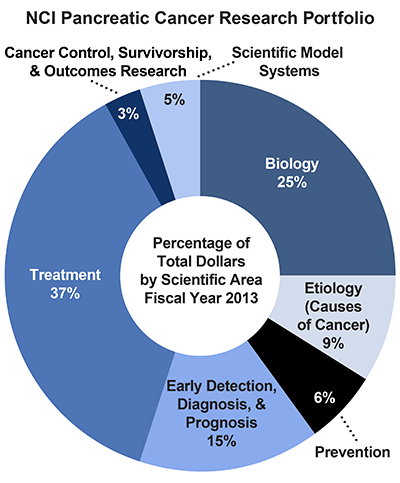 Other NCI programs and activities relevant to pancreatic cancer include:
The Pancreatic Cancer Epidemiology Consortia are three research consortia that bring together scientists from diverse biomedical disciplines to improve our understanding of the causes and natural history of pancreatic cancer.
NCI's Pilot Studies in Pancreatic Cancer funds efforts to support small, innovative research projects that focus on the biology, etiology, detection, prevention, and treatment of pancreatic cancer.
The Pancreatic Cancer Interest Group promotes the exchange of information, enhances interactions, and fosters collaborations among scientists working on various aspects of pancreatic cancer.
The Physical Sciences-Oncology Centers bring together researchers from multiple disciplines to address major questions and barriers in cancer research. One center is studying the process of mass transport across physical and biological barriers in several primary cancers, including pancreatic cancer, and their relationship to liver metastasis to better understand tumorigenesis and to improve drug delivery.
The phase I Regional Chemotherapy in Locally Advanced Pancreatic Cancer: RECLAP Trial is studying the safety and effectiveness of slowly infusing the standard chemotherapy drug for pancreatic cancer, gemcitabine, directly into the pancreas in patients with nonresectable pancreatic cancer that has not spread to other organs.
Three pancreatic-cancer-specific Specialized Programs of Research Excellence (SPOREs) are conducting research to facilitate early detection and treatment of pancreatic cancer.
Selected Advances in Pancreatic Cancer Research
Additional Resources for Pancreatic Cancer
---