Intramural Continuing Umbrella of Research Experiences (iCURE)
The Intramural Continuing Umbrella of Research Experiences (iCURE) program supports mentored research experiences for qualified students and scientists from diverse backgrounds in the multidisciplinary research environment of the NCI campuses in Bethesda, Rockville, and Frederick, Maryland.
iCURE is an extension of the highly successful NCI CRCHD Continuing Umbrella of Research Experiences (CURE) program which helps support the career progress of its scholars toward research independence, as well as fosters and sustains diversity in the biomedical research pipeline.
iCURE strongly encourages the participation of individuals from underrepresented populations and is aligned with NCI's interest in diversity.
Is iCURE for Me?
Review the following statements to see whether iCURE is for you (see full eligibility criteria below):
I am a citizen or non-citizen national, or legal permanent resident of the United States.
By program start date, I will be eligible as a:

Graduate Student (who is currently enrolled and in good standing in a PhD program); or,
Postdoctoral fellow (with no more than five years of relevant research experience since receipt of their most recent doctoral degree (PhD, MD, DDS, or the equivalent))

If accepted, I am committed to conducting cancer research at one of the NCI campuses in Maryland (Bethesda, Rockville, Frederick) for the duration of the iCURE program.
NCI values diversity and particularly encourages applicants from populations underrepresented in the biomedical sciences, as noted in the NIH's Notice of Interest in Diversity (NOT-OD-20-031). I contribute to a diverse cancer research workforce.
The iCURE Program Experience
Participants in the iCURE program, or iCURE scholars, will enjoy research opportunities in the Center for Cancer Research (CCR), the Division of Cancer Epidemiology and Genetics (DCEG), and the Division of Cancer Control and Population Sciences (DCCPS). iCURE provides opportunity for the following candidates:
Post-baccalaureate (including post-master's) individuals
Graduate students
Postdoctoral fellows (with no more than five years of relevant research experience since receipt of their most recent doctoral degree (PhD, MD, DDS, or the equivalent))
The iCURE program will provide the following:
Two-year research experience awards for post-baccalaureate (including post-master's)
Two-year research experience awards for graduate students
Three-year research experience awards for postdoctoral fellows
View the iCURE Ceremony Poster Flipbook.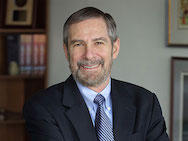 The iCURE program has enormous potential for identifying and training outstanding scientists from underrepresented minorities.
Each iCURE scholar will also enjoy professional and career support such as:
Opportunities to work closely with world-class biomedical research scientists at the NCI
Support by NCI program staff as well as information and resources on intramural and extramural funding opportunities
Professional and career development activities
Connection to an extensive and sustaining mentoring network
This ecosystem of support will help prepare iCURE scholars for the next steps in their academic and research careers.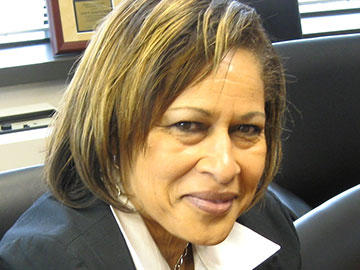 We are excited to expand the highly successful extramural CURE program into the intramural community. iCURE scholars will gain a valuable research experience and an understanding of how to navigate an NIH intramural research career path­ — and in the process, they will help enrich the intramural environment.
Research Experience
The NCI Intramural Research Program (IRP) maintains a strong focus on rare cancers and cancers in underserved populations worldwide, as well as emerging scientific opportunities in cancer research. The NCI IRP offers an unparalleled cancer research environment to train the next generation of researchers, with opportunities across the basic to clinical spectrum of cancer research.
Center for Cancer Research (CCR)

CCR conducts basic and clinical cancer research and develops breakthrough discoveries into novel therapeutic interventions for adults and children afflicted with cancer or HIV. CCR scientists work on a wide spectrum of biological and biomedical problems ranging from visualizing and understanding the structure of individual genes and proteins, developing novel methods for drug discovery, to inventing biomedical devices and technology and creating innovative ways to treat patients in the NIH Clinical Center.

CCR provides a highly interactive, multidisciplinary culture for basic and clinical researchers to conduct high-risk, high-impact research. Learn more about CCR's research.

Division of Cancer Epidemiology and Genetics (DCEG)

DCEG is a global leader in cancer epidemiology and genetics research, and is uniquely positioned to conduct projects that are high risk in nature.

DCEG's multidisciplinary research covers most types of cancer and many exposures in a variety of populations. DCEG's epidemiologists, geneticists, biostatisticians, and clinicians conduct population and multidisciplinary research to discover the genetic and environmental determinants of cancer and new approaches to cancer prevention. Learn more about DCEG's research.
The NCI Division of Cancer Control and Population Sciences (DCCPS) aims to reduce cancer risk, incidence, and death and enhance quality of life for cancer survivors. Cancer control science is the conduct of basic and applied research in the behavioral, social, and population sciences to create or enhance interventions that, independently or in combination with biomedical approaches, reduce cancer risk, incidence, morbidity and mortality, and improve quality of life (Cancer Control Program Review Group, 1998—modified). DCCPS offers an excellent training experience in research areas including epidemiology and genomics; healthcare delivery; implementation science; survivorship; behavioral research; surveillance; and health disparities. Learn more about DCCPS's research.
Interested in learning more about potential iCURE research experiences at the NCI?
Check out the list of possible projects for research experiences that begin in Fall 2023.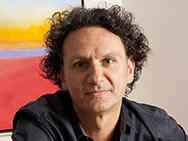 We are looking forward to welcoming a diverse group of highly talented iCURE students and post-docs to our laboratories. Diversity of thought and culture is essential for the innovative and creative environment we pride ourselves on in the NCI intramural program.
We have been fortunate to have an increasing number of iCURE scholars coming to DCEG. Diversity—of background, thought, and approach—improves the scientific community and the quality and impact of our research. Our trainees work collaboratively with DCEG's investigators to uncover the causes of cancer in human populations.
Our division offers a unique and robust training experience for cancer research trainees with a focus on cancer control and an emphasis on health equity and health disparities. Our outstanding mentors are experienced in working with trainees from diverse backgrounds and offer a range of topics to explore. Do consider joining us.
Apply to be an iCURE Scholar
If you are interested in becoming an iCURE scholar:
Read the eligibility requirements below;
Contact iCURE@nih.gov to obtain an eRA Commons ID; and
Click here to apply.
The Fiscal Year 2023 application period closed on December 15, 2022. Applicants should expect to be informed of their status based on the timeline below. The target start date will be September 1, 2023.

iCURE Eligibility
iCURE scholars must be a citizen or non-citizen national of the United States or an individual who has been lawfully admitted for permanent residence in the United States.
Post-baccalaureate (including post-master's) individuals must meet both the Postbaccalaureate IRTA Program and the iCURE program eligibility criteria.
Graduate students must currently be enrolled in a PhD or equivalent graduate program. Students must have completed course requirements, passed qualifiers, and be formally recognized by the university as a doctoral degree candidate.
Postdoctoral fellows must have acquired a PhD, MD, or other equivalent degree by the proposed iCURE start time and should have completed no more than five years of relevant research experience since receipt of the most recent doctoral degree.
In order to be approved for logical and physical access to NIH facilities and systems, candidates must be able to pass a Federal background check, using Standard Form-85 (read SF-85). NOTE: Section 14 of the form asks, "In the last year, have you used, possessed, supplied, or manufactured illegal drugs?" The question pertains to the illegal use of drugs or controlled substances in accordance with Federal laws, even though permissible under state laws.
Other Considerations
NCI is particularly interested in encouraging applications of individuals from groups identified in NIH's Notice of Interest in Diversity (NOT-OD-20-031) as underrepresented in the biomedical, clinical, behavioral, and social sciences, including for example:
Individuals from racial and ethnic groups who have been shown by the National Science Foundation to be underrepresented in health-related sciences on a national basis (see data at http://www.nsf.gov/statistics/showpub.cfm?TopID=2&SubID=27 and the report Women, Minorities, and Persons with Disabilities in Science and Engineering). The following racial and ethnic groups have been shown to be underrepresented in biomedical research: Blacks or African Americans, Hispanics or Latinos, American Indians or Alaska Natives, Native Hawaiians and other Pacific Islanders. In addition, it is recognized that underrepresentation can vary from setting to setting; individuals from racial or ethnic groups that can be demonstrated convincingly to be underrepresented by the grantee institution should be encouraged to participate in NIH programs to enhance diversity. For more information on racial and ethnic categories and definitions, see the OMB Revisions to the Standards for Classification of Federal Data on Race and Ethnicity (https://www.govinfo.gov/content/pkg/FR-1997-10-30/html/97-28653.htm).
Individuals with disabilities, who are defined as those with a physical or mental impairment that substantially limits one or more major life activities, as described in the Americans with Disabilities Act of 1990, as amended. See NSF data at https://www.nsf.gov/statistics/2017/nsf17310/static/data/tab7-5.pdf.
Individuals from disadvantaged backgrounds, defined as those who meet two or more of the following criteria:
NCI encourages applications from scholars who participate in the CRCHD CURE, CRCHD Partnerships to Advance Cancer Health Equity (PACHE), NIH National Research Mentoring Network, and/or the NIH Building Infrastructure Leading to Diversity (BUILD) Initiative.
Contact
If you have questions about the program or application process, please contact iCURE@nih.gov.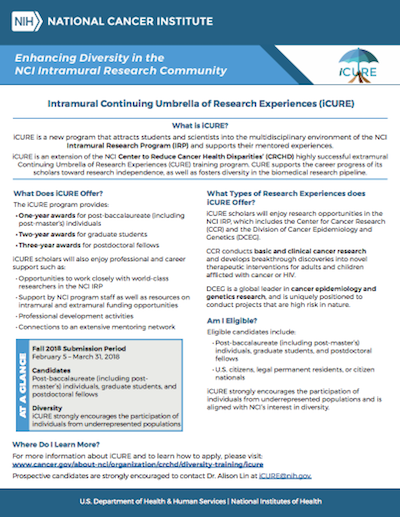 iCURE Fact Sheet - Updated!
Download the iCURE fact sheet for an overview about the iCURE program, research experiences, and candidate eligibility.