NCI Graduate Student Recruiting Program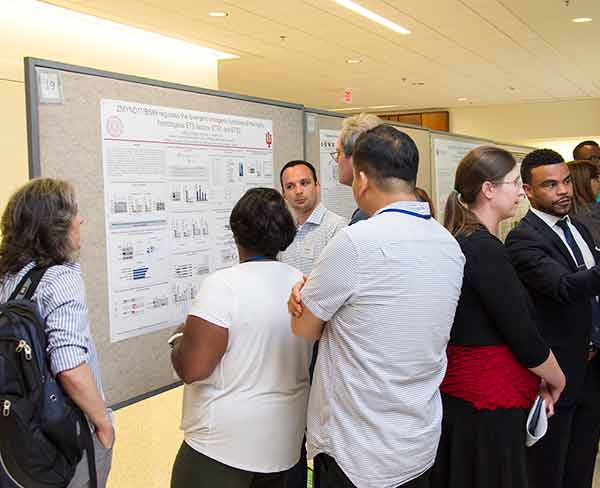 NCI is committed to fostering a diverse community of scientists and expanding the representation among its trainees. The Intramural Diversity Workforce Branch was established to help attract, recruit, and build this community. To this end, the Graduate Student Recruiting Program (GSRP) was instituted to recruit postdoctoral fellows from underrepresented and/or disadvantaged backgrounds to complete their training at NCI. Up to 25 competitively selected applicants will spend three days meeting other students from around the U.S., learning about the research in the NCI, discussing their research through poster sessions, and exploring postdoctoral training opportunities through interviews with NCI principal investigators.
The next GSRP will be held May 3 - 4, 2017 in Bethesda, Maryland, with applications opening December 2016 (see the GSRP application website for additional details).
Eligibility Requirements
You must be enrolled in a Ph.D. program in the U.S. and on schedule to complete your Ph.D. degree requirements by December 2017 (open to US citizens and foreign nationals).
How to Apply
You must create an account at GSRP Application Website and complete your application by the application deadline.
| | |
| --- | --- |
| Program Dates | May 3, 2017 - May 4, 2017 |
| Application Cycle Opens | December 1, 2016 |
| Application Due Date | January 31, 2017 |
| Notification of Decision | March 3, 2017 |
Before you apply online, be sure to have the following information:
Education – pdf of unofficial academic transcripts
Personal Statement – document describing your research and career goals (approximately 1,000 words)
Curriculum Vitae – overview of professional history and qualifications
Research Interests – research approach, target, and topic
Abstract – pdf file containing abstract of poster to be presented
References – name, address, and e-mail addresses for three persons who will provide current and original letters of recommendation (one must be your dissertation advisor)
Notification
Applications will be screened for eligibility and completeness. An application is considered complete only if it has all of the components listed above AND 3 letters of recommendation are received. All candidates will be notified regarding the status of their applications. Up to 25 candidates will be invited and asked to confirm their plans to attend the Graduate Student Recruiting Program from May 3-4, 2017 within a week of notification. Upon confirmation, candidates will be connected with the logistics team to make travel arrangements.
Contact Information
Questions regarding the NCI Graduate Student Recruiting Program should be directed to the program coordinator:
Program Coordinator
NCI Graduate Student Recruiting Program
Email: ncigsrp@mail.nih.gov