Meetings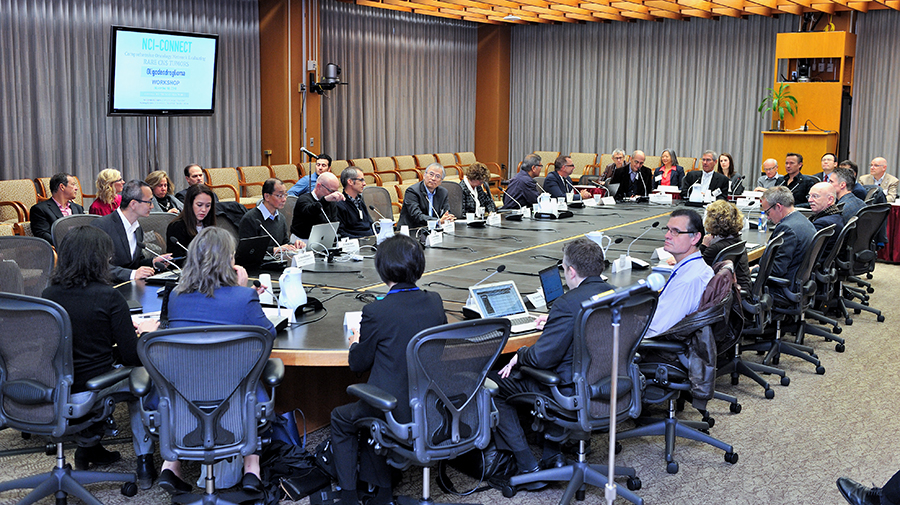 NCI-CONNECT hosts meetings at NIH throughout the year to bring together worldwide leaders in neuro-oncology clinical care, basic science, and clinical research with advocacy partners. The meetings aim to advance knowledge and collaborations to discover better treatments for people with rare central nervous system (CNS) cancers.
2018 NCI-CONNECT and BTTC Meeting
The inaugural NCI-CONNECT Meeting was held June 11 to 12, 2018, in conjunction with the Brain Tumor Trials Collaborative (BTTC) Annual Meeting. The goal of the meetings was to bring together leaders in a collegial and collaborative environment to discuss current and future clinical trials for patients with malignant brain tumors, with a particular focus on rare CNS tumors. Attendees shared new clinical trial concepts that had both high levels of scientific merit and also incorporated measures of patient quality of life and outcomes.
Workshops
NCI-CONNECT hosts and participates in tumor-specific workshops at NIH where experts across institutions studying rare brain and spine cancers and advocates can share knowledge and collaborate. The goal of these workshops is to identify areas of research, develop plans and designs for clinical trials, and facilitate collaboration.
Following each workshop, NCI-CONNECT will share information for healthcare providers and people living with these rare brain and spine cancers.
Histone Midline Glioma Workshop
September 27, 2018
The Histone Mutated Midline Glioma Workshop was led by NCI-CONNECT. Participants discussed the definition of the disease in adults, current clinical care and treatments, biological targets and clinical trial designs for histone midline gliomas. Among the workshop findings, participants recognized that accurately diagnosing histone midline gliomas is critical for treatment and research, especially in adults where less is known about the tumors. The group concluded that all tumors should be sampled, processed, analyzed, and stored as standard of care to better understand this rare cancer.
Oligodendroglioma Workshop
November 19, 2018
The Oligodendroglioma Workshop was led by NCI-CONNECT. Participants discussed the molecular pathology of oligodendrogliomas, clinical trial efficacy endpoints and preclinic models, and collaborative efforts in data sharing. Participants recognized the need to combine data, resources, and samples to develop better treatments for oligodendrogliomas.
Ependymoma Workshop
February 20-22, 2019
The Fourth Biennial Ependymoma Consensus was led by Kenneth Aldape, M.D., chief of NCI's Center for Cancer Research, Laboratory of Pathology. Participants discussed the latest in grading and diagnosing ependymoma, molecular and genetic testing, and clinical care and treatments for ependymoma. Participants discussed the increasing complexity of diagnosing ependymoma, underscoring the need to work together to further define genetic differences in ependymoma tumors and how they are treated.