An Overview of NCI's National Clinical Trials Network

On March 1, 2014, after several years of extensive consultation and coordination with many stakeholders, NCI transformed its longstanding Cooperative Group program into the new National Clinical Trials Network (NCTN).
The following overview provides important information about the structure of the new NCTN, a summary of the changes taking place as a result of the launch of NCTN, and a synopsis of how these changes build on the success of the Cooperative Group program and how they will further facilitate important cancer clinical trials in the era of precision medicine.
The Need for a National Network in the Era of Precision Medicine
Recent advances in deciphering the cancer genome have enabled the development of targeted therapies such as imatinib (Gleevec®), erlotinib (Tarceva®), crizotinib (Xalkori®), and vemurafenib (Zelboraf®) that have fundamentally changed our approach to cancer treatment. To effectively treat cancer with targeted therapies, the molecular signature of an individual's tumor must first be diagnosed with sophisticated genetic techniques; only then can an appropriate therapy be selected. Using molecular methods to identify targeted therapies that will deliver optimum results is a form of precision medicine.
To explore targeted therapies, cancer clinical trials will need to screen large numbers of patients with the same or different histologic tumor types to identify those patients whose tumors contain the distinct molecular targets of the therapies being tested. NCI's NCTN has been developed with these new scientific challenges in mind and is organized to take maximal advantage of the opportunities afforded by the improved understanding of tumor biology as well as the improved efficiencies created by the centralization and streamlining of many critical functions, such as tissue banks, ethics approvals, and imaging support.
Overview of NCTN Grantees and Structure
The sweeping nature of the changes to the NCI clinical trials program required NCI to award multiple new grants in order to establish the new infrastructure. This section provides an overview and list of the key grantees in the new NCTN. For additional details about the grants, see the NIH RePORTER search results.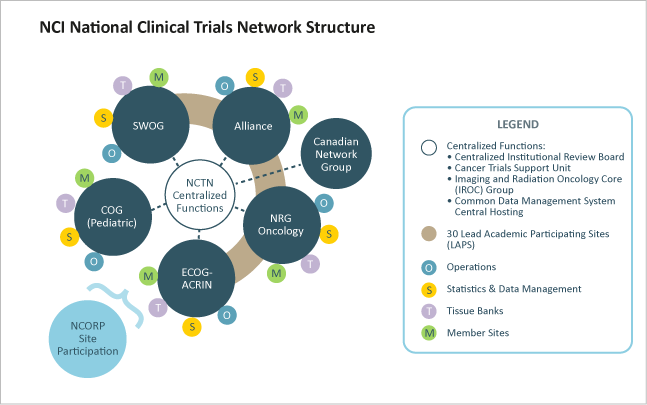 Network Groups and Their Support Components
The nine former adult Cooperative Groups have consolidated into four adult groups in the NCTN. In addition, as was the case under the previous clinical trials system, another large group is focused solely on childhood cancers. The structure also includes a Canadian Collaborating Clinical Trials Network award. The five US Network Groups are:
The U.S. groups are each funded through two separate awards—one to support Network Operations and another to support the Statistics and Data Management Centers. The Operations Centers are responsible for developing new protocols and managing the regulatory, financial, membership and scientific committees of each group. The Statistical Centers are responsible for data management and analysis, manuscript preparation, and safety monitoring, in addition to assisting in trial design and development.
The Canadian Network Group partners with the U.S. Network Groups in the conduct of select, late-phase, multi-site clinical trials. The Canadian Network Group is:
Lead Academic Participating Sites (LAPS)
Thirty U.S. academic institutions have been selected to receive a Lead Academic Participating Site (LAPS) grant, which is a source of funding created especially for the NCTN. Eligible sites were academic research institutions with fellowship training programs, and most of the awardees are NCI-designated Cancer Centers. To receive these awards, sites had to demonstrate their ability to enroll high numbers of patients onto NCTN trials, as well as scientific leadership in the design and conduct of clinical trials.
The 30 LAPS grantees are:
Case Western Reserve University – Case Comprehensive Cancer Center
Dana Farber/Harvard Cancer Center
Duke Cancer Institute at Duke University Medical Center
Emory University – Winship Cancer Institute
Fred Hutchinson Cancer Research Center
Indiana University Cancer Center
Johns Hopkins University - Sidney Kimmel Comprehensive Cancer Center
Memorial Sloan Kettering Cancer Center
Norris Cotton Cancer Center at Dartmouth Hitchcock Medical Center
Ohio State University Comprehensive Cancer Center
Stanford University – Stanford Cancer Institute
University of Alabama at Birmingham
University of California Davis Comprehensive Cancer Center
University of Chicago Comprehensive Cancer Center
University of Colorado Cancer Center
University of Michigan Comprehensive Cancer Center
University of North Carolina Lineberger Comprehensive Cancer Center
University of Oklahoma – Stephenson Cancer Center
University of Pittsburgh Cancer Institute
University of Southern California – Norris Comprehensive Cancer Center
University of Texas MD Anderson Cancer Center
University of Texas Southwestern Medical Center – Harold C. Simmons Cancer Center
University of Utah - Huntsman Cancer Institute
University of Wisconsin Carbone Cancer Center
Vanderbilt University Medical Center - Vanderbilt Ingram Cancer Center
Washington University at St. Louis - Siteman Cancer Center
Wayne State University Barbara Ann Karamanos Cancer Institute
Yale University – Yale Cancer Center
Higher levels of patient enrollment require a sustained level of data management work over several years, and the LAPS grants support the research staff required to manage this effort. The funds provided in the LAPS grants to cover this increased workload effectively raise the per-patient reimbursement level at the selected sites. Raising the reimbursement for these high-accruing sites was one of the strongest recommendations from the IOM, NCI advisory boards, and other stakeholders.
The LAPS awards also provide some funding for scientific and administrative leadership at the site itself, as the principal investigators at the site will need to prioritize the clinical trials in which they will participate, as well as educate and train staff at the sites in clinical research and develop strategies to promote patient enrollment.
Community Hospitals and Medical Centers
Many other investigators at community hospitals and medical centers will be able to participate in NCTN trials, even if they are at sites that did not receive a LAPS award. These sites, as well as a number of international sites, will either receive research reimbursement directly from one of the network groups with which they are affiliated or they will receive awards from the newly developed NCI Community Oncology Research Program (NCORP). NCORP is a new program that has resulted from the consolidation of the Community Clinical Oncology Program (CCOP), the Minority-Based Community Oncology Program (MBCCOP), and NCI Community Cancer Centers Program(NCCCP).
Site membership in the individual NCTN groups is based on criteria that are specific to each group. Sites conducting clinical trials can belong to more than one group, and membership in at least one group allows a site to participate in the trials led by any NCTN group for which their investigators are qualified. Consequently, researchers from the LAPS, NCORP, other academic centers, community practices, and international members associated with the Network groups may all enroll patients onto NCTN trials.
Imaging and Radiation Oncology Core Group (IROC)
To help monitor and ensure quality in trials that involve new imaging modalities and/or radiation therapy, NCTN has established a consolidated Imaging and Radiation Oncology Core (IROC) Group that will assist all of the NCTN groups that use these modalities in their trials. Previously, these tasks were carried out by five separate organizations—the Radiological Physics Center, Quality Assurance Review Center, Advanced Technology Consortium for Clinical Trials Quality Assurance, Radiation Therapy Oncology Group, and the American College of Radiology Imaging Network. The consolidation of these activities under the leadership of a centralized core team is anticipated to improve efficiency and optimize the use of this resource by the entire network.
Integrated Translational Science Awards (ITSA)
The final component of the NCTN, the Integrated Translational Science Awards (ITSAs), did not exist in the former Cooperative Group program. The seven academic institutions that received ITSAs include teams of translational scientists who will use innovative genetic, proteomic, and imaging technologies to help identify and qualify potential predictive biomarkers of response to therapy that the network groups can incorporate into future clinical trials.
These awards will be used to leverage work already ongoing in these investigators' laboratories, often supported in part by other NCI grants, with the expectation that these researchers will help the network groups bring new laboratory discoveries into clinical trials. These labs all employ cutting-edge technologies that will enable better characterization of tumors and help to identify changes in tumor biology in response to treatment that may help explain how treatment resistance can develop.
The ITSA grantees are:
Children's Hospital of Philadelphia
Cold Spring Harbor Laboratory Cancer Center
Emory University – Winship Cancer Institute
Ohio State University Comprehensive Cancer Center
University of North Carolina Lineberger Comprehensive Cancer Center
Washington University at St. Louis - Siteman Cancer Center
NCTN Tissue Banks
Each NCTN group will also collect and store tissue from patients in NCTN trials in a harmonized network of tissue banks. Standard protocols have been developed to ensure that the tissue collected is of the highest quality. Computerized records of the stored samples will have important clinical details, such as the treatments received by the patients from whom the tissue was taken, treatment response, and patient outcome. Participants in NCTN trials may also consent to the use of their tissue specimens for studies beyond the NCTN trial in which they are enrolled. The NCTN tissue bank program includes a new web-based system that any researcher can use. Researchers, including those who are not affiliated with the NCTN, can query the system about the availability of tissue that meets certain criteria and track the review and approval process of any requests to use samples.
NCTN Sites
NCTN sites across the United States enroll patients in clinical trials.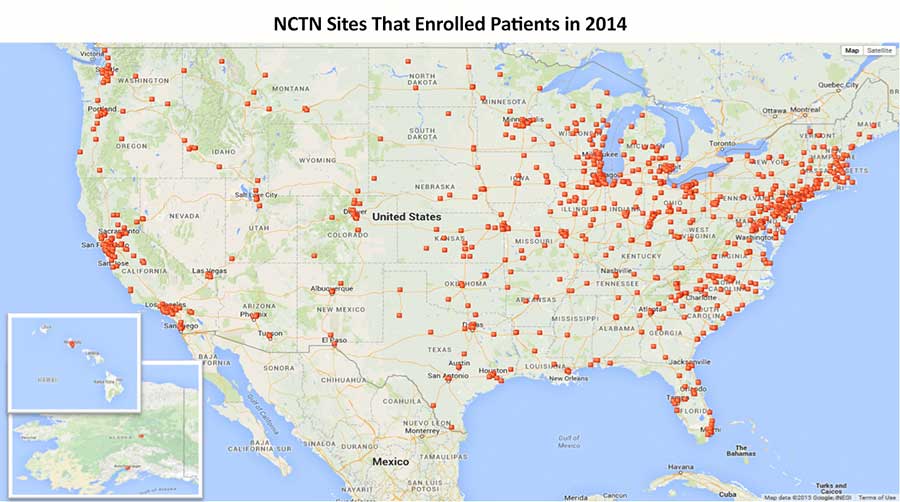 Scientific Oversight Committees
The NCTN groups propose concepts for new clinical trials to the NCI Disease/Imaging Steering Committees. These committees are organized by NCI to evaluate and prioritize new clinical trials. Each committee is led by non-governmental co-chairs who are not permitted to hold leadership positions in the NCTN groups, although they can be group members. The remainder of the committee membership consists of NCTN group members selected by each group, other disease experts not involved in leadership positions in the groups, representatives of NCI-funded SPORE and Consortia, biostatisticians, patient advocates, and NCI disease experts. These committees evaluate concepts and recommend to NCI those most likely to have the highest scientific and clinical impact.
The oversight of the entire NCTN—its organizational structure, funding, and long-term strategic direction—is under the purview of the Clinical Trials and Translational Research Advisory Committee (CTAC). This federal advisory committee is composed of clinical trials experts, industry representatives, and patient advocates from across the nation and provides recommendations to the NCI Director.
NCTN's Precision Medicine Trials
As discussed above, NCTN is supporting the new Precision Medicine Initiative® with precision medicine trials that test targeted treatments for molecularly defined cancers cancers. NCTN's precision medicine trials include:
ALCHEMIST: Adjuvant Lung Cancer Enrichment Marker Identification and Sequencing Trials
The ALCHEMIST trials are three integrated precision medicine trials that are designed to identify people with early-stage lung cancer who have tumors that harbor EGFR and ALK gene alterations and evaluate whether drug treatments targeted against those molecular changes can lead to improved survival compared with current standard of care therapy alone (i.e., chemotherapy with or without radiotherapy after complete surgical resection, as prescribed by a participant's treating physician).
Additional Information: The ALCHEMIST Lung Cancer Trials
LUNG-MAP: Phase II/III Biomarker-Driven Master Protocol for Second Line Therapy of Squamous Cell Lung Cancer (SWOG S1400)
This study aims to find out what effects targeted therapy has on squamous cell lung cancer. It is a large scale, phase II/III screening/clinical registration protocol that will genomically screen patients with advanced stage lung squamous cell cancer moving to second-line therapy, and will use the screening results to direct each patient to the most appropriate one of five (or more) sub-studies. Patients on each sub-study will be randomized to either standard of care (docetaxel or erlotinib) or biomarker-driven targeted therapy with an investigational agent.
Additional Information: Lung-MAP: Master Protocol for Squamous Cell Lung Cancer
NCI-MATCH: Molecular Analysis for Therapy Choice (EAY-131)
The NCI-MATCH Trial is enrolling patients with different types of solid tumors and lymphomas—including up to 25 percent with rare cancers—whose tumors are no longer responding to standard therapy and have begun to grow.
As many as 1,000 patients will be assigned to a series of small phase II clinical trials, each involving approximately 30 patients, based not on their type of cancer but on the genetic abnormality that is thought to be driving the cancer. In each phase II trial, patients are being treated with one of approximately 20 to 25 drugs initially available for the trial that target the genetic abnormalities that are being tested for in this study. The NCI-MATCH Trial is a master protocol, meaning that it is designed so that new treatments can be brought in to the trial over time.
Additional Information: The NCI-MATCH Trial
NCI-COG Pediatric MATCH
In July 2017, the NCI-COG Pediatric MATCH Trial began enrolling children and adolescents with advanced solid tumors that have progressed or recurred on standard therapy. As in the adult NCI-MATCH Trial, DNA sequencing is being used to identify children whose tumors have a genetic abnormality that matches a treatment arm targeting the genetic abnormality.

The Pediatric MATCH Trial is being led by the NCI-funded Children's Oncology Group, an NCTN member.


Additional Information: NCI-COG Pediatric MATCH
Additional NCI Precision Medicine Studies
NCTN members are also participating in additional NCI precision medicine trials conducted outside of the NCTN, including NCI's Exceptional Responders study. This study is focused on patients identified as exceptional responders based on their strong and favorable response to investigational drugs or conventional chemotherapy. NCI is conducting genetic assessments of tumors from these exceptional responders to learn about the basis of their favorable response.
An Exciting Future
With its state-of-the-art clinical trials infrastructure, the NCTN is poised to implement and complete trials far more rapidly than in the past. For physicians and their patients, a menu of important trials will be widely available throughout the country, in large cities and small communities alike. NCTN offers access to the best approaches available for many common and, increasingly, even rare cancers.
NCI's new approach has appeal for industry partners. The NCTN and a large number of biotech and pharmaceutical companies are already collaborating on a series of precision medicine trials for some types of lung cancer and other tumor types. These trials will harness next-generation DNA and RNA sequencing methods to inform treatment choices and are greatly facilitated by the NCTN's organizational structure, which is ideal for screening large numbers of patients to find those whose tumors exhibit the molecular features that give them the best chance of responding to new, targeted treatments.
References
Abrams J., Conley B., Mooney M., et al. National Cancer Institute's Precision Medicine Initiatives for the New National Clinical Trials Network. 2014 Am Soc Clin Oncol Educ Book. 2014:71-76. [PDF] [PUBMED Abstract]
Abrams J., Kramer B., Doroshow J., Varmus H. National Cancer Institute–Supported Clinical Trials Networks. J Clin Oncol. 2014 Dec 1. [Epub ahead of print] [PDF] [PUBMED Abstract]