The NCTN Budget
NCTN Budget
The overall NCTN budget for these awards is $151 million. This amount is the same as the total budget provided to the Cooperative Groups for awards in each of fiscal years 2012 and 2013, despite the substantial reductions in the NCI budget that resulted from sequestration starting in 2013. What has changed, however, is the distribution of funds to the various components of the NCTN, as compared with the components of the former Cooperative Group program.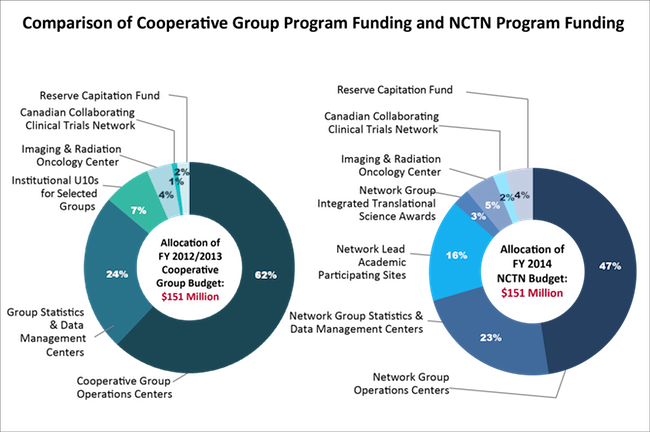 The distribution of funds to the Network Group Operations Center grants changed from 62 percent in fiscal years 2012 and 2013 to 47 percent in fiscal year 2014 due to the consolidation of the infrastructures of the Operations and Statistical centers; funding of new components in the NCTN, including the LAPS and ITSAs; and expansion of the IROC for the entire network.
The new system provides for an annual enrollment of about 17,000 patients on interventional trials, a 15 percent reduction compared with about 21,000 enrolled patients in recent years. This reduction is anticipated to occur gradually, over 2 to 3 years. To this end, NCI has reserved funds to distribute to the NCTN groups later in the current fiscal year (FY2014) to accommodate an enrollment of about 21,000 patients.
Funding Precision Medicine Trials
NCI believes that reducing the budget of the Network Group Operations Centers will not impede the NCTN's ability to perform important trials. Conducting the new generation of clinical trials requires new technologies and procedures, including tissue collection (fresh biopsy samples are often necessary), advanced DNA and RNA sequencing methods with rapid turnaround times, and complex analytic algorithms to distinguish normal genetic variants from tumor-specific changes. These, in turn, entail new expenses for surgery, interventional radiology, molecular pathology, and bioinformatics that have not typically been a part of clinical trials.
However, although the screening tests may need to be performed on very large numbers of patients to find those whose tumors exhibit the appropriate molecular profile, the numbers of patients required for interventional studies are likely to be smaller than what was required in previous trials. That is because the patient selection is based on having the target for the new therapy, leading to larger differences in clinical benefit (such as how long patients live overall or live without tumor progression) between the intervention and control groups. Thus, future clinical trials will, in many cases, require fewer numbers of patients due to the selection of patients most likely to benefit from the intervention being tested.
Although screening patients for tumors with specific molecular characteristics may require large numbers of patients, the screening components of studies are less costly than the actual interventional study. Hence, clinical trials in the future are likely to involve screening components, which will be reimbursed at a lower rate, with smaller interventional components that will be reimbursed at higher rates. More precision in patient selection will permit study designs that can aim for larger therapeutic effects and thereby further decrease the size of trials.
Efficiencies in Collaboration
These changes will, however, require the NCTN groups to function differently compared with how they functioned in the previous system. For example, NCTN groups should be able to reduce the costs of conducting trials by sharing resources. If a particular group has many active trials, it may have to decrease the number of new trials it is planning. Groups with fewer active trials can take up those new trials instead. This collaborative approach should allow members of one NCTN group to support trials led by other groups and should afford NCTN members an ability to conduct a full portfolio of trials in the most common cancers.
Because the NCTN has only four U.S. adult groups, with fewer Operations and Statistical Centers that require financial support, some savings are anticipated. This consolidation was planned for over the past several years, and NCI provided $24 million in funding supplements to the newly consolidated groups to help them absorb the costs of their ongoing trials as well as to fund the integration of their separate infrastructures.
NCI also provided more than $40 million in other funding supplements to transition all the groups to a common data management system (Medidata Rave®), develop an integrated IT system for the tissue banks, and implement specific precision medicine clinical trials.
Additional Support
For the past several years, NCI has provided significant additional annual support for the Cooperative Groups and will continue to provide these funds for the NCTN, in addition to the grant funding described above. Clinical trials are complex undertakings that require a host of support organizations and funding streams. The new system includes a number of other features that are not included in the NCTN awards but that are essential to carrying out the NCTN mission.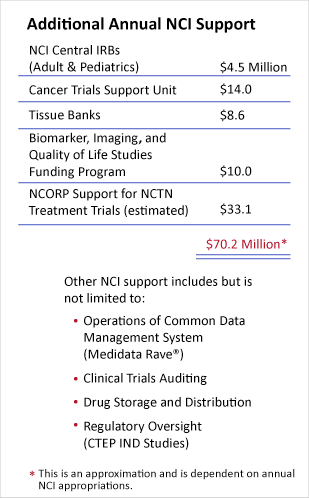 The additional support includes:
Central Institutional Review Boards, an important component of NCI's clinical trials system that has added speed, efficiency, and uniformity to ethics review.
The Cancer Trials Support Unit (CTSU), an NCI-funded contract that provides clinical investigators and their staff with one-stop online access to NCTN trials and allows investigators to register new patients.
A dedicated tissue bank for each Network group funded through a separate NCI award mechanism.
The Biomarker, Imaging, and Quality of Life Studies Funding Program (BIQSFP), a separate funding stream for NCTN trials that supports correlative science studies on group trials. NCTN groups compete for funds that are specifically reserved annually for this purpose. The availability of dedicated funds greatly facilitates coordination as clinical trials must meet stringent deadlines.
In addition, approximately one-quarter of patient accrual on NCTN treatment trials is paid for by the NCORP program (previously the CCOP/MB-CCOP program). The community hospitals and medical centers participating in the NCORP program are reimbursed for accruing patients to NCTN treatment trials by their NCORP awards, not via the NCTN Group Operations award.
Finally, in addition to these substantial annual expenditures, NCI also subsidizes the NCTN by paying for many other essential clinical trial functions, thereby further reducing costs borne by the Network groups:
NCI will pay for the licenses and hosting fees of the electronic, common data management system, called Medidata Rave®, used by all of the NCTN groups.
NCI will oversee a national audit system for NCTN trials.
NCI will manage Investigational New Drug applications to the Food and Drug Administration along with the distribution of these drugs for many NCTN trials.
It is estimated that support for these activities costs NCI approximately $15 million annually.