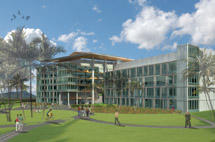 University of Hawai'i Cancer Center
Cancer Center
Naoto T. Ueno, MD, PhD, Director
Honolulu, Hawaii
Main: 808-586-3010

The University of Hawai'i Cancer Center (UH Cancer Center) was established in 1971 and received its NCI designation in 1996, with the most recent renewal in 2018. The center's mission is to reduce the burden of cancer through research, education, patient care, and community outreach, with an emphasis on the unique ethnic, cultural, and environmental characteristics of Hawai'i and the Pacific region.
Under the leadership of the UH Cancer Center, the Hawai'i Cancer Consortium (defined by NCI as an affiliation) was established to support the center's mission. Members include the major health systems and health care providers in the state, including Adventist Health Castle, Hawai'i Medical Service Association, Hawai'i Pacific Health, Kuakini Medical Center, The Queen's Health Systems, and the UH John A. Burns School of Medicine. They support the cancer center in its mission to make substantive advances in the areas of cancer research, education, and community outreach.
Tripler Army Medical Center and private practice community oncologists also support the UH Cancer Center as members of a broader clinical trials network. The UH Cancer Center also has a 17-year cancer research partnership with the University of Guam and directs the Hawai'i Minority/Underserved NCI Community Oncology Research Program.
Research at the UH Cancer Center
Located in the Pacific Ocean, 2,500 miles away from the next closest NCI-Designated Cancer Center, the UH Cancer Center's impact (catchment) area is unique among all NCI-Designated Cancer Centers. It includes the state of Hawai'i, with its rich ethnic and racial diversity with no majority group and an indigenous population of Native Hawaiians, and the US-Affiliated Pacific Islands (USAPI), which extend south to American Sāmoa and 3,000 miles west to Guam, Palau, and the Northern Mariana Islands. Across the USAPI, the rich ethnic diversity, distinctive environment, unique cancer problems, and profound health disparities are the basis for the UH Cancer Center's basic, clinical, epidemiologic, and cancer prevention and control research activities.
Significant disparities in cancer incidence and mortality exist in Hawai'i, with Native Hawaiians particularly affected. Research within the UH Cancer Center's programs is focused on the factors related to ethnic diversity that promote cancer health disparities and on specific cancers that disproportionally affect the population. Areas of research focus include liver cancer, thoracic cancers (with lung cancer as the leading cause of cancer death in Hawai'i), and breast cancer, as well as environmental factors contributing to increased incidence of and mortality from specific cancers.
Researchers at the UH Cancer Center are investigating how smoking and e-cigarette use contribute to cancer mortality, how diet and nutrition affect risk for liver and other cancers, and the role of betel nut chewing in causing oral cancers in many Pacific Islander populations. These are all areas where UH Cancer Center faculty provide international leadership.
Select Scientific Initiatives at the UH Cancer Center
The UH Cancer Center has two research programs, one focused on population sciences and the other on cancer biology.
The Population Sciences in the Pacific Program is conducting research that focuses on understanding behavioral and environmental factors associated with cancer risk and patient survival; investigating genetic susceptibility and gene‒environment interactions; identifying biomarkers involved in cancer initiation and progression; and developing lifestyle and behavioral interventions to reduce cancer risk and improve patient survival.
The Multiethnic Cohort Study, in partnership with the University of Southern California, is now in its 27th year and has generated more than 780 publications related to lifestyle, behavioral factors, genetic susceptibility, and cancer prevention. A current study is looking at how obesity and body fat distribution are related to cancer risk, in particular in liver and pancreatic cancers, and whether dietary intervention can reduce the risk.
The Cancer Biology (CB) Program's research themes are cancer development, or progression and biomarkers, and cell sites for interventions. The program focuses on the high incidence and mortality of cancers in Hawaiian adults (breast, liver, colorectal) and the pediatric population (glioblastoma and neuroblastoma being the most frequent solid tumors in Hawaiian children), cancers resulting from environmental exposures (mesothelioma), and cancer-related conditions with higher mortality in the Native Hawaiian population (cancer-related sepsis). Additionally, reflecting the geographical location, the program fosters research on natural products from local, endemic species to discover compounds with potential anticancer properties.
Translational clinicians in the CB Program make a significant contribution by enrolling individuals from minority racial/ethnic groups in interventional and therapeutic clinical trials. Approximately 50% of participants are Asian, primarily Japanese but also Chinese and Filipino. This latter group has significant health disparities with regard to cancer mortality, and many are socioeconomically disadvantaged so their participation in clinical trials is important.
Enrollment of Native Hawaiians to therapeutic and other interventional clinical trials is 15%‒20% of all accruals, roughly equivalent to Hawai'i's general population. The UH Cancer Center is the only NCI-Designated Cancer Center with significant accrual of Native Hawaiians to clinical research studies, providing valuable knowledge about effective therapies for this particular ethnic group. Overall, 75% of the UH Cancer Center's clinical trial accruals is attributable to individuals from racial/ethnic minorities.
New initiatives include the development of an Early Phase Clinical Research Center (EPCRC) and an Organoid Generation Facility. These resources are being developed through support from the State of Hawai'i and an NIH construction grant. The EPCRC will be the first in the state and will allow cancer patients to participate in phase 1 trials without traveling to the mainland. The organoid facility will be a joint venture with the Cold Spring Harbor Laboratory Cancer Center and will provide an invaluable resource to the study of cancer in minority populations with significant cancer disparities.
*This profile was provided by the University of Hawai'i Cancer Center.