Learn About the RAS Initiative
The overarching goal of the RAS Initiative is to mobilize the cancer research community to develop ways to understand and target cancers driven by mutant RAS in an open model of collaboration among government, academic, and industry researchers. This approach is called a "hub and spoke" model. The Frederick National Laboratory for Cancer Research (FNLCR) acts as the hub that connects to the larger community of RAS researchers around the world combining efforts and creating new ways to approach the complex issue of RAS.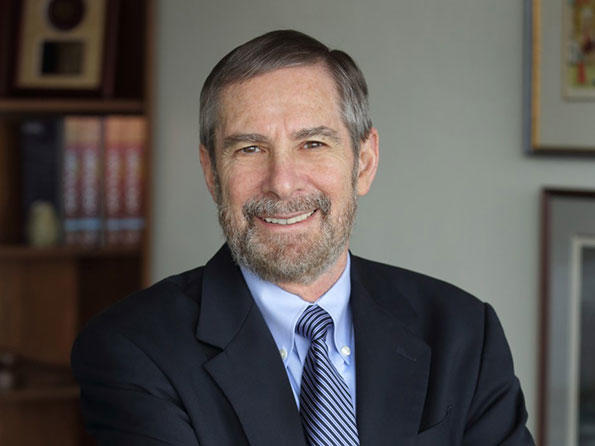 The Deputy NCI Director discusses the progress of the RAS Initiative and its goal to create a virtual network of scientists collaborating to solve the RAS problem.
The Problem with RAS Genes
It has been known for more than three decades that about a third of all human cancers, including a high percentage of pancreatic, lung, and colorectal cancers, are driven by mutations in RAS genes. Thus far, developing ways to block RAS gene function has been ineffective. NCI launched the RAS Initiative due to the magnitude of this challenge, as well as the potential clinical benefit. The main members of the RAS gene family— KRAS, HRAS, and NRAS—encode proteins that have a pivotal cytoplasmic role in cell signaling. When RAS genes are mutated, cells grow uncontrollably and evade death signals. RAS mutations also make cells resistant to some available cancer therapies. 
Although scientists have made great strides in the last 30 years toward understanding the signaling pathways that RAS genes control, many still consider RAS proteins as virtually "undruggable" targets for therapy.
Mutant RAS proteins have been difficult to target, in part, because they are defective in an intrinsic enzyme activity, freezing them in the "on" (GTP-bound) state (see diagram below). It is similar to a car with an accelerator that won't release (green down arrow) and brakes that won't engage (red up arrow). But advances in technology and improved understanding of RAS signaling and regulation have created opportunities to address this situation.
Dragging RAS Back in the Ring provides a recent review of the RAS problem. For a community view of the genes that comprise the larger RAS pathway, see our blog post, RAS Pathway v2.0.
RAS Initiative Origins
Since the early 1970s, the NCI has funded a contract that supports the only Federally Funded Research and Development Center (FFRDC) devoted principally to biomedical research. Located on a government campus in Frederick, MD, the FFRDC has provided a variety of laboratory services to the scientific community, performed research in response to national needs, and supervised subcontracts for the NCI for over 40 years.
In 2011, following a suggestion by the NCI's National Cancer Advisory Board, former NCI Director Harold Varmus named the operational laboratory arm of the FFRDC Frederick National Laboratory for Cancer Research (FNLCR) and established an advisory committee (now called the Frederick National Lab Advisory Committee or FNLAC). The FNLAC recommended that the FNLCR identify and undertake important and ambitious projects in cancer research that would be difficult to pursue without an orchestrated effort.
After extensive consultation with the research community and with the FNLAC, Dr. Varmus, his NCI colleagues, and the leaders of Leidos Biomedical Research, Inc. (the current contractor for the FFRDC) launched the RAS Initiative in 2013. Existing resources within the FFRDC were redirected to establish a hub of research activity under the direction of Frank McCormick, a widely respected leader of research on RAS proteins.
Oversight
Oversight of the NCI RAS Initiative is carried out on a variety of levels. A leadership team within NCI administratively operates the program on the government side and interacts closely with the program's leaders at the Frederick National Laboratory for Cancer Research (FNLCR) to develop program direction and evaluate progress. The Frederick National Lab Advisory Committee (FNLAC) was instrumental in approving the concept of the RAS Initiative and receives periodic updates from the Ad hoc RAS Working Group (see below). This Ad hoc group evaluates the scientific goals, direction, priorities, and progress of the hub projects at the FNLCR, as well as how the hub interfaces with industry and the extramural community.
NCI Leadership
Frederick National Laboratory for Cancer Research RAS Leadership
RAS Initiative Advisory Groups
Ad hoc RAS Working Group
The purpose of this working group is to provide the highest quality oversight to the technical aspects of the RAS Initiative and to provide findings and recommendations to the NFAC and the Ad hoc RAS Oversight Subcommittee.
The evaluations will include the scientific goals, direction, priorities, and timelines of the RAS research projects at the FNLCR hub. A major goal of the program is to mobilize the cancer research community to collaboratively undertake the mission of developing therapeutic strategies against KRAS oncogenes. The evaluations will also include the means by which the RAS Initiative engages the extramural community and industry, for example, through collaboration; input on funding opportunities; and sharing ideas, data, and reagents. The findings of this working group will be invaluable in assessing the progress of this "national mission," and will provide insight for the development of new national missions.
Ad hoc RAS Working Group Chair
David A. Tuveson, M.D., Ph.D.
Roy J. Zuckerberg Professor
Director of the Cancer Center
Cold Spring Harbor Laboratory
Cold Spring Harbor, New York
Ad hoc RAS Working Group Members
Michelle Arkin, Ph.D.
Professor, Pharmaceutical Chemistry
Co-Director, Small Molecule Discovery Center
University of California, San Francisco
Gideon E. Bollag, Ph.D.
Chief Executive Officer
Plexxikon, Inc.
Berkeley, California
Christin E. Burd, Ph.D. 
Assistant Professor, Cancer Biology and Genetics
Ohio State University Comprehensive Cancer Center
Channing J. Der, Ph.D.
Sarah Graham Kenan Distinguished Professor
Department of Pharmacology
UNC Lineberger Comprehensive Cancer Center
The University of North Carolina at Chapel Hill
Chapel Hill, North Carolina
Nader Fotouhi, Ph.D.
Chief Scientific Officer
TB Alliance
New York, New York
Elizabeth M. Jaffee, M.D.
Deputy Director, The Sidney Kimmel Comprehensive Cancer Center
The Dana and Albert Cubby Broccoli Professor of Oncology
Co-Director, Skip Viragh Center for Pancreas Cancer
The Johns Hopkins University
Baltimore, Maryland
Robert D. Schreiber, Ph.D.
Alumni Endowed Professor of Pathology and Immunology
Professor of Molecular Microbiology
Director, Washington University Center for Human Immunology and Immunotherapy Programs
Program Co-Leader, Tumor Immunology
Siteman Comprehensive Cancer Center
Washington University School of Medicine
St. Louis, Missouri
Kevin M. Shannon, M.D.
Auerback Distinguished Professorship in Pediatric Molecular Oncology
Helen Diller Family Comprehensive Cancer Center
University of California, San Francisco
Roger K. Sunahara, Ph.D.
Professor of Pharmacology
Department of Pharmacology
University of California, San Diego
La Jolla, California
Matthew Vander Heiden, M.D., Ph.D.
Howard Hughes Medical Institute Faculty Scholar
Associate Professor of Biology
Koch Institute for Integrative Cancer Research
Massachusetts Institute of Technology
Cambridge, Massachusetts
Ex Officio
Candace S. Johnson, Ph.D.
President & CEO
M&T Bank Presidential Chair in Leadership
Roswell Park Comprehensive Cancer Center
Buffalo, New York
Christopher Kane, Ph.D.
Program Officer for National Missions 
Contracting Officer Representative
National Cancer Institute
National Institutes of Health
Bethesda, Maryland
Contact
For general comments and questions, please email SolveRAS@nih.gov.
For partnership development, please email the Partnership Development Office, Leidos Biomedical Research, Inc./Frederick National Laboratory for Cancer Research (FNLCR) at vladimir.popov@nih.gov.
Subscribe to RAS Email Updates to receive announcements from the RAS Initiative.