A Snapshot of Thyroid Cancer
Incidence and Mortality
Thyroid cancer is the ninth most common cancer in the United States. In 2014, it is estimated that nearly 63,000 Americans will be diagnosed with thyroid cancer, and nearly 1,900 will die of the disease. The overall incidence of thyroid cancer in the United States has increased in people of all racial/ethnic groups and in both males and females over the past several decades.
The incidence of thyroid cancer is increasing more rapidly than that of any other cancer in the United States. Some, although not all, of this increase can be explained by improved detection methods. Thyroid cancer incidence rates vary by both sex and race, with incidence being nearly three times higher in women than in men and nearly twice as high in whites as in African Americans. After whites, Asians/Pacific islanders have the second highest incidence. Overall mortality rates remain low despite rising an average of 0.8% annually from 2002-2011.
Most people who develop thyroid cancer are between age 25 and 65 years. Risk factors for thyroid cancer include being female, exposure to radiation to the head and neck as a child, exposure to radioactive fallout, a personal history of goiter, a family history of thyroid disease or thyroid cancer, certain genetic conditions, and Asian ancestry. There are no routine screening tests for thyroid cancer. Standard treatments for thyroid cancer include surgery, radiation therapy (including radioactive iodine therapy), chemotherapy, thyroid hormone therapy and targeted therapy.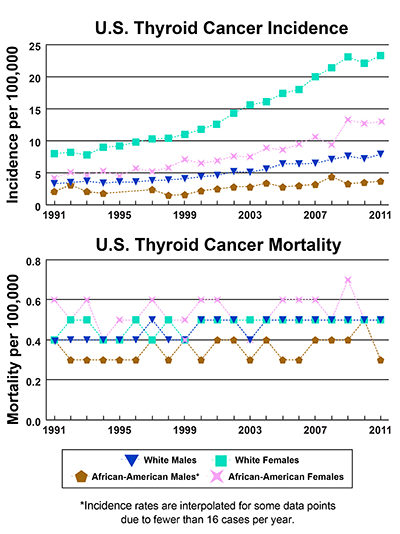 NCI's Investment in Thyroid Cancer Research
To learn more about the research NCI conducts and supports in thyroid cancer, visit the NCI Funded Research Portfolio (NFRP). The NFRP includes information about research grants, contract awards, and intramural research projects funded by NCI. When exploring this information, it should be noted that approximately half of the NCI budget supports basic research that may not be specific to one type of cancer. By its nature, basic research cuts across many disease areas, contributing to our knowledge of the underlying biology of cancer and enabling the research community to make advances against many cancer types. For these reasons, the funding levels reported in NFRP may not definitively report all research relevant to a given category.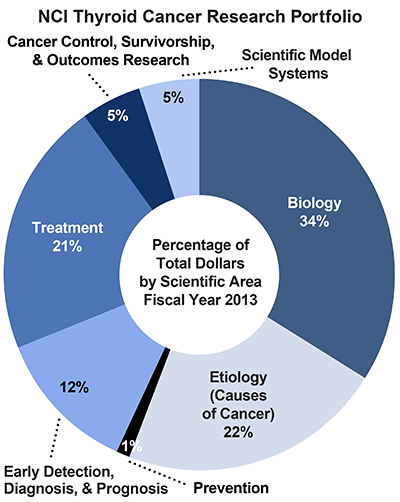 Other NCI programs and activities relevant to thyroid cancer include:
Selected Advances in Thyroid Cancer Research
Additional Resources for Thyroid Cancer