Investigational Drug Steering Committee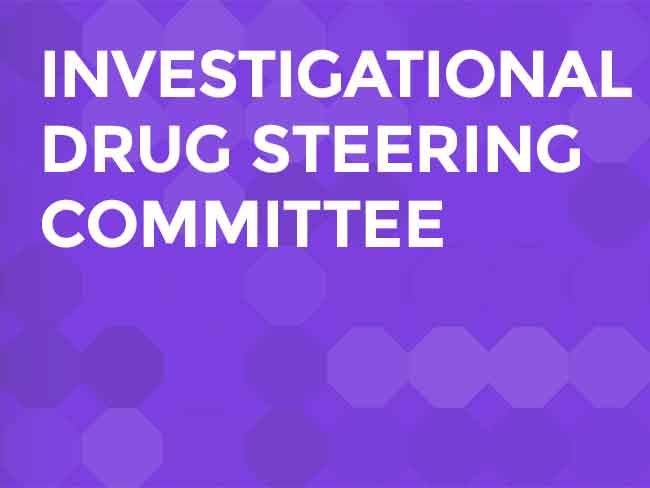 The Investigational Drug Steering Committee (IDSC) was established in 2005 to collaborate with the NCI in the design and prioritization of early phase drug development trials carried out within the Experimental Therapeutics Clinical Trials Network (ETCTN) with agents for which NCI's Cancer Therapy and Evaluation Program (CTEP) holds an Investigational New Drug (IND) application. IDSC members include the Principal Investigators of CTEP's Experimental Therapeutics Clinical Trials Network (ETCTN), representatives from each of the National Clinical Trial Network (NCTN) Groups, a patient advocate, and subject matter experts in drug development, radiation oncology, clinical pharmacology, clinical immunology, clinical trial design, omics, biostatistics and imaging.
A clinical development plan is prepared when NCI decides to study an investigational agent. The plan describes the drug's mechanism of action, disease(s) being targeted, patient characteristics, dose and schedule of the drug, phase(s) of the trial and whether single agent, combination, or additional preclinical studies are sought. The IDSC provides input into the Clinical Trials Evaluation Program's (CTEP) clinical development plans. For additional information please see http://ctep.cancer.gov/branches/idb/default.htm.
Mission Statement
The goals of the IDSC are to enhance strategic input, increase the transparency and openness of the trial design and prioritization process, achieve optimal phase 1 and phase 2 trial designs for the most promising new investigational agents and, ultimately, increase the predictive value of early phase trials, resulting in the design of more successful phase 3 trials.
Roster of Investigational Drug Steering Committee (IDSC) members
Task Forces
To facilitate its goals the IDSC currently has 4 Task Forces (TFs). The Clinical Trial Design TF, Biomarkers TF, and Pharmacology TF focus on scientific issues of importance to the early drug development community. The Immunotherapy TF provides recommendations regarding potential new immunotherapeutic agents to be added to CTEP's portfolio.
Biomarkers: Walter Stadler, M.D., Chair
Clinical Trial Design: Lillian Siu, M.D. and Gary Rosner, Ph.D., Co-chairs
Immunotherapy: Thomas Gajewski, M.D. and Mario Sznol, M.D., Co-chairs
Pharmacology: Jan H. Beumer, Ph.D. and Michelle Rudek, M.D., Co-chairs
Biomarker TF
The Biomarker TF developed guidelines for incorporation of biomarkers into early-phase clinical trials. The TF reviewed biomarker trials, peer-reviewed literature, and NCI and FDA guidance documents, and conducted a survey of investigators to determine practices and challenges to executing biomarker studies in clinical trials of new drugs in early development. Based on these efforts, the TF published a paper entitled "Development and Incorporation of Biomarker Studies in Early Clinical Trials of Novel Agents" in Clinical Cancer Research in 2010. This paper provides standard definitions and categories of biomarkers, and lists recommendations to sponsors and investigators for biomarker incorporation into such trials. In addition, in 2014 the Biomarker TF worked with the Clinical Trial Design TF to develop the "Design of Biomarker Driven Phase 2 Cancer Treatment Clinical Trials Workshop." The goal of this workshop was to optimize the design of phase 2 oncology trials that incorporate predictive biomarkers and the objectives were to:
To review the basic framework and justification for predictive biomarkers in phase II trials
To review phase 2 trial designs that have attempted to evaluate predictive biomarkers and their strengths and weakness
To consider the regulatory and statistical issues for phase 2 trials with predictive biomarkers
To present trial designs based on simulation studies from real clinical trial data
To develop recommendations regarding when and how to incorporate predictive biomarkers into phase 2 trials
Clinical Trial Design TF
The Clinical Trial Design TF has developed or is in the process of developing recommendations for the following topics:
Phase 2 trial design strategies
Use of phase 2 historical controls for retrospective analysis
Recommendations for phase 1/2 trial design
Adaptive phase 1/2 trial designs
Biomarkers in phase 1/2 trial
Recommendations for combinational agent trials
Robustness of preclinical studies required for phase 1 trials
Single agent activity versus drug combinations activity
Expansion cohort recommendations
In looking at novel clinical trial designs, the Clinical Trial Design TF convened a phase 1 workshop that covered optimal planning, design, and conduct of phase 1 studies of new therapeutics; approaches to phase 1 design focusing on safety, efficiency and selected patient populations; and guidelines for the development and incorporation of biomarker studies in early clinical trials of novel agents. The findings of this workshop led to several opinion publications in 2010 in Clinical Cancer Research. In addition, a series of phase 2 opinion papers were published in Clinical Cancer Research in 2009. More recently the Clinical Trial Design TF published a paper in Clinical Cancer Research on phase 1 agent combinations and recommendations.
Immunotherapy TF
The Immunotherapy TF has put together an adoptive immunotherapy white paper on the adoptive transfer of immune effector cells against metastatic melanoma, which is a clinically promising and complex procedure. The TF put together recommendations on adoptive therapy and developed a multi-institution phase 2 trial, which was adequately powered, randomized, and controlled, with a central facility for cell growth. Pharma is currently conducting a study based on the Immunotherapy TF white paper. The white paper was titled "White Paper on Adoptive Cell Therapy for Cancer with Tumor-Infiltrating Lymphocytes: A Report of the NCI CCCT Subcommittee on Adoptive Cell Therapy" and was published in Clinical Cancer Research in 2011.
Pharmacology TF
The Pharmacology TF considers topics related to what needs to be known about agents before they are tested in patients and how to determine whether the drug is having the desired effect. The Pharmacology TF has made the following recommendations to the NCI:
NCI should set up cross-validation of analytical chemical assays used to quantitate drugs in CTEP-sponsored studies when more than one laboratory is performing the analytical chemical assays in support of those clinical studies
NCI should provide blinded quality control samples and collate the data submitted by the laboratories that analyze samples for cross-validation
Pediatric formulations of drugs tested in adults should be developed for testing in children when appropriate
The IDSC has reviewed and provided scientific input into the Clinical Development Plans of 32 new investigational agents within the CTEP portfolio:
| Agent Name | Target | Year |
| --- | --- | --- |
| IMC-A12 | IGF-1R | 2006 |
| IL-12 | immune regulation | 2008 |
| SCH727965 | CDK | 2008 |
| GDC-0449 | sonic hedgehog | 2008 |
| RO4929097 | Notch | 2009 |
| MK-2206 | Akt | 2009 |
| ABT-263 | bcl2, BH3 mimetic | 2009 |
| ARQ-197 | cMet | 2009/2010 |
| OSI-906 | IGF-1R | 2009/2010 |
| AT13387 | HSP90 | 2009 |
| AMG386 | Ang 1/ 2 Inhibitor | 2010 |
| MLN-8237 | Aurora kinase A | 2010 |
| TRC-105 | mAB to CD105 | 2011 |
| SCH-900776 | Chk1 | 2011 |
| MK-1775 | Wee1 | 2011 |
| Ipilimumab | antibody | 2011 |
| PCI-32765 | BTK | 2011 |
| TL32711 | Smac mimetic | 2011 |
| Cabozantinib (XL-184) | c-MET; VEGFR2 | 2011 |
| GSK2118436 | RAF | 2012 |
| GSK1220212 | MEK | 2012 |
| MLN0128 | TORC 1/TORC 2 | 2012 |
| AMG-479 | IGF-1R antibody | 2012 |
| AMG-103 | BiTE bispecific | 2012 |
| Pomalidomide | immune regulation | 2012 |
| Nivolumab and MK-3475 | Anti-PD-1 | 2013 |
| BMN-673 | PARP 1 and 2 | 2013 |
| TRC-102 | BER | 2013 |
IDSC Activities
The IDSC convened interdisciplinary expert panels to review the pathophysiologies of hyperlipidemia and hyperglycemia induced by mTOR pathway inhibitors and cardiac toxicities such as hypertension, left ventricular dysfunction, heart failure, and myocardial ischemia and infarction associated with antiangiogenic therapies. These expert panels summarized the incidences of these toxicities in the current literature, provided recommendations for clinical trial screening and monitoring criteria, and provided management guidance and therapeutic goals upon occurrence of these toxicities. The Cardiovascular Toxicities Panel published guidelines for management of cardiac toxicity in patients receiving vascular endothelial growth factor signaling pathway inhibitors in the American Heart Journal. The other IDSC expert panel published guidelines on management of metabolic effects (hyperlipidemia and hyperglycemia) associated with anticancer agents targeting the PI3K-Akt-mTOR (PAM) pathway in the Journal of Clinical Oncology in 2012. These publications raise awareness of these adverse events to enable their early recognition, regular monitoring and timely intervention in clinical trials.

Another of the IDSC's activities is the focused educational sessions at CTEP Early Drug Development meetings, which occur twice a year. Many of the educational sessions have focused on drugs that were either in the CTEP portfolio or about to enter the portfolio to help educate investigators prior to solicitation of LOIs for these agents. These sessions are listed below:
Wnt educational session (Cancer Stem Cell TF)
Phase 2 recommendations (Clinical Trial Design TF)
Autophagy (DNA Repair TF)
JAK-STAT educational session (Signal Transduction)
c-Met educational session (Signal Transduction)
ALK educational session (Signal Transduction)
Targeted Resistance educational session (Signal Transduction)
Publications
The IDSC has published 28 manuscripts during the last several years. The manuscripts focus on phase 1 and 2 clinical trial design, management of drug-related toxicities, and management of common cardiovascular toxicities, as well as hyperglycemia and hyperlipidemia.
Newsletters
Meetings and Workshops
NCI-IDSC Special Symposium: Using Team Science Approaches for the NCI Experimental Drug Development Program (January 11, 2013)
In 2013 the National Cancer Institute (NCI) was in the process of redesigning their Early Experimental Therapeutics Program with the goals of improving the success rate of early phase clinical trials and enhancing our understanding of cancer biology and treatment. The redesign of NCI's Early Experimental Therapeutics Program into the Experimental Therapeutics Clinical Trial Network (ETCTN) is an ambitious effort and involves forming NCI programmatic staff teams that will form multidisciplinary teams of extramural Clinical Trialists, Translational scientists, basic cancer scientists and NCI Liaisons from the Cancer Therapeutics Evaluation Program (CTEP). This latter team of investigators, the Drug Project Team (DPT), will be charged with designing biomarker-driven and "bench to bed and back to bench" early phase drug development trials with agents for which CTEP holds an Investigational New Drug application (IND). For the Symposium, the IDSC brought together a small panel of individuals that have displayed remarkable insight toward creating and managing highly collaborative scientific teams. The panel was moderated by Dr. Ed Harlow (Special Assistant to the NCI Director Harold Varmus) and the goals were for the special panel of speakers to provide guidance to the NCI Programmatic Staff and the clinical investigators of the IDSC on how to assemble successful scientific teams. Importantly, the audience for this Special Symposium were members of the IDSC and over 70 NCI Programmatic staff. The meeting began with a presentation by Dr. Percy Ivy on the redesign of NCI's Early Experimental Therapeutics Program into the ETCTN followed by presentations by the panelists on their team-based scientific/clinical programs and their recommendations on how successful Program Project Teams can be assembled. A question and answer session with the audience followed these presentations.
CCCT Contact: Steven Reeves, Ph.D.