Investigational Drug Steering Committee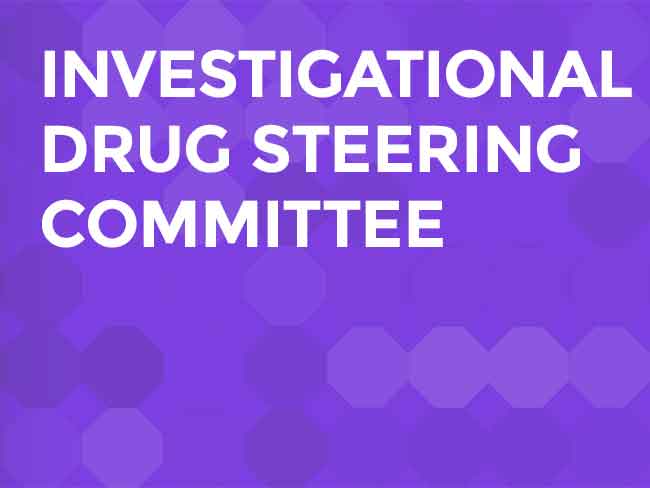 The Investigational Drug Steering Committee (IDSC) was established in 2005 to collaborate with the NCI in the design and prioritization of early phase drug development trials carried out within the Experimental Therapeutics Clinical Trials Network (ETCTN) with agents for which NCI's Cancer Therapy and Evaluation Program (CTEP) holds an Investigational New Drug (IND) application.
The IDSC is comprised of the Principal Investigators of CTEP's Phase 1 and Phase 2 UM1 early drug development grants, which collectively make up the NCI's Experimental Therapeutics Clinical Trial Network (ETCTN)*. Additional IDSC membership include group representatives from the National Clinical Trial Network (NCTN), subject matter experts in clinical trial design, clinical imaging, radiation therapy, pharmacokinetics/pharmacodynamics, biostatistics, and cancer omics, as well as patient advocacy and Health-Related Quality of Life expertise. View the IDSC member roster.
Ongoing IDSC Activities
The IDSC meets four times per year in order to provide strategic clinical and scientific input regarding Drug and Clinical Development Plans (DDPs) prepared by NCI's Experimental Therapeutics Clinical Trial Network (ETCTN) Drug Development Teams for new experimental anti cancer drugs and selected current drugs within the CTEP portfolio.
DDPs provide the scientific and clinical rational for a clinical trial(s) targeting certain cancer disease site(s) with an investigational drug(s), the phase(s) of the trial and therapeutic strategy (single agent or combination), patient characteristics for trial enrollment, dose and schedule of the drug(s). DDPs also have a biomarker(s) component that can be essential for patient enrollment, therapeutic efficacy and a better understanding of drug action.
For additional information about NCI's early phase clinical trials activities, please see CTEP's Investigational Drug Branch. Address specific scientific and/or clinical questions with regard to early phase clinical trials and particular drugs or drug classes, as requested by CTEP or others in the oncology drug development community. Read about the IDSC Structure and SOPs.
Other IDSC Activities
Contact
For more information, contact Steven Reeves, Ph.D. at
reevessa@mail.nih.gov
.