Research Advocacy at NCI
Research advocates play a vital role in shaping NCI's work. They challenge us, and ensure that we never lose sight of what we are here to do – which is to improve patient outcomes by advancing cancer research. We can't do this without the unique perspectives research advocates bring.
The advocacy community provides NCI with critical perspective and insights that are essential to advancing cancer research. Prioritizing and integrating the collective patient perspective across NCI-supported research activities helps to ensure scientific and medical advances are more timely, relevant, and effective for people living with and affected by cancer.
NCI's Office of Advocacy Relations (OAR) works with all research advocates and organizations to ensure the community's unique perspectives and ideas are integrated into NCI activities.
Advocate Roles at NCI
Both individual research advocates and national organizations play unique and critical roles that can broadly be categorized across four key functions.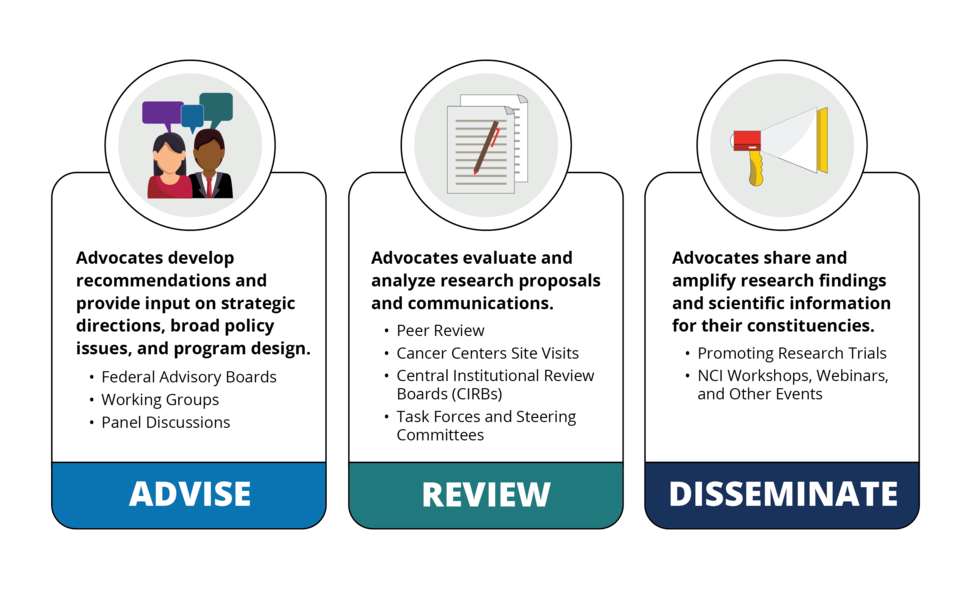 Advise
Advocates develop recommendations and provide input on strategic directions, broad policy issues, and program design. Their contributions may often help identify barriers to implementation. Activities may include:
Participating on formal advisory boards, like the NCI Council of Research Advocates
Participating in working groups
Speaking on panel discussions at scientific meetings or conferences
Supporting clinical trial development and accrual
Review
Advocates evaluate and analyze research proposals and communications. Activities may include:
Participating in peer review panels
Participating on task forces or steering committees
Editing or translating scientific language to improve readability
Disseminate
Advocates share and amplify research findings and scientific information for their constituencies. Activities may include:
To find out how you or your group can get involved, email NCIadvocacy@nih.gov to connect with OAR today!