A Story of Discovery: Colorectal Cancer Screening Leads to Better Outcomes
Key Points
Colorectal cancer (CRC) is one of the most common cancers among both men and women and is the second leading cause of cancer-related death.
NCI's leadership in CRC prevention, driven by an early randomized trial of testing for fecal occult blood and the Prostate, Lung, Colorectal, and Ovarian (PLCO) Cancer Screening Trial, helped establish CRC screening as a routine part of health care.
Biological and genetic marker analysis and virtual colonoscopy (VC) are promising new and less invasive tests to screen for CRC.
Thanks to NCI, patients now have more CRC screening options, which has led to improved detection, decreased incidence, and lower CRC death rates.
Pathway to Prevention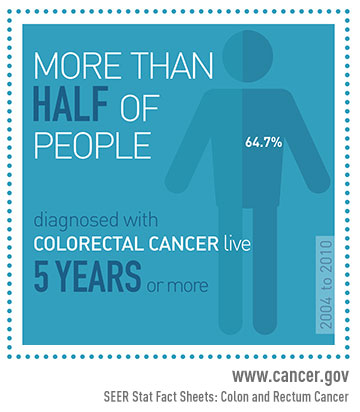 The burden of colorectal cancer on Americans is declining, largely due to the findings of NCI-funded research. Today, more than half of people diagnosed with CRC live 5 years or more. Patients now have more CRC screening options available, providing them with the information they need to make informed decisions about preventing and treating CRC. The result of this exciting NCI research is better outcomes for patients, including improved detection, decreased incidence, and lower CRC death rates.
CRC screening becomes part of routine health care. NCI's leadership in CRC prevention, driven by screening trials, helped establish CRC screening as a routine part of health care. Routine screening is important because CRC typically develops slowly over years and symptoms are rare in the early stages of the disease. Small growths called adenomas or polyps begin to form along the lining of the colon or rectum. It can take 10 to 15 years for a polyp to become malignant. Routine CRC screening allows for early detection of certain types of polyps, which can be removed before they turn into cancer. Routine screening can also help find cancerous polyps at an early stage when treatment may lead to a cure.
Patients have screening options. Several screening tests, each with certain risks and benefits, are used to detect CRC. The three most common tests are:
NCI has funded numerous studies examining the effectiveness of these three screening tests. In 2002, the U.S. Preventive Services Task Force officially recommended routine CRC screening. The recommendation was updated in 2008 to support all three of these screening tests for adults aged 50 to 75.
Clinicians usually talk with their patients about CRC screening as a part of their yearly wellness visit, especially if they are between the ages of 50 to 75 or if CRC runs in their family. Together, the clinician and patient identify the best CRC screening option. Depending on the results, additional screening may be needed to confirm the diagnosis.
Screening Works. Using data from NCI's Cancer Trends Progress Reports and SEER, researchers at Yale University found that from 1987 to 2010, a time when screening efforts increased, a substantial decline occurred in the incidence of CRC. More good news came from another study developed in collaboration with NCI, which found that CRC screening not only works but is also cost-effective. These findings predicted that preventing cancer would provide more cost savings due to the increasing costs of treating cancer. Under the Affordable Care Act, most insurance plans now must cover screening for CRC, making CRC screening accessible for more Americans.
Advances in Screening
For over 25 years, NCI has supported research to develop safe and effective CRC screening options to help reduce morbidity and mortality from CRC. Now, improved screening options and accuracy can help prevent CRC and allow effective treatment of early stage disease.
Screening leads to better outcomes. One NCI-funded study reported that screening with sigmoidoscopy, along with colonoscopy for diagnosis and management, was associated with a 26 percent reduction in mortality and a 21 percent reduction in incidence of CRC. Another NCI-supported study suggested that removing polyps during colonoscopy could reduce death from CRC by more than 50 percent.
NCI research has also explored noninvasive CRC screening options such as FOBT, a test that checks for small amounts of blood in the stool that can be a sign of CRC or other problems, such as polyps, ulcers, or hemorrhoids. Some patients find FOBT to be a more acceptable option than more invasive techniques such as colonoscopy or sigmoidoscopy. The Food and Drug Administration (FDA) currently approves two types of FOBT—guaiac FOBT (gFOBT) and FIT (also known as iFOBT)—that have been shown to reduce the number of deaths due to CRC. Additional NCI-funded research is exploring FOBT as a noninvasive alternative to colonoscopy.
DNA sheds light on tailored screening and treatment options. NCI-funded research is also investigating new CRC screening options that examine biological and genetic markers for CRC. This research supported premarket approval of the Epi proColon test, designed to detect DNA in blood, by the FDA in 2014.
Research continues to build on NCI's discoveries by exploring the use of genomic sequencing to identify specific molecular changes and biomarkers. These strategies use a patient's DNA, RNA, and protein markers for CRC diagnosis, with the goal of creating tailored treatment options based on the patient's genetic characteristics.
Research finds promise in VC screening. Virtual colonoscopy, a newer type of test for colorectal cancer, uses computerized imaging to produce pictures of the colon and rectum. NCI's National CT Colonography Trial helped establish the accuracy and validity of VC as a screening option. Using conventional colonoscopy as the gold standard, the study reported that VC detected polyps 10 mm or larger in 90 percent of all participants found to have a polyp of this size by colonoscopy.
A number of studies have shown that VC is accurate, safe, and cost-effective for CRC screening. Patients also report a better experience with VC because it is faster and does not require medicines for relaxation and to block pain. This suggests that VC may be a viable alternative screening method that could lead to more people being screened, but only time will tell. Research is ongoing to determine if VC is as effective at detecting CRC as the more established screening tests.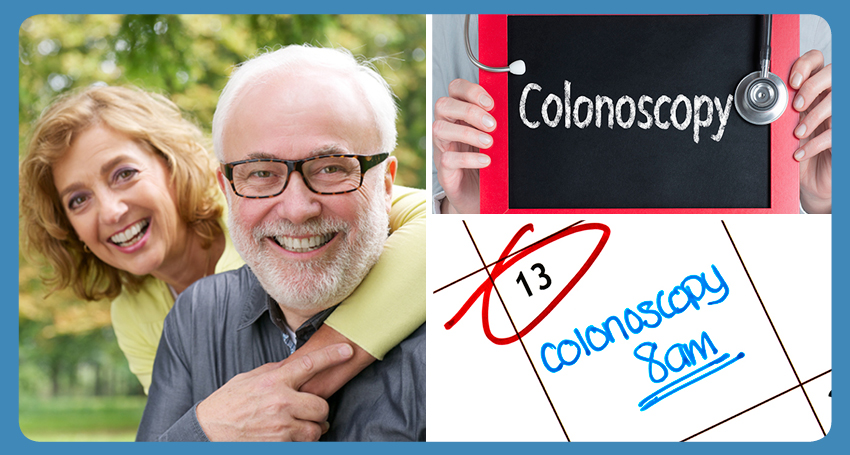 What's Next for Colorectal Cancer Screening?
As Dr. Barnett Kramer, MD, PhD, the Director of the Division of Cancer Prevention at NCI, explains, 'There are several effective screening tests for colorectal cancer and the most effective screening test is the one that people choose to take'. This is why NCI continues to not only develop safe and effective CRC screening tools but is also working to improve screening rates. Despite compelling data for CRC screening, something remains puzzling—why don't more people get screened for CRC? One study estimated that 40 to 60 percent of adults older than 50 are still not receiving CRC screening. The answer may be found in patient-provider interactions, given that patients who feel they have sufficient time with their health care provider are more likely to be screened.
NCI-supported science has already established that improving patient-provider communication and relationship quality could improve CRC screening rates among adults 50 or older. Future research is now focused on how to enhance patient-provider interactions. NCI is currently sponsoring two clinical trials studying the barriers to CRC screening and ways to increase screening through both clinician (see Physician Trial) and patient interventions (see Patient Trial).
The results of NCI research are already being seen. NCI supported the development of the Informed Decision-Making (IDM) Model, which identifies nine elements of communication that should occur to help lead patients toward informed decision-making when selecting a CRC screening option. NCI also developed the Colorectal Cancer Risk Assessment Tool designed for people over age 50. The first of its kind, this interactive tool helps estimate a person's absolute risk of developing CRC. It is intended for use by health care providers, but patients may complete the assessment independently and discuss the results with their doctor. NCI continues to update this tool and invest in CRC screening-related research, especially among populations with low health literacy and limited English proficiency.
Research to Practice: NCI's Role
NCI continues to support research on the long-term effects of screening on the number of new cases and deaths from CRC. One of NCI's major contributions to screening research involves sponsoring clinical trials such as the Prostate, Lung, Colorectal, and Ovarian (PLCO) Cancer Screening Trial. The PLCO Trial was designed to evaluate the effect of screening for these cancers on mortality and other outcomes. The magnitude and complexity of this trial is such that it could only be conducted by NCI. Dividends from the PLCO Trial are still forthcoming as researchers continue to use the data in current studies.
The results of the PLCO Trial show that CRC screening with flexible sigmoidoscopy reduced new cases of CRC by 21 percent and reduced deaths from the disease by 26 percent when compared with a group receiving usual care from their clinician. Although participant screening for the PLCO Trial ended in 2006, the trial follow-up has been extended through 2015 to examine the effects of screening on long-term mortality, including from CRC.
The PLCO Trial findings and data emerging from the follow-up study are providing valuable evidence that continues to guide clinicians and patients in making more informed CRC screening and treatment decisions.
Key Takeaway
NCI research delivers results by developing improved CRC screening options, leading to better outcomes for patients. Through CRC prevention and early detection, NCI research helps patients make informed decisions about their health.
Selected Resources
Ahlquist DA, Taylor WR, Douglas W, et al. The stool DNA test is more accurate than the plasma septin 9 test in detecting colorectal neoplasia. Clin Gastroenterol Hepatol. 2012;10(3):272-277.e1. [PubMed Central]
Bailey CE, Hu CY, You YN, et al. Increasing disparities in the age-related incidences of colon and rectal cancers in the United States, 1975-2010. JAMA Surg. 2014; Nov 5:1-6. [PubMed Abstract]
Binefa G, Rodriguez-Moranta F, Teule A, et al. Colorectal cancer: from prevention to personalized medicine. World J Gastroenterol. 2014;20(22):6786-6808. [PubMed Abstract]
Carcaise-Edinboro P, Bradley CJ. Influence of patient-provider communication on colorectal cancer screening. Med Care. 2008;46(7):738-745. [PubMed Abstract]
Chan AT, Giovannucci EL. Primary prevention of colorectal cancer. Gastroenterol. 2010;138(6):2029-2043. [PubMed Central]
Freedman AN, Slattery ML, Ballard-Barbash R, et al. Colorectal cancer risk prediction tool for white men and women without known susceptibility. J Clin Oncol. 2009;27(5):686-693. [PubMed Central].
Grady WM, Pritchard CC. Molecular alterations and biomarkers in colorectal cancer. Toxicol Pathol. 2014;42(1):124-139. [PubMed Abstract]
He Q, Rao T, Guan YS. Virtual gastrointestinal colonoscopy in combination with large bowel endoscopy: clinical application. World J Gastroenterol. 2014;20(38):13820-13832. [PubMed Central]
Hubbard RA, Johnson E, Hsia R, et al. The cumulative risk of false-positive fecal occult blood test after 10 years of colorectal cancer screening. Cancer Epimediol Biomarkers Prev. 2013;22(9):1612-1619. [PubMed Central].
Laghi A. Computed tomography colonography in 2014: an update on technique and indications. World J Gastroenterol. 2014;20(45):16858-16867. [PubMed Central]
Lansdorp-Vogelaar I, van Ballegooijen M, Zauber AG, et al. Effect of rising chemotherapy costs on the cost savings of colorectal cancer screening. J Natl Cancer Inst. 2009;101(20):1412-1422. [PubMed Central].
Liang Z, Richards R. Virtual colonoscopy vs. optical colonoscopy. Expert Opin Med Diagn. 2010;4(2):159-169. [PubMed Central]
Ling BS, Trauth JM, Fine MJ, et al. Informed decision-making and colorectal cancer screening: is it occurring in primary care? Med Care. 2008;46(9):S23-S29. [PubMed Abstract]
Ouyang DL, Chen JJ, Getzenberg RH, et al. Noninvasive testing for colorectal cancer: a review. Am J Gastroenterol. 2005;100(6):1393-1403. [PubMed Abstract]
Park Y, Freedman AN, Gail MH, et al. Validation of a colorectal cancer risk prediction model among white patients age 50 years and older. J Clin Oncol. 2009;27(5):694-698. [PubMed Central]
Platz EA, Willett WC, Colditz GA, Rimm EB, Spiegelman D, Giovannucci E. Proportion of colon cancer risk that might be preventable in a cohort of middle-aged US men. Cancer Causes Control. 2000;11:579-588. [PubMed Abstract]
Pritchard CC, Grady WM. Colorectal cancer molecular biology moves into clinical practice. Gut. 2011;60(1):116-129. [PubMed Central]
Reuland DS, Ko LK, Fernandex A, et al. Testing a Spanish-language colorectal cancer screening decision aid in Latinos with limited English proficiency: results from a pre-post trial and four month follow-up survey. BMC Med Inform Decis Mak. 2012;12:53. [PubMed Central]
Selby JV, Friedman GD, Quesenberry CP, et al. A case-control study of screening sigmoidoscopy and mortality from colorectal cancer. N Engl J Med. 1992;326(10):653-657. [PubMed Abstract].
Sentell T, Braun KL, Davis J, Davis T. Colorectal cancer screening: low health literacy and limited English proficiency among Asians and Whites in California. J Health Commun. 2013;18(1):242-255. [PubMed Central]
Schoen RE, Pinsky PF, Weissfield JL, et al. Colorectal-cancer incidence and mortality with screening flexible sigmoidoscopy. N Engl J Med. 2012;366(25):2345-2357. [PubMed Central]
Underhill ML, Kiviniemi MT. The association of perceived provider-patient communication and relationship quality with colorectal cancer screening. Health Educ Behav. 2012;39(5):555-563. [PubMed Central]
U.S. Preventive Services Task Force. Screening for colorectal cancer: U.S. Preventive Services Task Force recommendation statement. Ann Intern Med. 2008;149(9):627-637. [PubMed Abstract].
Winawer SJ, Miller D. Screening for colorectal cancer. Bull World Health Organ. 1987;65(1):105-111. [PubMed Central]
Yang DX, Gross CP, Soulos PR, Yu JB. Estimating the magnitude of colorectal cancers prevented during the era of screening: 1976 to 2009. Cancer. 2014;20(18):2893-2901. [PubMed Abstract].
Zalis ME, Blake MA, Cai W, et al. Diagnostic accuracy of laxative-free computed tomographic colonography for detection of adenomatous polyps in asymptomatic adults: a prospective evaluation. Ann Intern Med. 2012;156(10):692-702. [PubMed Abstract].
Zauber AG, Lansdorp-Vogelaar I, Knudsen AB, et al. Evaluating test strategies for colorectal cancer screening—age to begin, age to stop, and timing of screening intervals: a decision analysis of colorectal cancer screening for the U.S. Preventive Services Task Force from the Cancer Intervention and Surveillance Modeling Network (CISNET). Evidence Syntheses. 2009;65.2. Rockville, MD: Agency for Healthcare Research and Quality Report No. 08-05124-EF-2. [PubMed].
Zauber AG, Winawer SJ, O'Brien MJ, et al. Colonoscopic polypectomy and long-term prevention of colorectal-cancer deaths. N Engl J Med. 2012;366(8):687-696. [PubMed Central]